There are those who insist that the Cubano sandwich was first created in the 1800s. Accordingly, there was a need to feed the many Cuban workers in the cigar factories located in Tampa and Miami. The traditional Miami-style Cubano features slow-roasted pork leg, slices of ham, a slice of Swiss cheese, some pickles, and yellow mustard. The traditional Tampa-style Cubano however, is made exactly the same way, except that salami was added.
While there are some places around the country that prepares a traditional Tampa-style Cubano, the vast majority of restaurants stick to traditional pork marinated in mojo, then slow-roasted until it's tender enough to cut with a spoon. The pork is then shredded and mixed with slices of smoked ham, and Swiss cheese. Add in a couple of dill pickle slices, and a little bit of mustard and you have the makings of one of the best sandwiches in the world. All of this gets stuffed into a fresh piece of Cuban bread with a little bit of mustard, then toasted in a Panini-style (plancha) press.
Since 1982, Porto's Bakery and Café has been providing the Glendale community with some of the most popular Cuban dishes. Their most famous dish, of course, is their Cubano sandwich. This magnificent sandwich features nothing less than the freshest ingredients and authentic Cuban bread. Although you can sit down to eat, they also offer an express lane for those who are just interested in picking up a sandwich without any extras.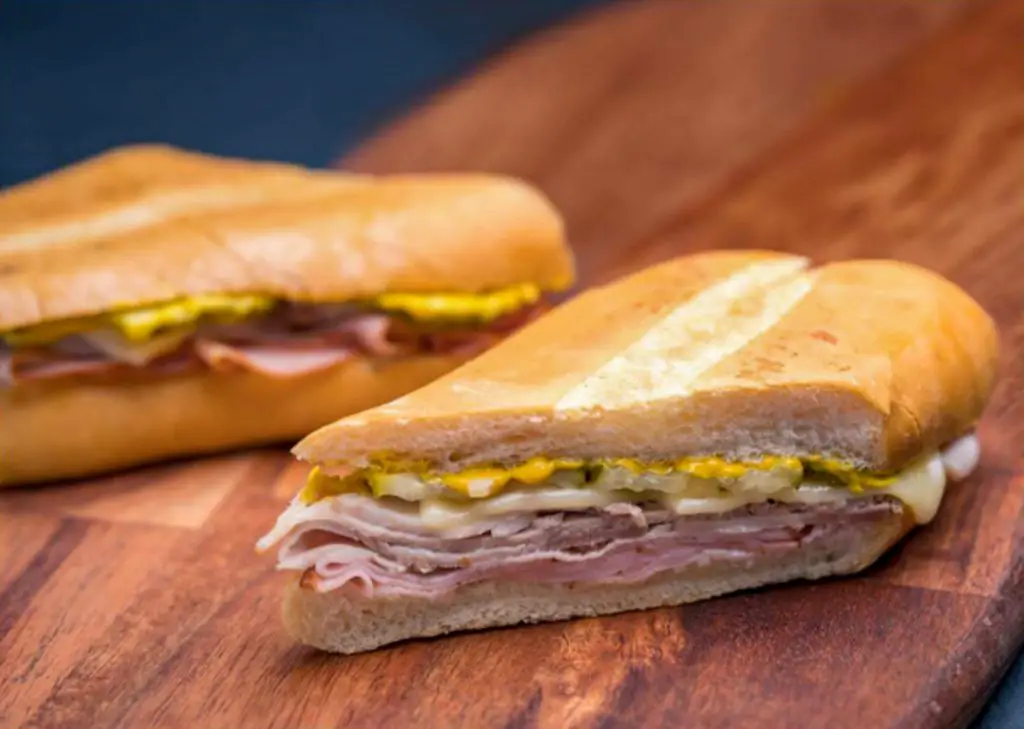 The restaurant itself was established by Rosa Porto and her husband. Growing up in Cuba, Rosa spent a lot of her time cooking with her mother using traditional recipes. Her mother, who was originally from Galacia Spain, added a unique flair to the cooking. Her mother's kitchen was one of her favorite places to spend time. But all of that changed when communism took over Cuba.
The Porto family had decided to leave Cuba in order to escape the growing communist revolution. When the authorities learned of their plan, her husband was taken away to a labor camp as a form of punishment. Rosa was terminated from her job, and as a result, she had to turn to the baking skills she acquired from her mother in order to make money.
Eventually, after many years Rosa Porto and her entire family were allowed to leave Cuba. Together, they moved to Echo Park, where they opened their first bakery in 1976 along Sunset Boulevard. In order to ensure that the family could make ends meet, her husband continue to work for another bakery until the business grew enough to support their needs.
By 1982, the Porto's Bakery and Café had grown to become one of the most popular destinations in the greater Los Angeles area. Over the years, thanks to their popularity, the restaurant and bakeries have greatly expanded. Today they have four different locations throughout the Los Angeles metropolitan area. Regardless of your location, you will be able to find a location near you. Check them out on Magnolia Boulevard, Rent Blvd., Nordhoff Street, and Firestone Boulevard.
Address (1): 3614 Magnolia Blvd.
Phone: 818-846-9100
Address (2): 315 N. Brand Blvd.
Phone: 818-956-5996
Address (3): 19467 Nordhoff St.
Phone: 818-534-5210
Address (4): 8233 Firestone Blvd.
Phone: 562-862-8888
While there are a number of different popular Cuban restaurants to choose from in LA, one name always comes to mind when you think of authentic Cuban cuisine. The Versailles Cuban Restaurant shares its name with one popular Cuban restaurant in Miami, but they are not owned by the same operator.
The Versailles has a lot of excellent choices when it comes to traditional, and authentic Cuban cuisine. One of their more popular dishes is a roasted chicken that is thoroughly seasoned with garlic and lemon juice. This results in a golden brown skin that is just as tantalizing as the juicy meat inside. But, not everyone is interested in sitting down and ordering a large meal. As a result, the restaurant is also well-known for its Cubano sandwich.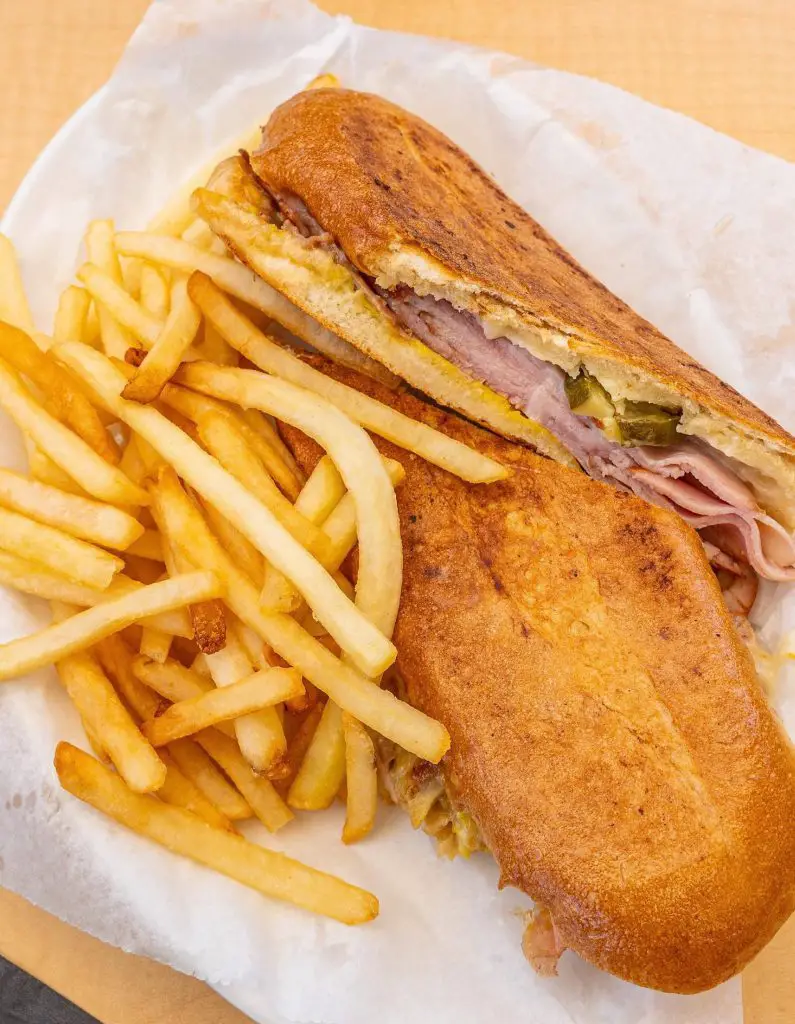 When you visit the Versailles Cuban restaurant, not only can you sit down and enjoy an authentic Cubano, but you can sip on a fresh cafecito. If you would like to try traditional plantain chips, then you will love their crispy, sweet, and fresh snacks. So, if you would love to try out the many options at the Versailles, then you'll have to head on down to La Cienega Boulevard.
Address: 1415 S La Cienega Blvd.
Phone: 310-289-0392
The little pig, or El Cochinto as it is known locally, is one of the most popular Cuban restaurants in the entire greater Los Angeles area. In fact, their Cubano is so good that it actually won an international competition held in Miami. Daniel Navarro is now the third generation to own and operate the El Cochinto restaurant and continues to produce its world-famous Cubano using nothing less than the finest ingredients.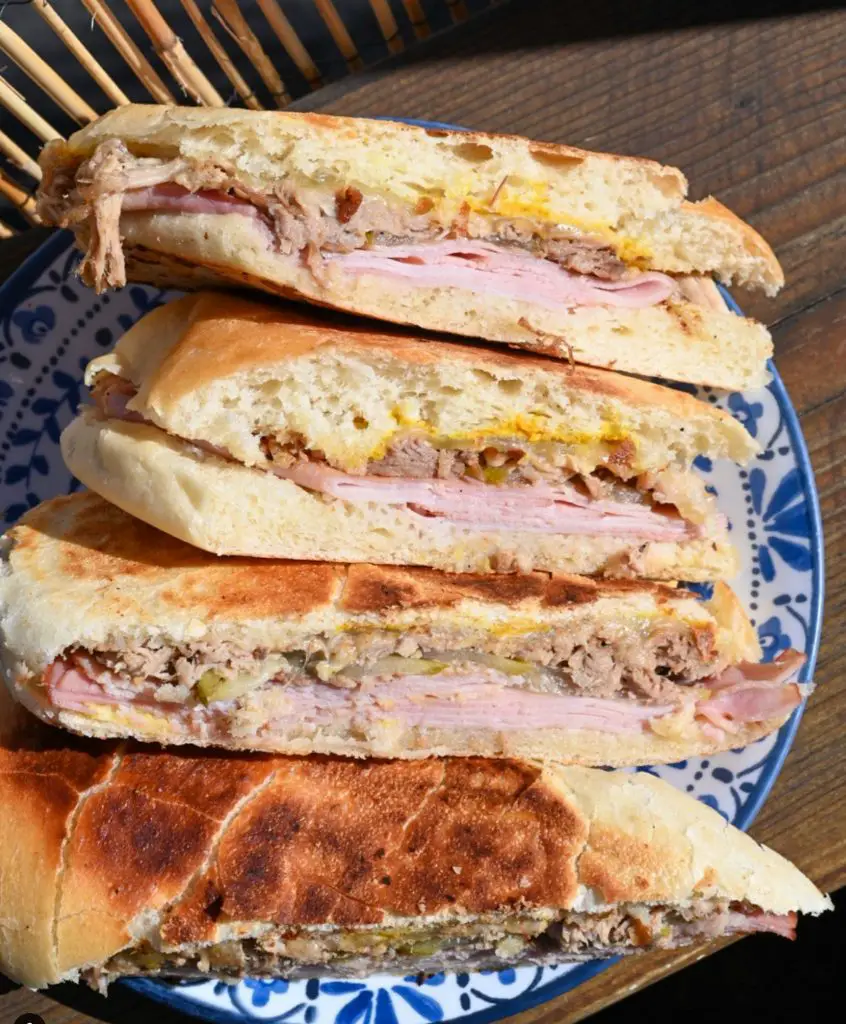 Every Cubano starts with pork that has been thoroughly marinated in mojo and slow roasted. The pork is then pulled and mixed with sweet ham some Swiss cheese, as well as kosher pickles. They also make their own Cuban bread in-house, and each sandwich is slathered with traditional yellow mustard before being toasted in a Panini press.
So, if you are looking to try the "World's Best Cuban Sandwich" then you will have to head on over to the El Cochinto on Sunset Boulevard.
Address: 3508 Sunset Blvd.
Phone: 323-668-0737
There are a number of excellent Cuban hotspots in the greater Los Angeles area. And while many of them have been around for decades, only the El Colmao has the honor of being called one of the oldest operated Cuban restaurants in the metropolitan area.
Since 1969, the El Colmao has been providing some of the most authentic Cuban dishes possible. The business, and the building, are considered to be a historical location within the greater Los Angeles area. As soon as you step inside, you will be awe-inspired by the old photos hanging on the walls which showcase the history of Latin ballplayers in the major leagues. Regardless of how you choose to look at it, it is the delicious food made at the restaurant that has allowed it to have remained open for more than half a century.
You will simply love their traditional dishes, which are made with nothing less than the finest of ingredients. Not only do they offer a large selection of pork dishes including their very popular pork chops, but they also serve one of the finest Cubanos in Los Angeles. But don't fill up on the main dish, because you will want to try their delicious guava compote.
Dining at the El Colmao, is like stepping back in time to an era long before the hustle and bustle of today's fast-paced lifestyle. So, if you are looking for an excellent place to sit down with some family or friends, then you will need to head on over to Pico Boulevard and find yourself an available table at the El Colmao.
Address: 2328 Pico Blvd.
Phone: 213-386-6131
Without a question, when it comes to Cuban cuisine in the greater Los Angeles area, look no further than Gigi's Café Cubano. This popular destination is more than just a bakery. It is the cornerstone of the local community. It is an excellent destination regardless of whether you are looking for breakfast, lunch, or dinner.
Gigi's Café Cubano first opened its doors back in 1968 and over the years, has gone through a number of transitional phases. Slowly it evolved into the community hotspot that it is today. Located on Temple Street, the café receives the morning sun which invites you to come in and pick up some freshly baked Cuban bread or even to sit down in order to enjoy an authentic breakfast.
At Gigi's Café Cubano, everything is made fresh using authentic Cuban recipes. Their popular Cubano sandwiches feature slow-roasted pork, sweet ham, Swiss cheese, pickles, and mustard, all smashed between its freshly baked Cuban bread. And because of how great their sandwiches taste, as noon draws closer, the lunch crowd starts making its way through the doors in order to pick up a Cubano. There are times when the counter is so busy that it's virtually impossible to find a spot to sit. Nevertheless, you can just sit down at any of the available tables and wait to be served.
Whether you are looking for a delectable Cubano for lunch, some freshly baked Cuban bread to serve with your dinner, or even a guava purée, then the Gigi's Café Cubano is the place to be. The environment is very friendly, and open, making it an excellent place to hang out with your family or friends, or even have a get-together with your coworkers over lunch. But, don't forget, you will only find Gigi's down on Temple Street.
Address: 2200 W Temple St.
Phone: 213-483-6152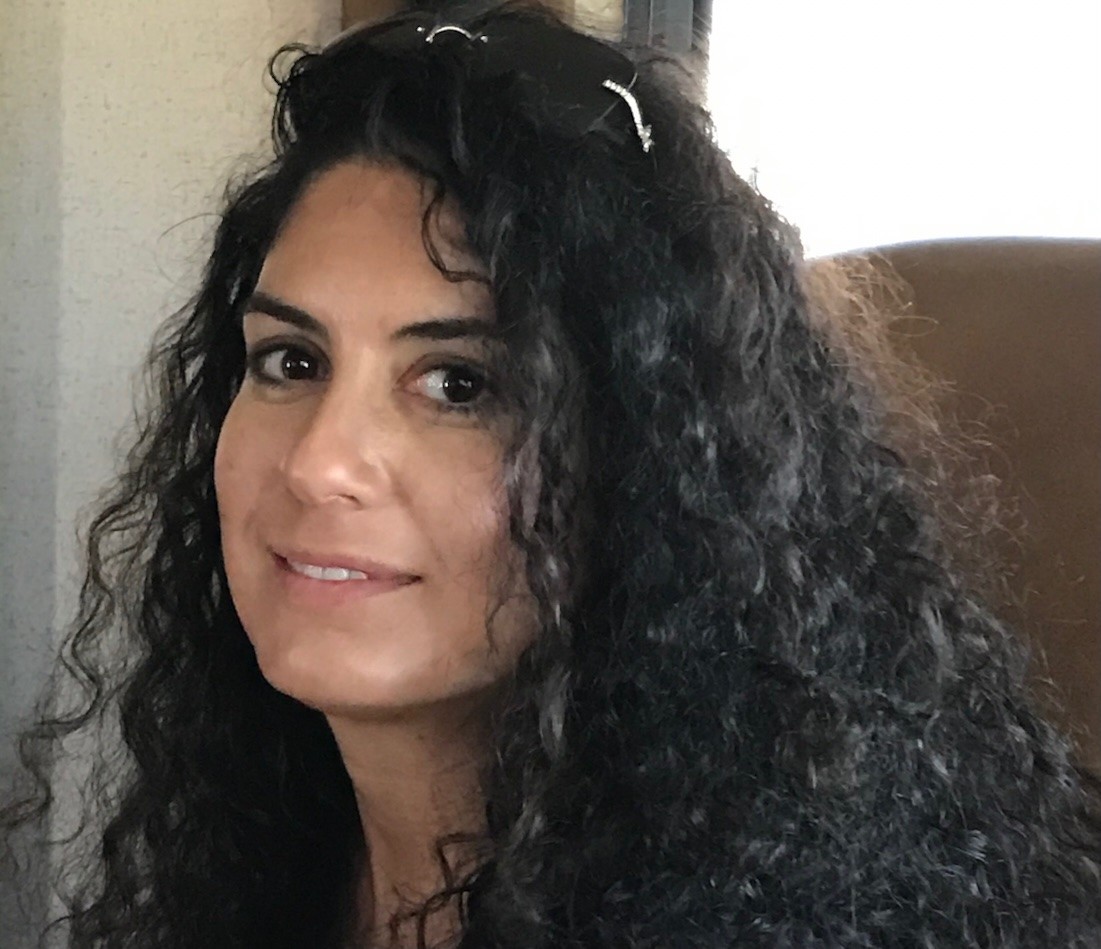 Noelle fell in love with Cuban food at first bite.  She has been cooking, learning and crafting Cuban food for over 25 years. She was taught by her Cuban husband's mami and abuela.  They taught her everything using the "by eye" method.  She took those "by eye" recipes and turned them into measured recipes.  This website is where Noelle shares her love of Cuban food with the world.