What is Arroz Amarillo Con Pollo?
Arroz con Pollo is rice with chicken in Spanish. My Cuban mother-in-law always called it arroz amarillo con pollo which translates to yellow rice with chicken. Either way, it is like Cuba's version of paella. 
Arroz amarillo con pollo is a one-pot dish that consists of rice, chicken, and sofrito, along with peas and peppers. Paella gets its yellow color from saffron, arroz con pollo gets it from bijol. The addition of beer is another difference between paella and arroz amarillo con pollo. 
I have seen many variations of what kind of chicken (pollo) is used. I am going to show you the most traditional way of using a whole cut-up chicken minus the back and wings. Of course, you could just use the thighs or just the breasts. You could even use boneless skinless chicken thighs or boneless skinless breasts too. 
However, another lesson that I have learned from my mother-in-law is that "the flavor is in the bone." 
After trial and error, I have also learned that some varieties of rice are better than others. I always have jasmine rice in the pantry. There will always be jasmine rice in the rice cooker every night to go with whatever beans are being made. 
But, just because I always have jasmine rice ready to be used does not mean it is the best rice for arroz amarillo con pollo. A better choice of rice is rice that is suitable for paella. Spanish bomba or Calasparra rice are the better choices. Why? These kinds of rice absorb liquid without getting mushy, which is exactly what happens when using jasmine rice. I chose the bomba rice pictured below and I was not disappointed!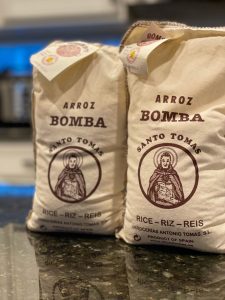 Sharing is fun…..below is a Pinterest friendly photo!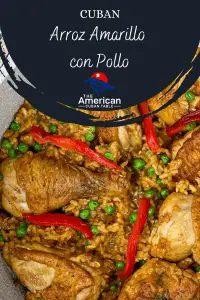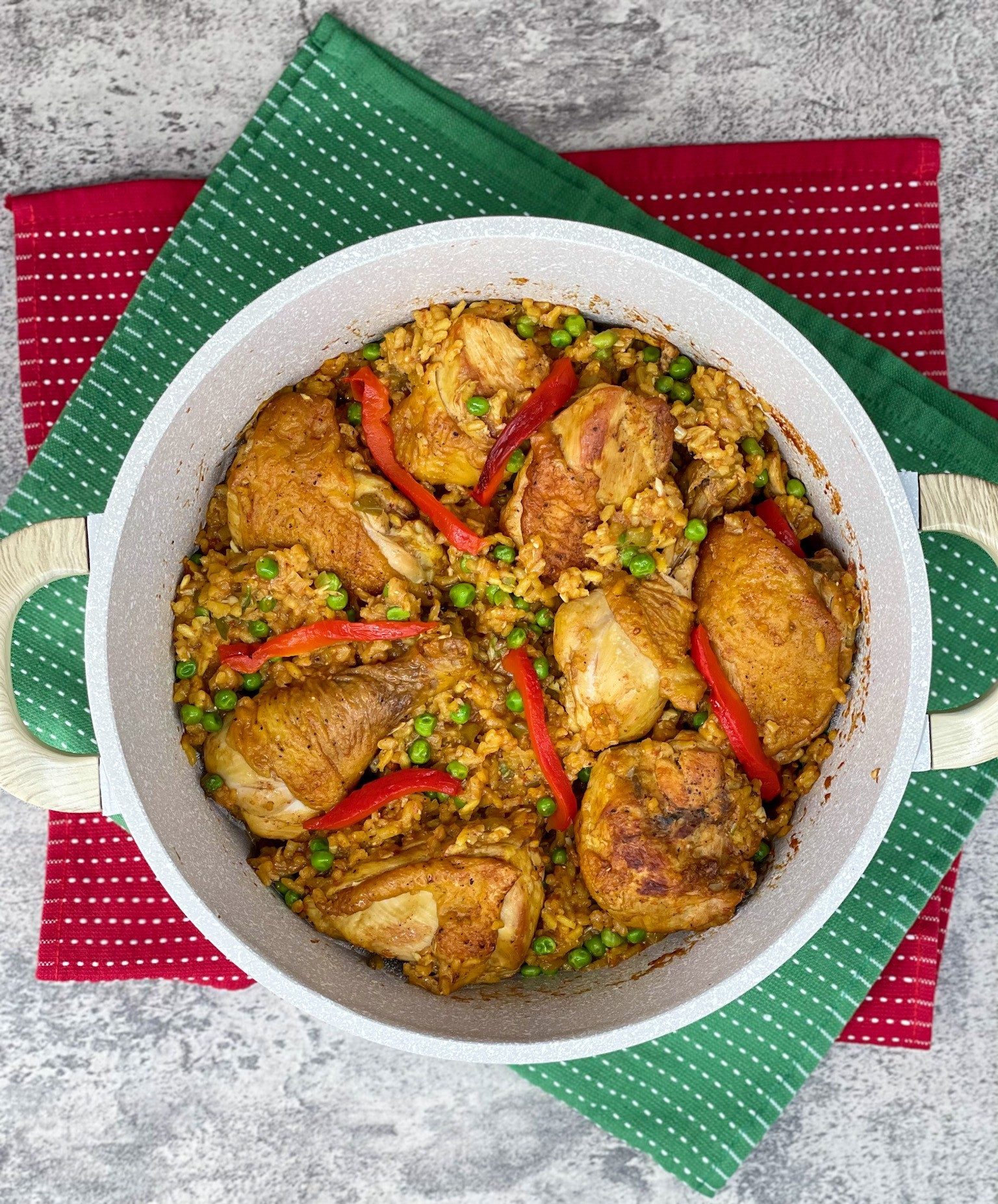 Arroz Amarillo Con Pollo
Instructions
Cut up one whole chicken discarding the back and wings. Cut each breast in half. I like to save the back and wings to make chicken broth. Season chicken with salt and pepper on both sides.

In a large pot or paella pan heat 3 tablespoons of olive oil on medium high heat. Brown chicken skin side down for 10 minutes. Turn and continue cooking for another 10 minutes. Remove chicken and reserve on a plate.

While chicken is browning dice the onion and the green bell pepper. Smash or mince the 1/2 cup of garlic cloves. Puree the cherry tomatoes and reserve in a bowl.

After the chicken has browned on both sides and is removed, saute the onions and peppers in the same pot. Season with salt and pepper. Saute until the onions caramelize just a little bit. Stir in the garlic and cook until fragrant.

Pour in half of the beer (6oz) to deglaze the pan. Add the pureed cherry tomatoes and cook on medium heat for 5 minutes.

Stir in the salt, garlic powder, cumin, black pepper, bijol and the bay leaf. Cook another 5 minutes to let all of the flavors combine. *If using boneless skinless chicken add it back in the pot now and cook until done. When done shred the chicken right in the pot and go to next step.

Stir in 2 cups of washed bomba rice, 2 1/4 cups of chicken broth and the rest of the beer. Bring to a boil add the chicken back into the pot and reduce the heat to medium low cover and cook for 30-35 minutes until rice is done. If using a paella pan don't cover and cook until rice is done. Try not to stir unless you notice some rice not cooking evenly.

While the rice is cooking preheat the oven to 450 degrees. Remove the stem and seeds from the red bell pepper. Place on a cookie sheet. Drizzle some olive oil and season with salt and pepper.

Roast in the oven for 15-20 minutes until charred and blistered.

Remove from oven and let cool in a covered bowl.

When the rice is done gently stir in 2 cups of green peas and let the heat of the rice cook the peas.

While the peas are cooking remove the skin from the red bell pepper. Cut into thin strips and garnish the arroz amarillo con pollo. Serve with fried plantains and avocado and cucumber salad.