Ropa Vieja Soup Recipe (Sopa de Res)
The second best part from making Ropa Vieja is the broth that is created for the soup. The broth is so rich and flavorful that it would be a sin not to use it. Every single time I make Ropa Vieja nothing is wasted and with fall and winter right around the corner this soup is sure to become one of your  favorite comfort foods.
An optional ingredient that I add to the soup is malanga (my husbands favorite). Malanga is a root vegetable that is similar to a potato. It can be found in most latin supermarkets.
As a side note, when my boys were little soup was made every couple of days with either chicken or beef. I would use a variety of different vegetables and then blend the soup to make baby food. I can share that later if anyone is interested.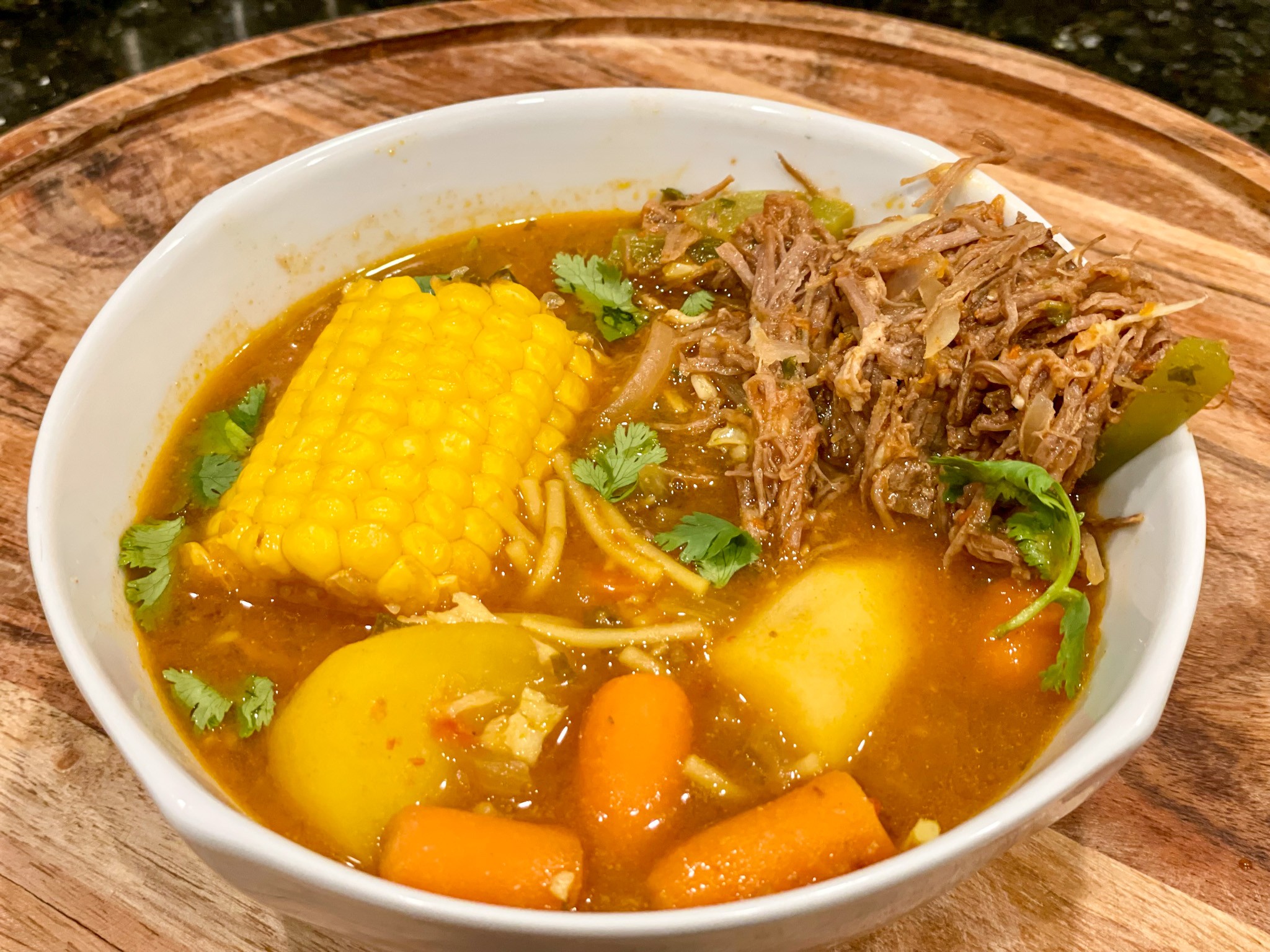 Ropa Vieja Soup
Instructions
I start with heating a Dutch oven on medium high heat. Add a couple of tablespoons of olive oil and sear the flank steak on both sides. Add 2 boxes (64 ounces) of beef broth and a whole seeded green bell pepper. Let the meat braise int he pot in a 325 degree oven for 2.5-3 hours. If you don't have a Dutch oven or are short on time a pressure cooker or a power cooker can be used too. Either one would cut the cooking time down to about 25-30 minutes. Also if you don't have any beef broth plain water can be used too. However, I prefer to get the added depth of flavor from using beef broth. After the steak is done braising in the oven remove and discard the bell pepper and let the flank steak coon in the broth. I have found that if I take it out too early the steak will dry out. So after the steak is cooled in the broth remove it and prepare it for Ropa Vieja.

Strain the broth with a wire mesh strainer into a stock pot. Dice an onion and smash or grate garlic cloves. Sautee over medium high heat until translucent and add to the broth.

Add pureed cherry tomatoes to broth and continue to cook on medium heat.

Next peel potatoes and malanga and cut into 3 or 4 chunks and add to broth. Peel carrots in cut into 1 inch bite sized pieces and add to broth. Add mini corns to broth. Now we will season the broth. Add 2 1/2 teaspoons of salt, 2 tablespoons of cumin, 1 teaspoon of garlic powder and 1/4 teaspoon of bijol. If you don't have bijol a couple drops of yellow food color can be substituted. Cover and continue to cook on medium heat until vegetables are fork tender.

Last we are going to add about 1/2 a bag of fideo which comes in a 7oz bag and the cilantro. Continue to cook until fideo is soft about 10 more minutes. Serve with a chunk of crusty French bread. Garnish with the juice from half of a lime and avocado. Sometimes I love to put some of the ropa vieja in my bowl of soup!