Do you find yourself ONLY using your Instant Pot more than any other kitchen appliance? 
If not, you will after I show you how these Instant Pot accessories can add so much value to your Instant Pot.
The main reason I bought an Instant Pot was to use the pressure cook feature. Slowly, I started using the other features one by one.  Before I know it I'm addicted to my Instant Pot.  I am forgetting about all of my other kitchen appliances, pushing them aside like old clothes. I could put away the rice cooker, the air fryer, the deep fryer, and the crock pot. I am pretty sure I heard my kitchen counters saying, "Thank you!"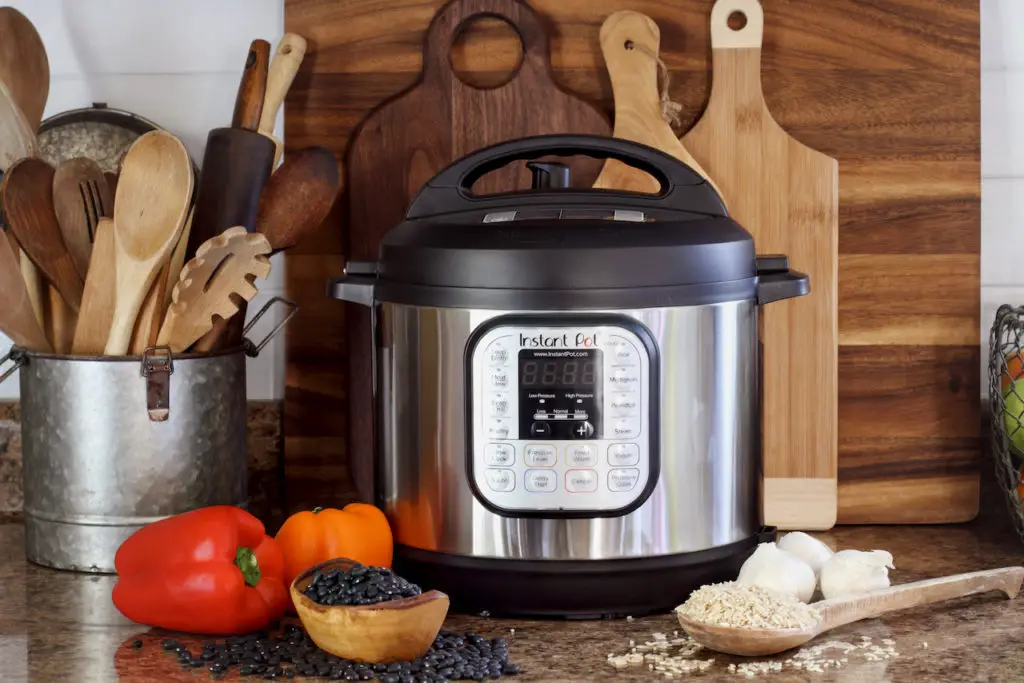 If you're not there yet, then let me  show you how to get there. With these accessories you can get so many benefits out of your Instant Pot. Tell me more you say, "What are the BEST Instant Pot accessories?"
Instant Pot Fryer Lid
Turn your Instant Pot into an air fryer. You might not even want your deep fryer anymore either.
Perks – Fry foods up to 400 degrees. There are four other programs such as broil, bake, roast, reheat and dehydrate. It comes with a heating pad so you dont burn your counter tops. When storing the lid put the pad on top so it stays dust free. The lid comes with a fryer basket and a broiler/dehydrating tray. Find it at Amazon here.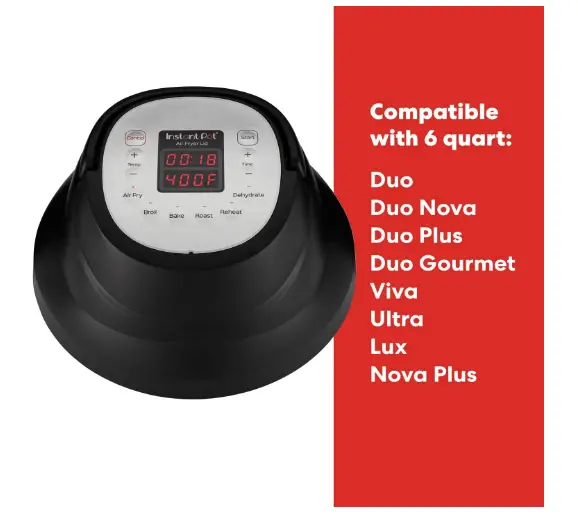 Colored Silicone Sealing Rings
Once you start using your Instant Pot more, replacement rings will be needed. They will break down and keeping a tight seal is necessary for proper cooking. 
Perks – Having different colored rings for savory and sweet recipes is helpful. Sometimes the rings can hold some smells in, so having different colors makes it easy not to forget. Find at Amazon here.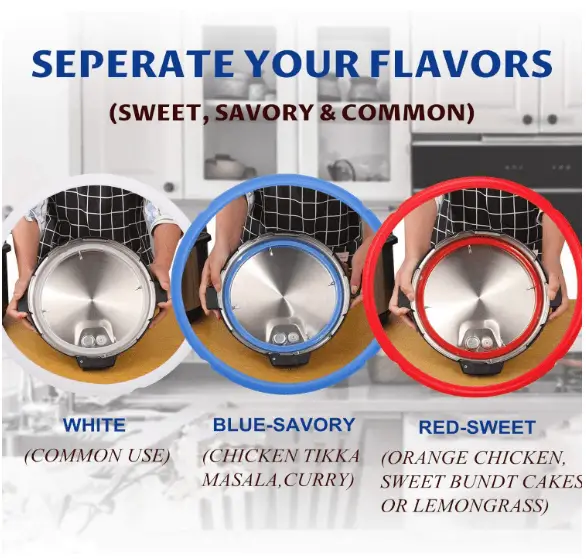 Non-Stick Inner Pot
Instant Pot comes with the stainless steel inner pot and purchasing a non-stick inner pot is a fantastic addition. An extra pot is great for making multiple dishes at a time without having to wash one.
Perks – The pot is made with heavy gauge ceramic non-stick coating that is PTFE, PFOA and teflon free.  It heats evenly and efficiently.  Perfect for slow cooking, sauteing, and making rice. It can be transferred to an oven up to 360 degrees for browning. Find it Amazon here.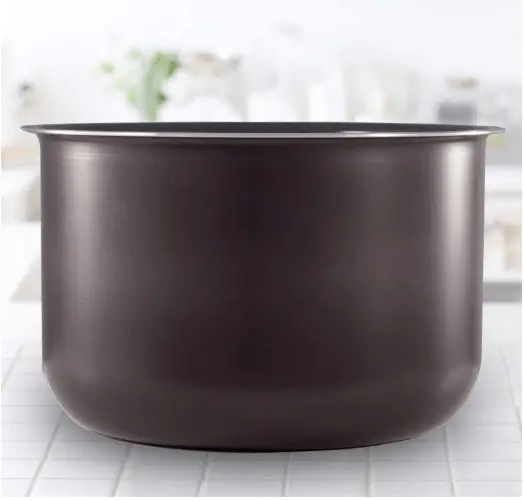 Silicone Cover
Tired of using foil or plastic wrap for leftovers? Get the silicone cover and put it in the fridge. 
Perks – Creates a seal to keep leftovers from spilling. Great for potlucks or BBQs when traveling. It is BPA free and dishwasher safe.  Find it Amazon here.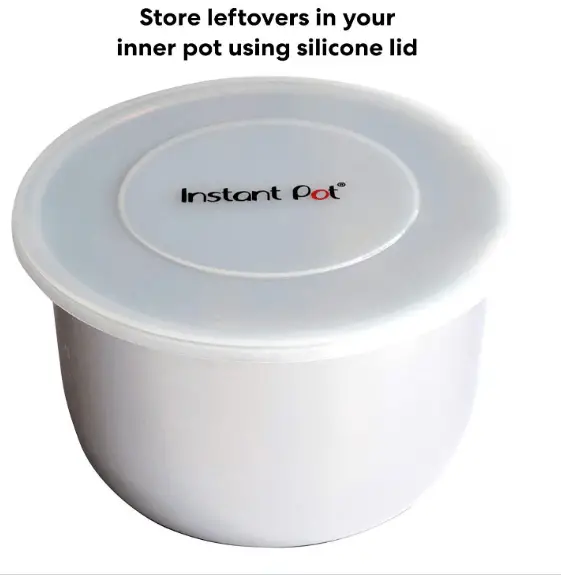 Hatrigo Steamer Basket
This should really be called the multi-use basket. This basket is made of fine mesh and the feet are wrapped in silicone to protect the inside of your Instant Pot. 
Perks – Like I said before this basket can be used for washing your vegetables and then steaming them all in one basket. When making broth put vegetables in the steamer basket and then lift it out when done and you're left with the broth already strained. According to Hatrigo the basket will not rust and is dishwasher safe. Find it Amazon here.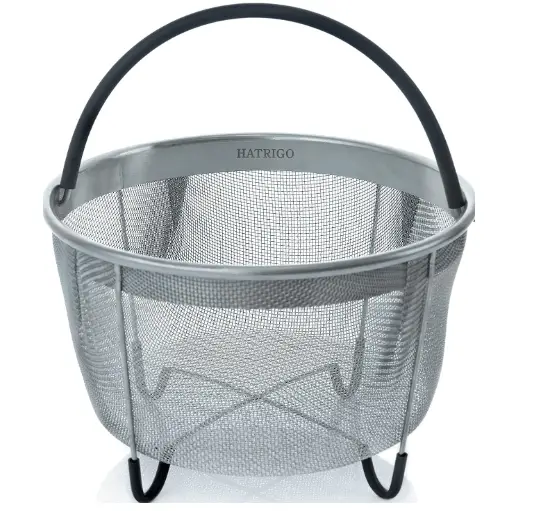 Bakeware Sling
Another multi use accessory is the bakeware sling. The OXO Good Grips brand is a favorite among the Instant Pot community. The base is a honeycomb design that keeps  pans or food  sitting on top of it while  still giving water or heat enough room for circulation. The bottom is strong enough to handle lasagnas, cheesecakes and more. 
Perks – The silicone is heat resistant, non stick and dishwasher safe. It has a simple handle that makes it easy to take pans in and out of the Instant Pot. Many times it can take the place of a trivet. It can even be used for hard boiled eggs.  Find it at Amazon here.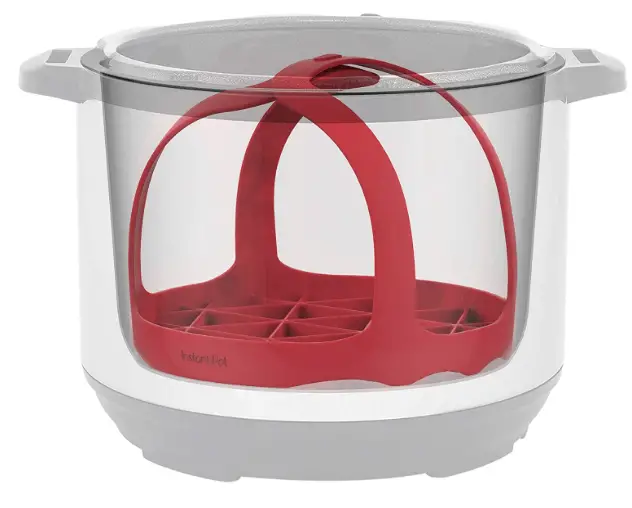 2 Tiers Bamboo Steamer
You're probably thinking not another steamer.  However, just wait until youve steamed your vegetables, dim sum and potsctickers in a bamboo steamer. It's a game changer. 
Perks – It's multi-layered for different foods cooking at the same time. Good quality bamboo just makes food taste better because some of the natural fragrance infuses into the food instead of metal.  Find it at Amazon here.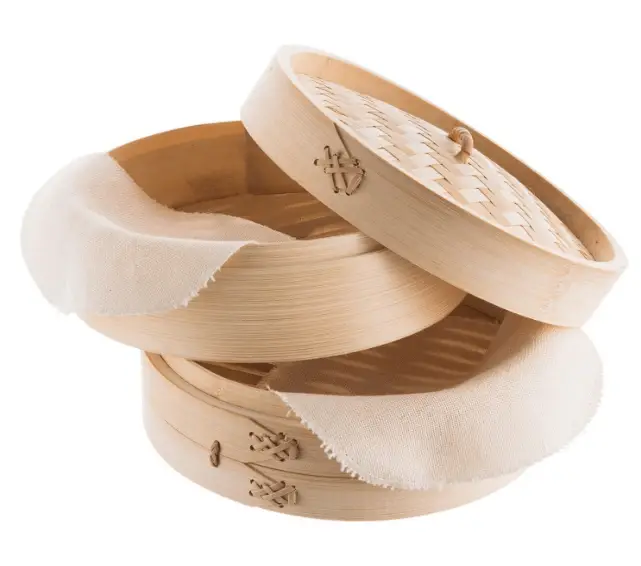 Cheesecake Pan with Removable Bottom 
Another Instant Pot community favorite is making cheesecake in the IP. Now it's even easier with this cheesecake pan. Note to yourself to get the 7 inch so it will fit in the 6 quart Instant Pot.
Perks – It fits better inside the Instant Pot better than a springform pan because there is no latch. Another advantage to not having a latch is that it can't become loose over time. Its 3 inches tall which reduces spills. Pushing from the bottom lifts the cheesecake or the cake right out of the pan. No need to cover the bottom of the pan with foil. Find them at Amazon here and here.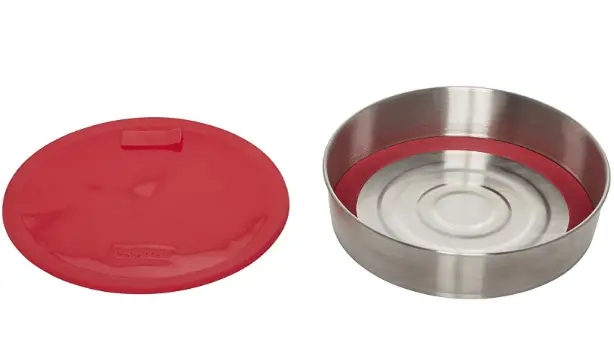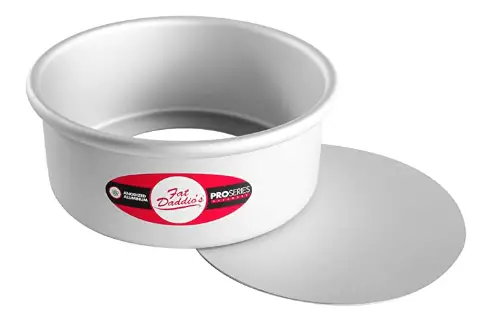 7" Non-Stick Springform Pan
The good news is if you already have a springform pan and it is stainless steel or anodized aluminum and of course BPA-free then you don't need to buy a new one. It can be used in the Instant Pot.  Are you wondering, "How do I put a springform pan inside my Instant Pot?" I'll tell you how. Add 1 cup of water to the inner pot and put in the trivet. Then just simply put the springform pan on top of the trivet and you're ready to cook. 
Perks – Again, this is another accessory with many uses.  Of course you can make cheesecake but you can also make cakes, cornbread, banana bread, quiche, and the list goes on. When its done open the latch and whatever you put in there comes out perfect.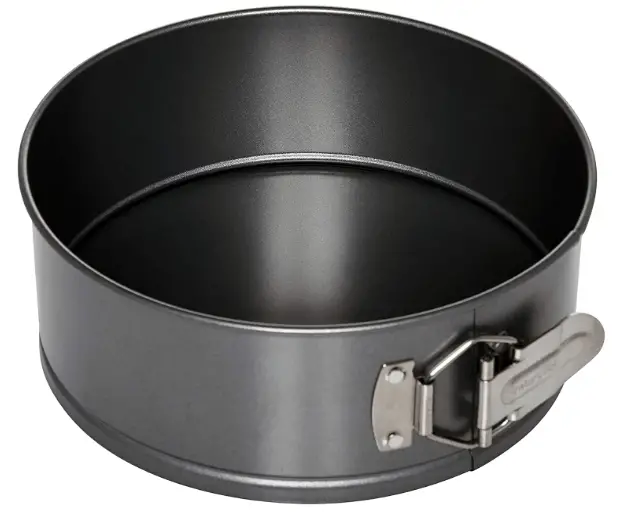 Silicone Baking Cups
What makes these better than parchment paper liners is they will hold their shape inside of the Instant Pot. 
Perks – Silicone cups can be reused over and over unlike parchment paper cups. They can be used for cupcakes, egg-bites, muffins and even individual servings that can be frozen and ready for use at your convenience.  They can even be used for food prep, as a spoon holder, mini-quiches, and individual gelatin molds. Find them at Amazon here.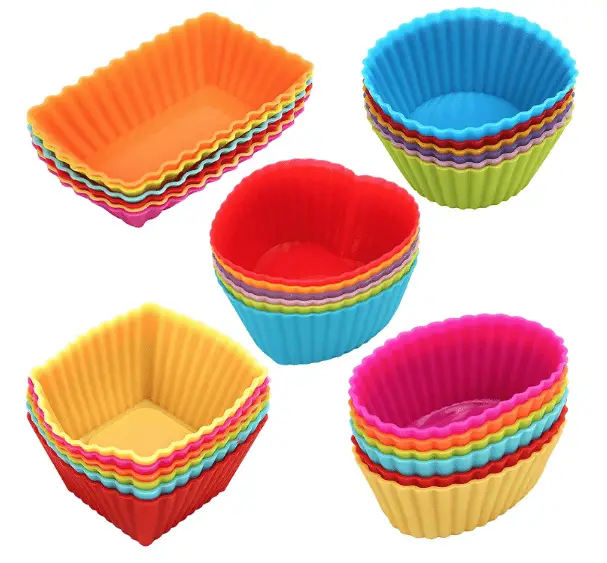 Euro Cuisine GY60 Greek Yogurt Maker 
More and more people are making yogurt at home so they can control the quality of ingredients. Do you want organic, less sugar, more protein? Whatever parameters are important to you, you can get it done with this yogurt maker and your Instant Pot.
Perks – It has a 2 quart capacity. The plastic components are BPA-free. You are using the Instant Pot so there is no need to buy another appliance. The strainer goes from the Instant Pot into the refrigerator. It comes with a recipe book to help you get started and inspired. Find it at Amazon here.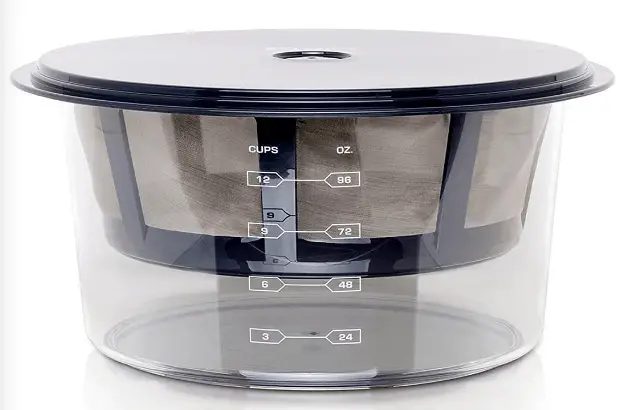 Silicone Egg Bite Molds
We all love Starbucks but hate how the cost can add up and up and up. Now we can cut back by making our own egg bites at home. My personal favorite is the bacon and gruyere egg bites. 
Perks – These molds can be used to make almost anything bite-sized. From brownies to corndogs its easy to have kid sized pieces  or portion control pieces for you. The one I found for you has a built in trivet. Find it at Amazon here.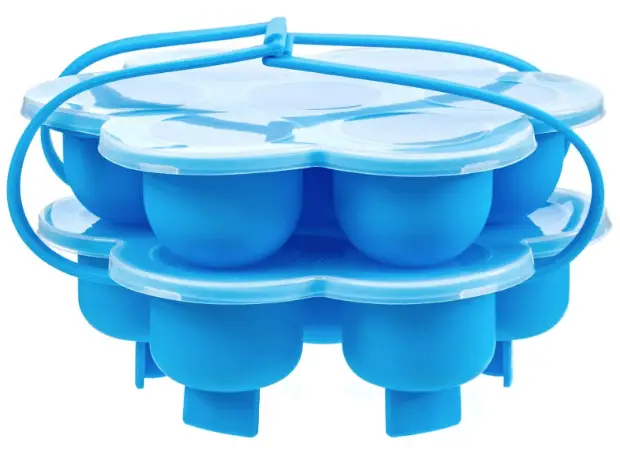 Silicone Steam Diverter
Can you see yourself using your Instant Pot more and more now? Maybe the place you keep it is under a cabinet and you have to keep moving it every time you use it. This steam diverter will allow you to leave it where you want it and point the steam in a safe direction. 
Perks – They are made with safe food grade silicone. It will keep you from burning yourself and protect your cabinets at the same time. Find it at Amazon here.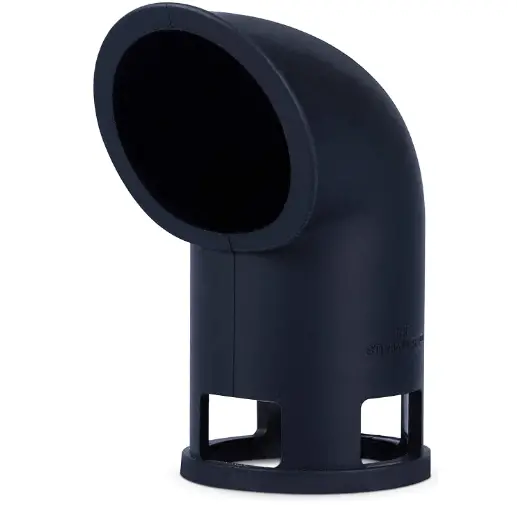 Stackable Stainless Steel Instant Pot Inserts
Cook multiple foods simultaneously. Save even more time by stacking these insert pans to cook vegetables in one and meat or fish in the other. Since the bottom pan cooks slightly faster than the top pan put the meat in the bottom pan and put the vegetables in the top pan. 
Perks – Made with food grade stainless steel. Works better than the microwave for reheating food. Leftovers can be stored in the pans means less dishes to wash.  Find it at Amazon here.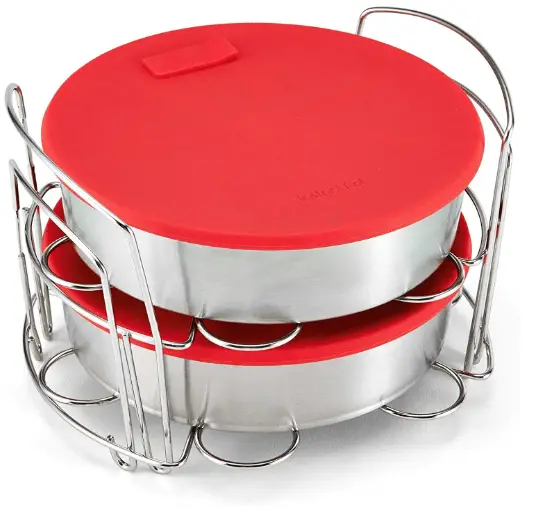 Springform Loaf Pan
The Instant Pot silicone loaf pan can be used in the 6, 8, or 10 quart cookers and with the Air Fryer Lids.  It has a high quality tempered glass bottom. It is BPA, PFOA, and PTFE free. It is dishwasher, preheated-oven and freezer safe. 
Perks – The glass bottom allows you to bake, slice, then chill and serve all in the same loaf pan.  Make breads, meatloaf or lasagna with this pan. Find it at Amazon here.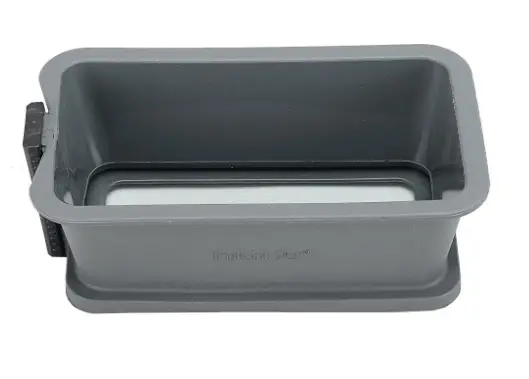 Final Thoughts
Are you with me now? Put away the air fryer, the rice cooker and get some counter space back.  As you can see most of these accessories have multiple uses so you can get  more out of your Instant Pot.  It is not just for pressure cooking and slow cooking.  You can use it for breakfast to dessert, the Instant Pot can do it all.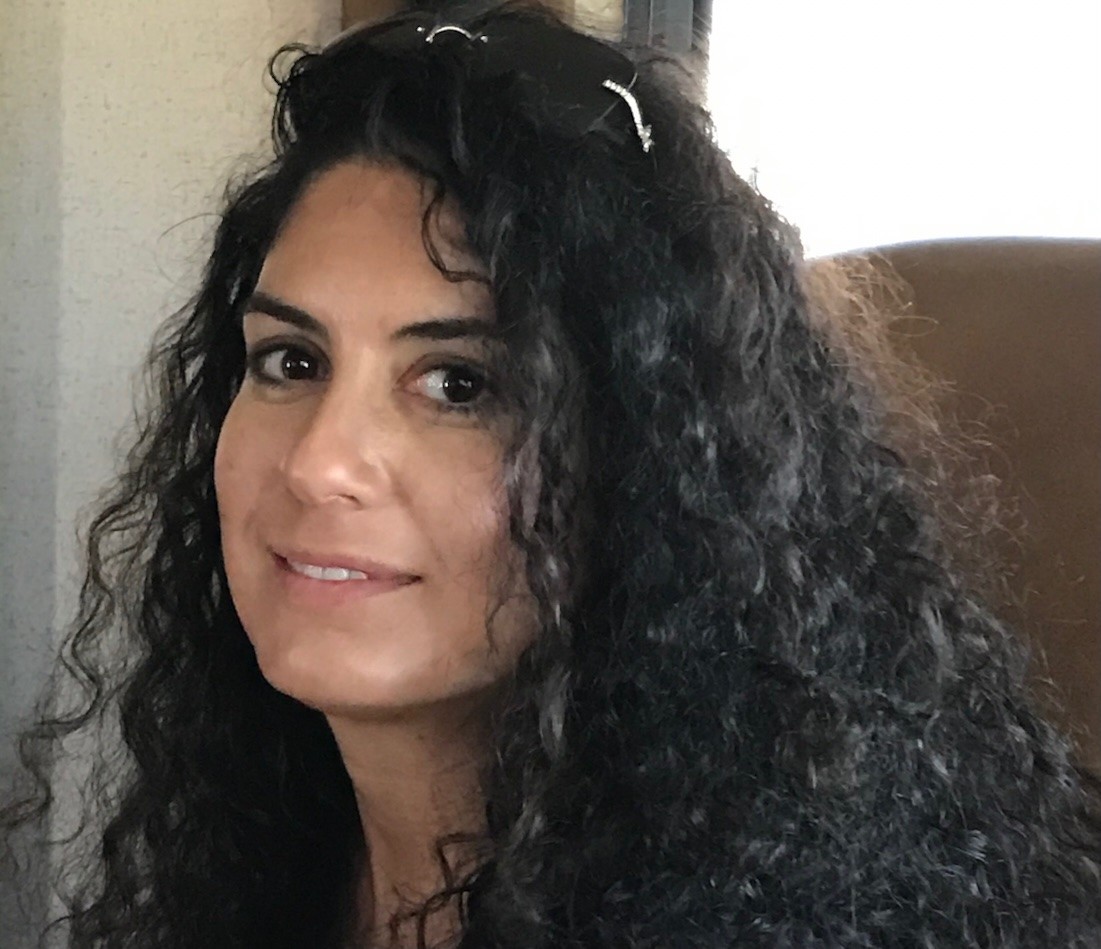 Noelle fell in love with Cuban food at first bite.  She has been cooking, learning and crafting Cuban food for over 25 years. She was taught by her Cuban husband's mami and abuela.  They taught her everything using the "by eye" method.  She took those "by eye" recipes and turned them into measured recipes.  This website is where Noelle shares her love of Cuban food with the world.