What is Cuban Fried Rice (Arroz Frito)?
Cuban fried rice or arroz frito is exactly what it sounds like. Fried rice with a Cuban twist. What is the twist you ask? Cuban fried rice is made with leftover masitas and plantains The combination of the savory pork, the salty soy sauce (salsa china) and the sweetness of the plantains comes together like an orchestra of flavors performing Mozart in your mouth. Does this leave you wondering, how did Cubans learn how to make Chinese fried rice? Let me explain.
Havana's Chinatown
El Barrio Chino de la Habana is Havana's Chinatown. It is one of the oldest and was the largest Chinatowns in Latin America. In its prime El Barrio Chino stretched out across 45 square blocks. What could you find in these 45 square blocks? In Havana's Chinatown there were of course restaurants serving traditional Chinese food and Cuban creole cuisine. There were residences, bodegas, pharmacies, laundries, and Chinese associations. It was and still is home to the People's Chinese Newspaper (Kwong-Wah-Po).
Chinese immigration started in 1837 and continued through 1874. During this period approximately 150,000 Chinese people (mostly men) were brought to work in the sugar cane and tobacco fields. They came to work with the understanding they would have an eight year contract. When the eight year contract expired they were free to work and do what they wanted. Some Chinese workers moved to the United States, some were able to return to China and some stayed in Cuba.
Those that stayed in Cuba began to start their own families. Some tried to stay true to their customs and marry women from their own community. However, because there were not many women of the same descent Chinese men were falling in love and marrying Cuban women.
Recipe Notes
Protein – Masitas (fried pork chunks) was used in this recipe. Ham, chicken or shrimp could be substituted.
Plantain Bananas – I prefer to eat the bananas on the side but they could be cut up and added to the Arroz Frito as well.
Sharing is Fun! Below is Pinterest ready photo….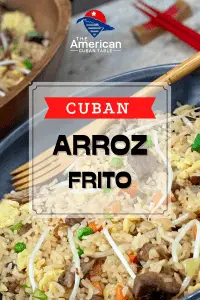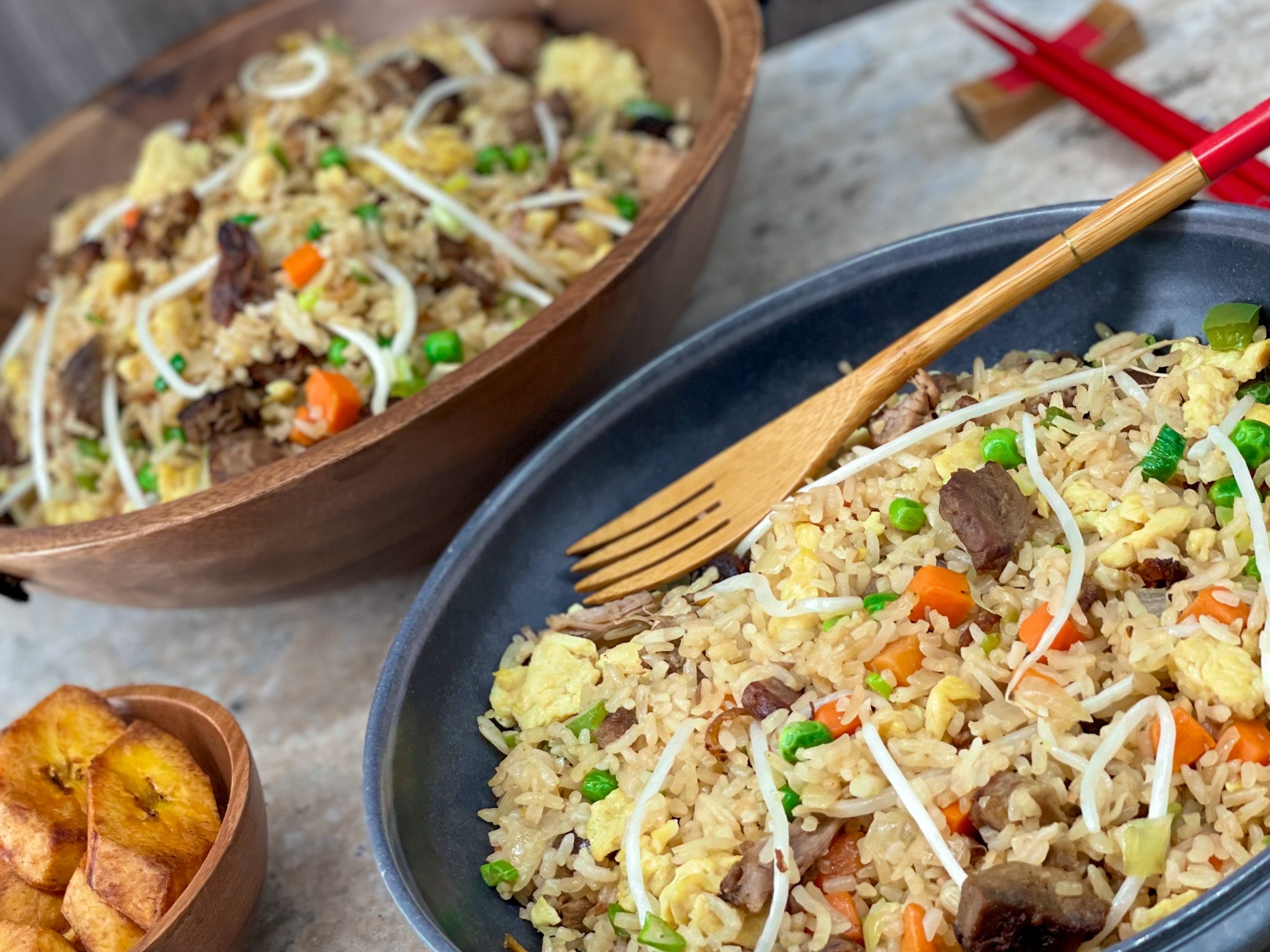 Cuban Fried Rice (Arroz Frito)
Instructions
Heat some oil in a frying pan on medium high heat. Slice plantain banana at an angle. Fry bananas in oil until done. Remove and drain on a paper towel and reserve for later.

Whisk the eggs together and add in the chicken broth and soy sauce. Don't be alarmed at the color. The eggs will look a little brown but will cook lighter.

Heat 1 tablespoon of the oil on medium heat in a wok. When the oil is hot add the eggs and scramble until done. Remove from wok and reserve for later.

Cut up leftover masitas (fried pork chunks) to make 2 cups. If you don't have any leftover masitas ham or shrimp can be substituted.

Brown masitas in pan until golden all over. I like to use a cast iron skillet to get some good color on the masitas but you can use the wok as well. Remove from pan and reserve for later.

Heat 1 more tablespoon of oil in the wok on medium high heat. Add the onions and bell peppers and cook until tender.

Stir in the peas and carrots. Add the garlic being careful to not burn the garlic.

Add in the cooked rice. The rice should be leftover cold rice. Stir to combine. Add the soy sauce a little at a time. Combine thoroughly with each addition. Taste frequently and adjust to your liking. It's okay if you don't use all of the soy sauce.

Add in the reserved masitas and scrambled eggs. Add in the green onions. Mix thoroughly.

Last stir in bean sprouts and turn off the heat. Serve with plantains.