Tamales have been an important food in Latin America for more than 2000 years. One of the earliest references to the tamale can be found in a mural in Guatemala which dates back to around 100 A.D. By this time, tamales had already become a very popular dish in Mesoamerica. Over the centuries, thanks to Spanish colonization, tamales have been spread to every corner of the globe. As tamales spread throughout Latin America, and the rest of the world, a number of different variations began to emerge. The two greatest variations can be seen in the differences between Mexican and Cuban tamales.
What Is The Difference Between Cuban Tamales and Mexican Tamales?
Mexican Tamales
Mexican tamales are made with hearty chunks of pork or chicken that are cooked separately and then mixed in with the corn masa. When it comes to making tamales in Mexico, the recipe begins with a masa harina dough, that is made from kernels of corn that have been pre-soaked in a solution of lime or lye. Once the tamale has been prepared, they are generally wrapped up in corn husks.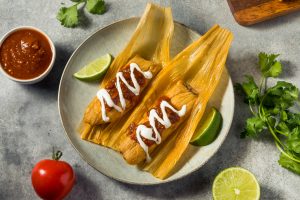 The Mexican pork and chicken tamales are generally served with green or red chile peppers, while chicken tamales may also be served with mole sauce. There are also a wide variety of sweet tamales that are available, which are generally filled with fruits like strawberries and pineapples.
Cuban Tamales
During the 1920s, there was an intense period of musical and cultural exchange between Mexico and Cuba. Many believe that it was during this period that tamales were first introduced to the country. After the 1920s and prior to the 1959 Revolution, it was commonplace to find Mexican-styled tamales being sold by street vendors throughout the country. In fact, prior to the 1959 Revolution, there were several popular Cuban songs written about the tamale. The most well-known song was the "Los Tamalitos de Olga", which was recorded by Orquesta Aragón, and talks about delicious tamales that could be purchased from a street vendor in the city of Cienfuegos.
Cuban tamales feature seasoning and fried pork that is evenly distributed throughout the corn masa and are usually not served with any form of sauce. This is because the Cuban tamale is already very flavorful. While tamales may be prepared with several different fruits, the most popular way of sweetening Cuban tamales is with guava paste.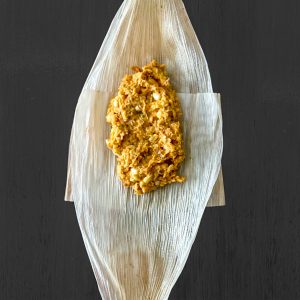 Traditional Mesoamerican tamales were finger foods. They were created so they could be carried off to battle and consumed with ease on the go. And while traditional tamales are still very popular in Cuba, there is also another version of the tamale which comes in the form of porridge. In Cuba, the tamal en cazuela is a very popular variation of the tamale that can be eaten with a spoon.
While Cuban and Mexican tamales have a lot in common with each other, they also have a lot of major differences. The way that tamales are prepared in Cuba is very different from the way they are prepared in Mexico. And, because they feature different ingredients and seasoning, they taste different too.
Recipe Notes
Corn – Originally, in Cuba the corn that is used to prepare tamales is field corn. Field corn is not as sweet as American sweet corn. To counter the sweetness make sure to taste each step of the tamales and add salt. Since I am preparing this recipe in the summer, corn on the cob is abundant. However, if you decide to use frozen corn the corn will have a higher water content. You might need to add up to a 1/2 cup more masa than what this recipe calls for.
Pork – The pork used in this recipe is leftover Masitas (fried pork chunks). When I make masitas I usually make enough for the first night with some rice and beans and the leftovers I turn into something else like these tamales or Arroz Frito (Cuban fried rice). If you do not have "leftovers" follow the directions here for masitas. If you want an even easier version cut 2 pounds of pork into 1″ pieces. Salt each piece. Heat 2 cups of oil or lard in a pot or dutch oven on medium high heat. Add pork pieces and 3/4 cups of water. Let the water cook out and continue cooking until pork browns. Remove pork and drain on a paper towel. Shred pork into little pieces for the tamales.
Sharing is FUN! Below is a Pinterest friendly photo……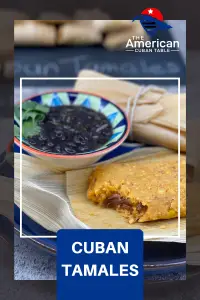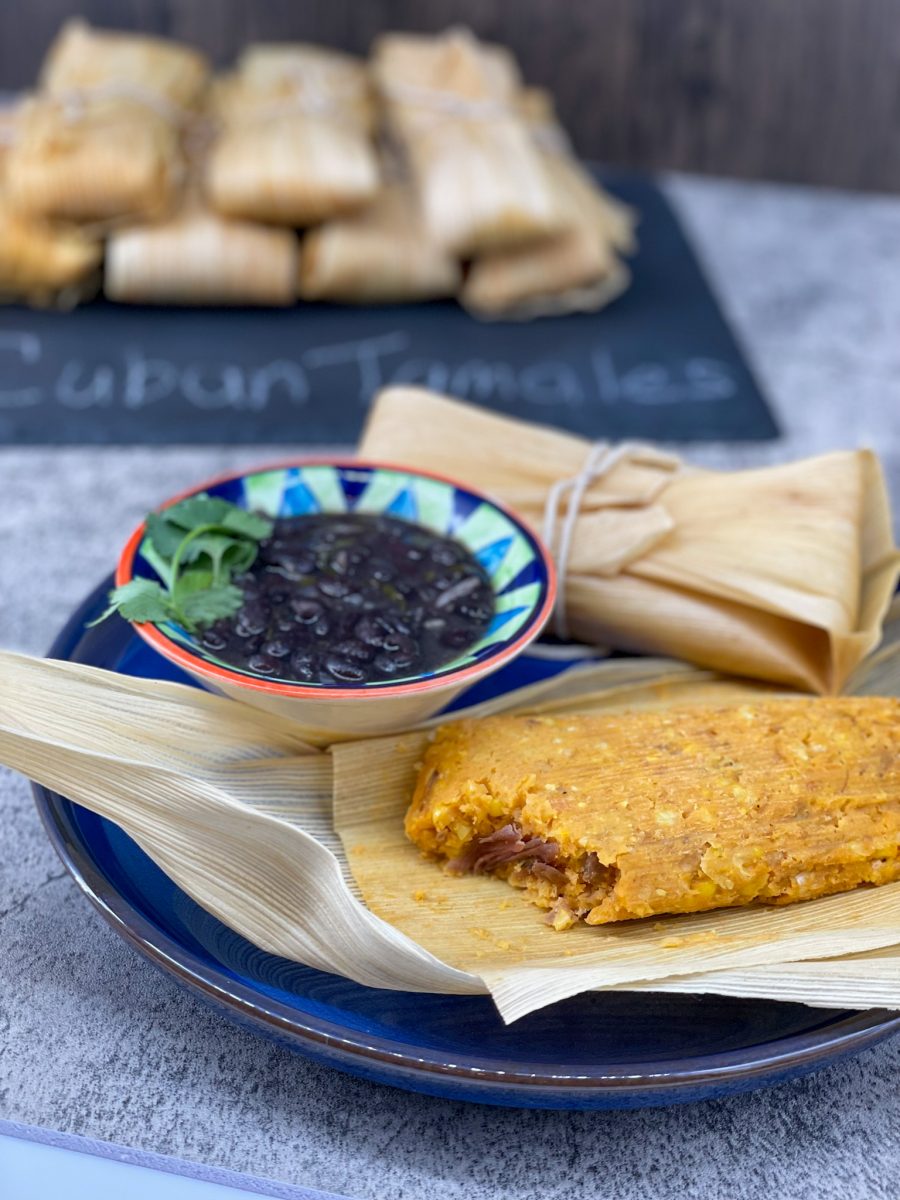 Cuban Tamales
Instructions
Remove the corn husks from the package. Soak the corn husks in hot water while preparing the Cuban tamales. If the water cools down and the husks are not completely pliable, replace water with more hot water.

Using a large bowl cut off corn kernels from each cob with a sharp knife. I saw many recipes using frozen corn but then said it was very watery from being frozen. If using frozen corn try to squeeze out water or you may need to add more masa in next steps.

Using a blender, food processor or I used my Nutri Bullet, process corn until all of the pieces are ground down. The first time I didn't process the corn enough and there were too many whole corn pieces left.

Stir in corn flour. Next, gradually add in chicken broth. Salt to taste. Cuban tamales tend to be more moist than Mexican tamales so don't worry if the mixture is "wet". Also because the corn is sweeter here in the United States compared to corn in Cuba, a little extra salt may be needed to counter the sweetness.

Next, make the sofrito. Heat 2 tablespoons of olive oil on medium high heat. Add in onions and bell peppers and saute until tender, about 5 minutes. Season with salt and pepper to taste. Add in garlic (grated or smashed) and cook until fragrant, about 1-2 minutes.

Add pureed tomatoes and sazon.

Using an immersion blender, blend until sofrito is a smooth sauce. Cover and let simmer on low. During this time let the flavors cook to combine while preparing masitas.

Shred pieces of pork. I used leftover masitas (fried pork chunks). Many times when making Cuban food I look for something to do with the leftovers. Sometimes Cuban food can be a lot of work so getting two meals out of one is the way to go. Look above in the recipe notes for how to make masitas (fried pork chunks). I used about 15 pieces of pork (masitas) to make 3 cups of shredded pork.

Add the pork to sofrito and stir to combine. Now add the pork and sofrito to the corn mixture. If mixture becomes too "wet" from adding the sofrito and pork stir in a little more masa until desired consistency. Taste tamales and if more salt is needed add to desired taste.

Remove corn husks from water and drain on paper towels. Lay down corn husks in overlapping manner. Spoon some of the tamale mixture in the middle and fold husks around tamale.

Tie 12" piece of twine around tamale and place in a steamer basket. I have seen them cooked directly in about an inch of water but I prefer the steaming method. Arrange all of the tamales in the steamer basket. Bring water to a boil on high heat and then reduce to medium heat. Cook for about 1 hour with a lid. Check periodically to make sure the water hasn't cooked out and add more if needed. Turn heat off and let cool with the lid on for another 15-20 minutes. When cooled enough to touch unwrap tamale and enjoy!