Macaroni Con Pollo
Macaroni con pollo is simply pasta with chicken. The preferred pasta is rigatoni. Do you want to know why I use rigatoni? The first reason is because that it is the pasta that my mother-in-law used and she is the one that taught me this recipe. If you have been following along with me then you know my mother-in-law is who introduced me to Cuban food. Now, you might be saying, BUT this isn't Cuban! Well, you are right. This recipe is a mother-in-law original. Just like this breakfast sausage recipe.  I don't know how or when she came up with these recipes but I do know they are amazing and I love sharing them with you!
Now, back to the rigatoni. I actually love how rigatoni is the preferred noodle. The second reason is because the sauce gets into each rigatoni noodle. When you take a bite the sauce is hiding in the noodle and then squeezes out in your mouth.  It's like a pasta party in your mouth with each bite. Today I used Goya rigatoni which looks more like a bigger penne pasta. I have used the shorter and wider rigatoni which is just as good.
Recipe Notes
Chicken – I used boneless skinless chicken breast. Boneless skinless thighs can be used as well or a combination. Another option is to cook whole pieces of chicken in the sauce before adding the noodles. When the chicken is cooked through take it out and shred it and put it back in.
Pasta – Since this is a one pot dish be careful not to overcook the pasta. Cook the noodles to a minute before al dente. The reason is because the carry over heat will finish cooking the pasta to perfectly done. If the noodles are overcooked they will become mushy and soak up all of the sauce.
Sauce – After the noodles are added keep an eye on the sauce. If it looks like it is getting too thick adjust by adding more water or chicken stock. Don't forget to adjust the salt and seasoning as well. Only stir occasionally to prevent sticking.
Garnish with parmesan cheese and cilantro. If you don't like cilantro use parsley. For some brightness squeeze a little lime or lemon juice on top when serving. Serve Macaroni con Pollo with some garlic bread and a salad.
I am working on new version of Macaroni con Pollo. I will be "elevating" the dish using fresh tomatoes and adding a secret ingredient.
Sharing is caring and FUN! Below is a Pinterest ready photo……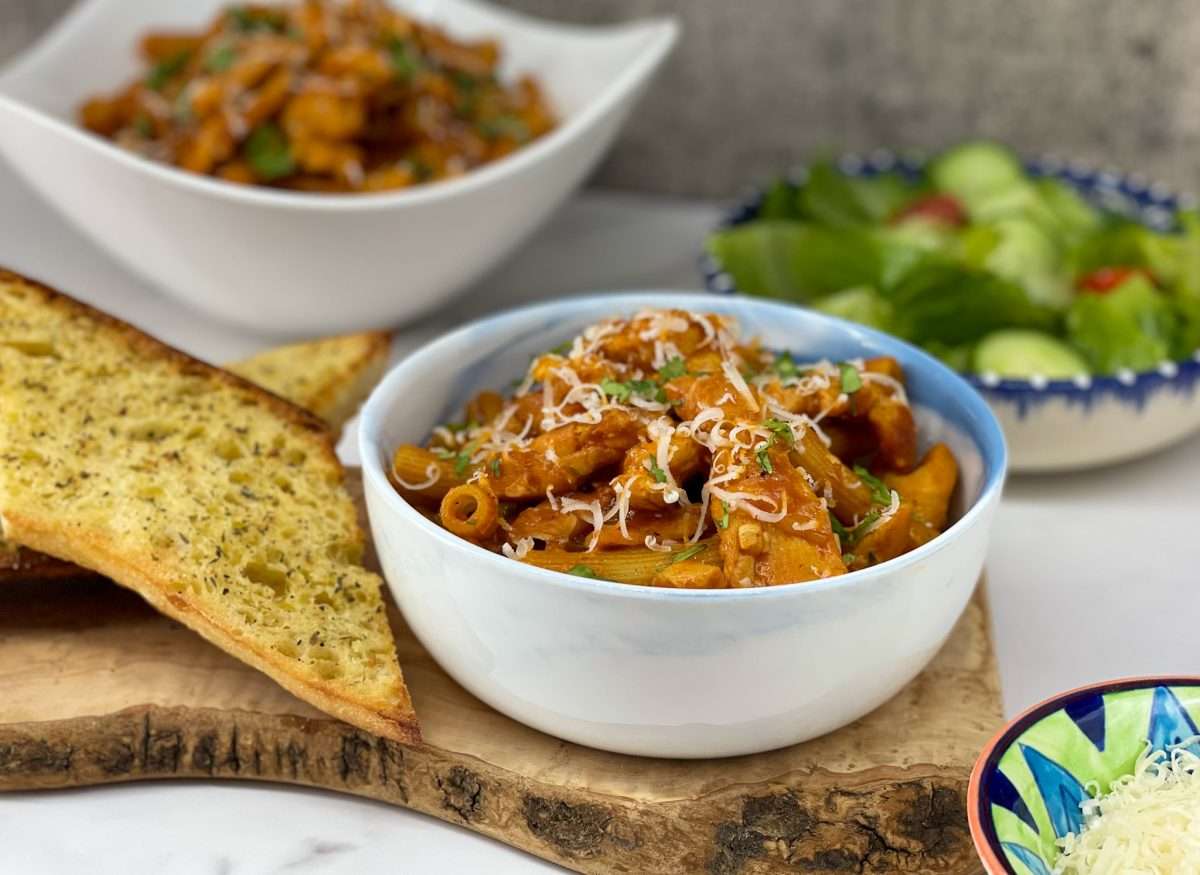 Macaroni Con Pollo
Instructions
Cut 2 lbs of chicken breasts into bite sized strips. Season with salt, garlic powder and aji cachuca. Set aside and let seasoning blend with chicken.

While the chicken is marinating prep the vegetables. Chop the onion and bell pepper. Smash or grate the garlic.

Use a large pot and heat 2 tablespoons of olive oil on medium high heat. Cook chicken until slightly browned. Remove chicken to a plate or a bowl and reserve for later.

Using the same pot saute the onions and peppers. Season to taste with salt and pepper. When the onions and peppers are slightly translucent add in the garlic. Cook just until fragrant, about 2 minutes.

Add the cooked chicken back into the pot with the onions, peppers and garlic.

Next, stir in the tomato sauce and chicken stock. Then add in the salt, garlic powder, aji cachuca, cumin, bay leaf, and bijol. Stir to combine, put a lid on the pot and let simmer on medium heat for 15-20 minutes.

After the sauce has simmered and the flavors start to develop add in the 4 cups of rigatoni. Stir in 2 more tablespoons of olive oil and 2 cups of water. Taste the sauce and add more salt if needed.

Continue to cook with a lid on. Stir occasionally to prevent pasta from sticking together. Cook the pasta to al dente or even a minute before al dente, for 8-10 minutes only. The rigatoni shouldn't be hard still, but still have a bite to it. * Do not overcook or the pasta will be mushy and soak up all of the sauce. Remove from heat and let the carryover heat continue to cook the pasta. Garnish with parmesan cheese and cilantro. Serve with garlic bread and a salad.