Fricasé de Costillitas (Baby Back Ribs Fricassée)
Where have Fricasé de Costillitas en cazuela been all of my life? That is exactly what I said to myself after making this recipe and then taking the first bite! I was inspired to make these oh so tender baby back ribs after trying them at a local Cuban restaurant. So far I have made them three times and each time I mumble to myself, "Where have you been all of my life?" Now you might be asking yourself……
What Is Cuban Baby Back Ribs Fricassée?
Let's start with how Julia Child defines a fricassée. She states a fricassée is half way between a sauté and a stew. A sauté has no liquid and a stew starts with a liquid. A fricassée sautés the meat first and then some liquid is added and simmered to finish. Just like Cuban Chicken Fricassée (Fricasé de Pollo) we are going to do exactly that.
We are going to sauté pieces of baby back ribs until a golden brown color is achieved on each section of ribs. Then, we are going to make a light sofrito sauce for the ribs to simmer in until fall-off-the-bone tender.
I say a light sofrito sauce because when making Cuban Chicken Fricassée the sauce is thicker and has the addition of potatoes. The sofrito sauce for these baby back ribs is much lighter and allows the ribs to really tenderize as they cook without potatoes. However, once again I like to make a lot because the next day when the flavors really combine the taste is amazing. I am all about cooking once and having leftovers or making 2 different meals out of one recipe.
If you are new to Cuban cooking this is a great recipe to start with. It has classic Cuban flavors in the sofrito. A sofrito is a base of onions, bell peppers and garlic.  The second reason is that you essentially cannot overcook the meat because the ribs braise in a beautiful flavorful broth.
I am positive once you take your first bite of Fricasé de Costillitas (Baby Back Ribs Fricassée) you are going to be mumbling to yourself the same thing, "Where have you been all of my life?"
Recipe Tip
When cooking baby back ribs the membrane or silver skin needs to be removed. Watch the video below for easy instructions on how to remove it.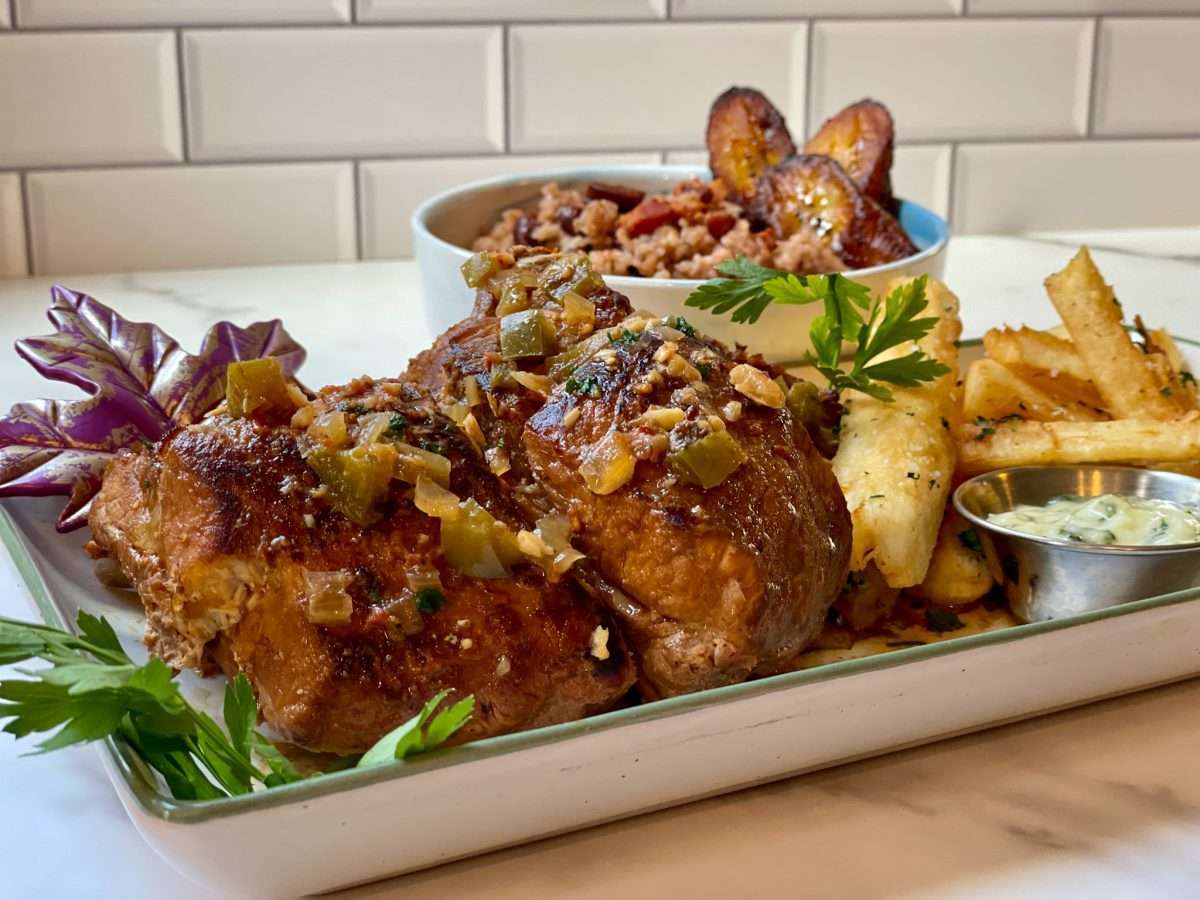 Fricasé de Costillitas (Baby Back Ribs Fricassée)
Baby Back Ribs (Costillitas) Marinade
Fricasé
Instructions
Baby Back Ribs (Costillitas) Marinade
Remove the membrane or silver skin from the baby back ribs. This needs to be done for a more tender cook. Then cut the rack of ribs into sections of 2 bones each. Salt and pepper both sides of ribs. I like to use kosher salt when seasoning meat. Smash or mince the garlic. In a bowl or ziplock bag add garlic, naranja agria and lime juice.

Add ribs to marinade and let the ribs marinate for 2 hours.
Fricasé
While the ribs are marinating, prep the rest of the ingredients. Chop the bell pepper. Chop the onion. Smash or mince the garlic.

Purée the cherry tomatoes.

After the ribs have been marinated, heat 4 tablespoons of olive oil in a large pot on medium high heat. Remove ribs from marinade and brown each rib section on both sides. When browned remove and reserve on a plate. Do not overcrowd the ribs while browning. Cook in batches if necessary. Don't worry about any browned bits left in the pot.

In the same pot sauté the onions and bell peppers for a few minutes. When the onions and peppers start to soften add the smashed or minced garlic. Cook for 2-3 minutes until fragrant.

Next, deglaze the pan with the vino seco (white wine) and scrape up all of the browned bits and stir. In the center of the pot add the 2 tablespoons of tomato paste and stir. 

Stir in the puréed cherry tomatoes.

Next, add 1 teaspoon salt, 1 teaspoon garlic powder, 2 tablespoons cumin and 1 bay leaf. Stir in 32 oz of chicken stock. Let sauce simmer on medium heat for 5-10 minutes to let the flavors combine. Taste sauce and adjust salt and seasoning if needed.

Add the ribs back into the fricasé and bring to a boil. After a boil is reached, reduce heat to low. Put a lid on and continue cooking for another 1 1/2 to 2 hours. Ribs are done when completely tender. Serve with beans and rice.