Fricase de Pollo (Chicken Fricassee)
Chicken Fricassee is the first Cuban dish that I mastered. Do you want to know why? I'll tell you why, it was my kids favorite and it's very easy and forgiving.
What is Cuban chicken fricassee?
According to Julia Child a fricassee is half way between a saute and a stew.  A saute has no liquid and a stew starts with a liquid. A fricassee sautes the meat first then some liquid is added and simmered to finish.  Cuban chicken fricassee is just that.  We are going to saute cut up pieces of chicken and then make a red sofrito sauce that will simmer with potatoes to be served over a bed of rice.
Now, depending on the time of year it is, I like to change the way I make the sauce. During the winter I will use tomato sauce for a richer flavor.  Tomato sauce gives the fricase de pollo a thicker comfort food feel that warms you from the inside out. However, during the spring and summer I like to use fresh cherry tomatoes. The sauce stays light and fresh as pictured below.

Chicken Fricassee is one of those dishes that gets better and better the longer the flavors mix together. I like to make extra so the next day there is plenty for an amazing second meal for lunch or dinner. Also depending on your personal likes you can use  a whole cut up chicken like I'm going to show you here, or you can use boneless skinless breast or thighs, or a combination of all three. The versatility is awesome!
Also, once I had kids this easily became a go to dish that I knew any time I made it the kids would eat it.  The chicken simmering  with potatoes in a Dutch oven fills the house with the best smell and that's what gets them ready for dinner.
This is also a great dish to learn because the sauce  starts with a sofrito that is the base of so many delicious Cuban recipes that I will be sharing with you.  If you don't know what sofrito  is it is sautéed onions, bell peppers and garlic. So let's get started!
Below is a Pinterest friendly photo…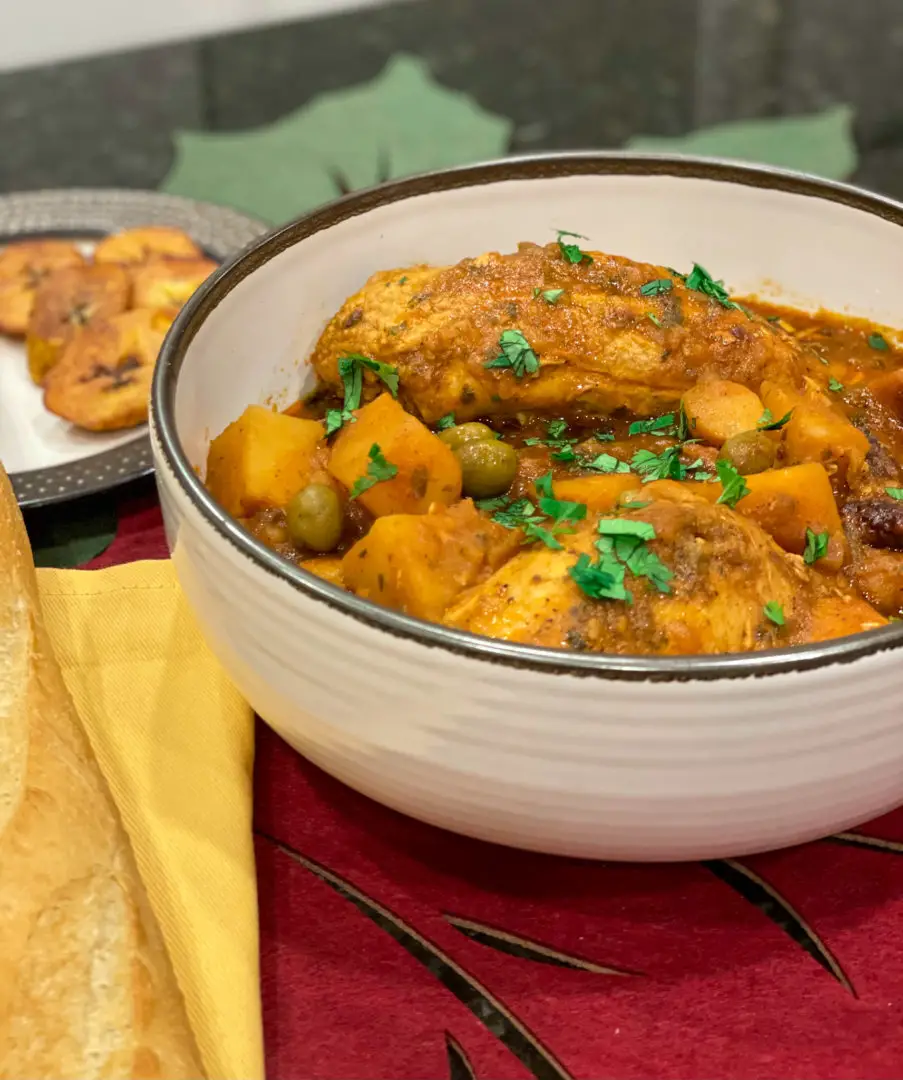 Fricase de Pollo (Chicken Fricassee)
Instructions
Using a Dutch oven heat two tablespoons of olive oil on medium high heat and add the whole cut up chicken pieces skin side down. Cook 10 minutes until skin is golden brown but not too brown. Turn pieces over and cook another 5-10 minutes. Remove chicken and reserve on a plate. Add diced onions and bell pepper and season them with salt and pepper. Continue to sauté until tender about 5 minutes. Stir in smashed or grated fresh garlic and continue cooking for 2 minutes. If using puréed cherry tomatoes stir them in now and continue cooking for another five minutes. If using tomato sauce wait until next step. Add the chicken back into the Dutch oven.

Add in the white wine (vino seco) to deglaze the Dutch oven. Stir and get any bits that got stuck to the bottom of pot. Let the wine cook out for about 2 minutes. Next add Goya tomato sauce and chicken stock. If you added the cherry tomatoes already only add the chicken stock. You might not need the whole amount of chicken stock when using the fresh tomatoes. Stir to combine. Next, add salt, garlic powder, black pepper, cumin, bay leaves and bijol. Yellow food color can be used if you do not have bijol. Stir to combine and stir in the green olives with juice. Turn the heat down to medium low, cover and let simmer for 20 minutes.

While the chicken is simmering peel and cut the potatoes into 1 to 2 inch cubes. Finely chop the cilantro. After 20 minutes add the potatoes and cilantro to chicken and continue simmering another 30 minutes until chicken is cooked and potatoes are fork tender. Always make sure chicken is cooked until an internal temperature of 165 degrees is reached. Serve with white rice and crusty French bread for dipping in the sauce. You're going to want to get every last drop.