Cuban Black Beans and Rice
Traditional Cuban black beans and rice  is a staple in Cuban cuisine. Just look at any Cuban restaurant menu and you will find them.  They can be served with bistec encebollado (steak with onions), breaded steak, Cuban fried chicken, pork chops or lechon asado (Cuban roasted pork). As you can tell they taste great  with anything.
Are black beans and rice good for you?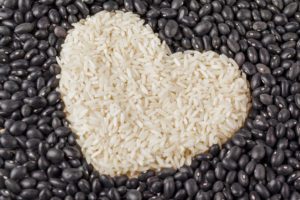 Along with being tasty black beans have many health benefits too.  When black beans are eaten with rice studies have shown the beans can reduce a rise in blood sugar when compared to just eating rice.  Since they  won't cause a spike in blood sugar  they  help reduce diabetes risk. This gives them a lower glycemic index when compared to other carbohydrates.
They are full of antioxidants, fiber, protein, and the good carbohydrates to make them full of nutrition. You could even call them a superfood because they contain phytochemicals which protect your cells from damage and fight off cancer.
A full list of vitamins and minerals can be found here.
Instant Pot Cuban black beans
There are many recipes out there to choose from.  However,  I think you will enjoy ours the best! I am always disappointed when I see recipes using canned beans. "It's just not the same," I say to myself. So, to save time we are going to be using an Instant pot.  The "new" must have kitchen appliance, right?
These traditional Cuban black beans are packed with flavor and I know you will be saying the same thing.  Once again I have turned my mother in law's by eye recipe into measurements so I can share it with you. We will be using an instant pot to cut down on the time but it won't cut down the sabor!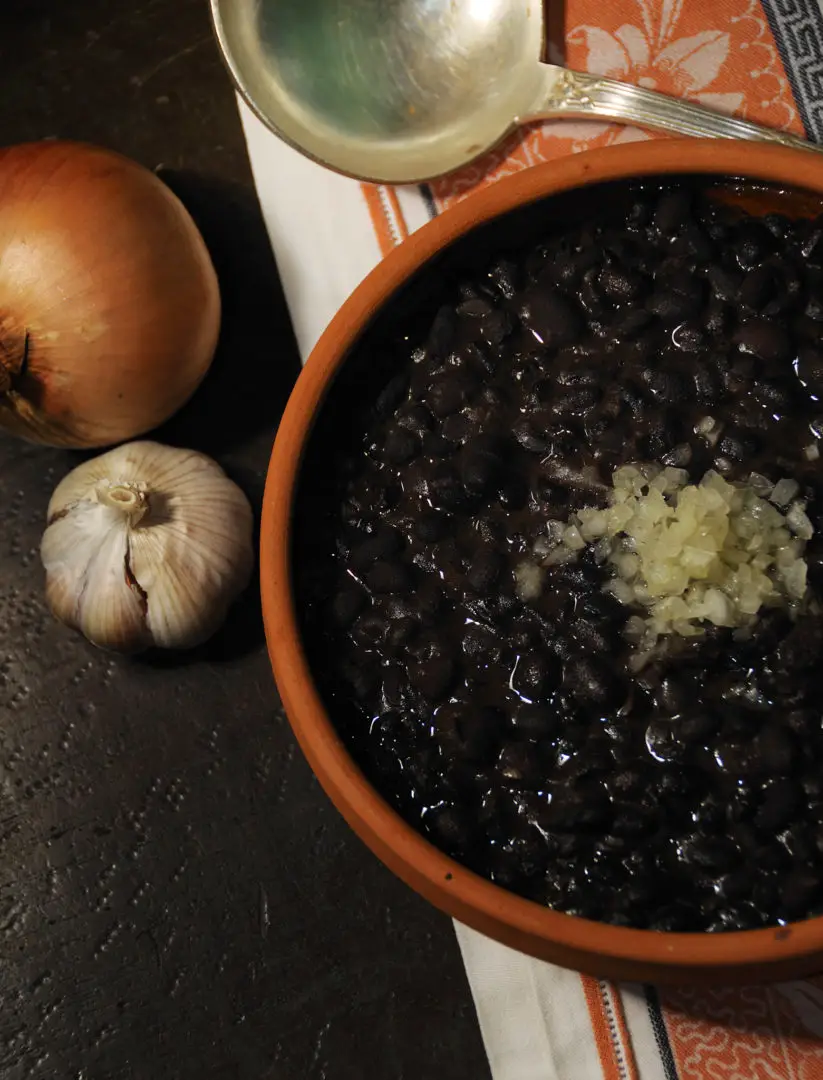 Cuban black beans (frijoles negros) and rice
Instructions
First we're going to start by washing the black beans in a colander removing dirt and any other debris you might find. I have tried many different brands of black beans and my favorite is either Goya or Faraon. Next put them in a power cooker, an Instant Pot or a pressure cooker and add 5 cups of water along with a whole bell pepper. The bell pepper should have the stem and seeds removed. I used to not add any seasoning to the water at this stage and just put the beans to cook. However, after trial and error I season the water at this stage to give the beans more depth of flavor. So add a teaspoon of each, salt, garlic powder and cumin. Cook the beans for 22 minutes.

While the beans are cooking cut and dice an onion. Heat a sauté pan on medium high heat with 2 tablespoons of olive oil. Add the onions and cook until translucent for about 5-7 minutes. Add 1/4 cup of garlic and cook until fragrant for about another 2 minutes. Be careful not to burn the garlic because it will turn bitter. Set aside when done.

When the time is up for the black beans let the cooker depressurize and remove the whole bell pepper. Transfer the beans and liquid to a 3 qt sauce pot. Turn the heat to medium low and let the beans simmer. Add the sautéed onions and garlic. Also, add the rest of the seasoning ingredients - salt, garlic powder, cumin, oregano, sugar, red wine vinegar and the cilantro.

Continue to let the black beans simmer for 20 minutes and they will slightly thicken and the flavors will combine. As always when cooking Cuban food the house will start to smell amazing! Don't forget to have some rice cooking and ready to be covered in these delicious black beans.