What Is Lechón Asado (Cuban Roast Pork)?
Lechón Asado (Cuban Roast Pork) is traditionally a whole suckling (young) pig that has been marinated in Cuban mojo criollo and roasted outside in a fire pit or in a Caja China. What do you do when you don't have a whole pig to roast? Roast a pig leg or a shoulder. Today I am going to show you how to roast a pig leg.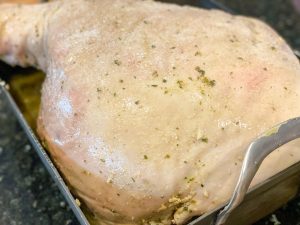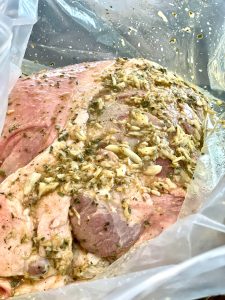 Traditionally, Lechón Asado is made for Christmas Eve (Noche Buena) dinner and special occasions. However, for the first time I was able to get my hands on some real Seville oranges. So, I am celebrating by making mojo criollo without any store bought bottles.  Wow, this feels like Christmas to me!
If you want to get some Seville oranges too, I found them online at Kamala.com.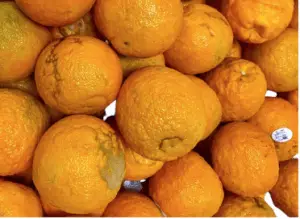 Usually I will buy Goya naranja agria as a substitute for Seville oranges.  Seville oranges are sour oranges used for marinades, sauces, and cocktails.
Another alternative is to make your own naranja agria. Simply mix a 1/2 cup of each; fresh squeezed limes, fresh squeezed oranges, fresh squeezed grapefruit and white distilled vinegar. Combine all ingredients and its ready for use or save for up to 2 weeks in the refrigerator.
Best Cut Of Meat For Lechón Asado (Cuban Roast Pork)
As I said earlier, traditionally a whole pig is roasted outside in a fire pit or in a Caja China. A pork leg is a great alternative to roasting a whole pig because you still get that fabulous crispy skin (chicharrones).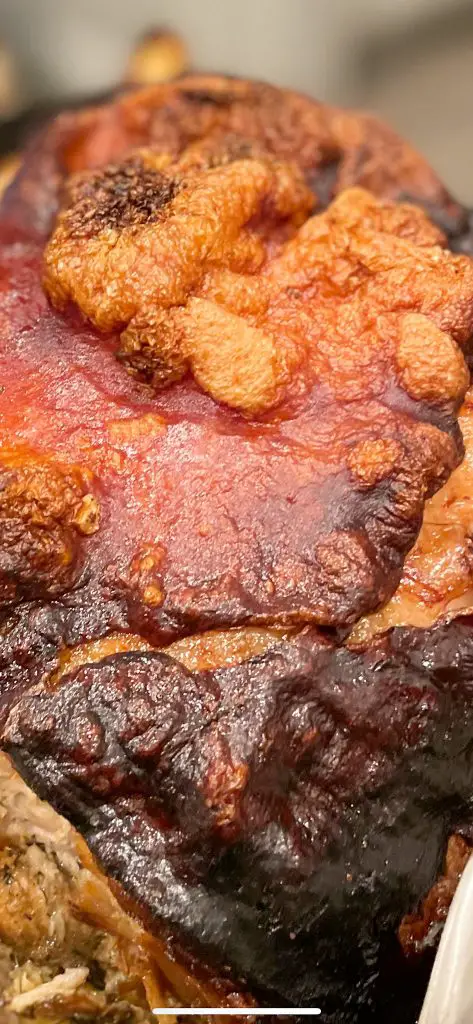 As you are going to see I am roasting a 27 lb pork leg that is still going to be in the oven all day. The leg comes from the hind legs of the pig with the bone still in.
If you are looking for a quicker cook time a pork shoulder works great. The shoulder comes from the front legs and is marbled with more fat. I have absolutely used a shoulder and the meat is great because of the higher fat content you can achieve a pulled pork tenderness.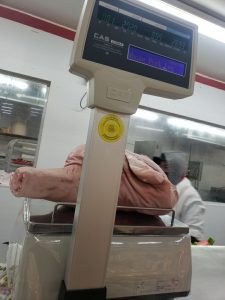 For the absolute best flavor let the pork leg or shoulder marinate for 24-48 hours. I was able to let this giant leg marinate for 48 hours and it was so worth it.
Using a turkey bag with a ziplock close works the best. For the mojo recipe I am going to share with you, it will need to be multiplied by at least 4 times for a pork leg this big. However, if you are roasting a small shoulder you might only need to double it.
What Is The Difference Between Lechón and Pernil?
Pernil is also a roasted pork leg or shoulder, however pernil is a Puerto Rican dish.
Lechón is Cuban.
Pernil is also mostly served on Christmas Eve and special occasions. Puerto Rican pernil is marinated with with a little different type of mojo consisting of sofrito and adobo along with the base of garlic and citrus.  Lechón is marinated with Cuban mojo criollo.
What Do You Eat With Lechon?
or
Garlic Mojo
Drizzled on top of lechon when served.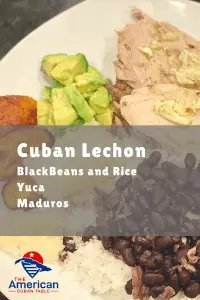 What do you do with all of the leftover lechon? Cuban sandwiches of course!!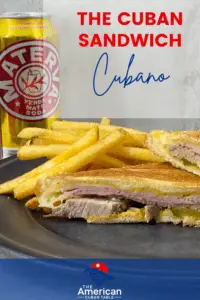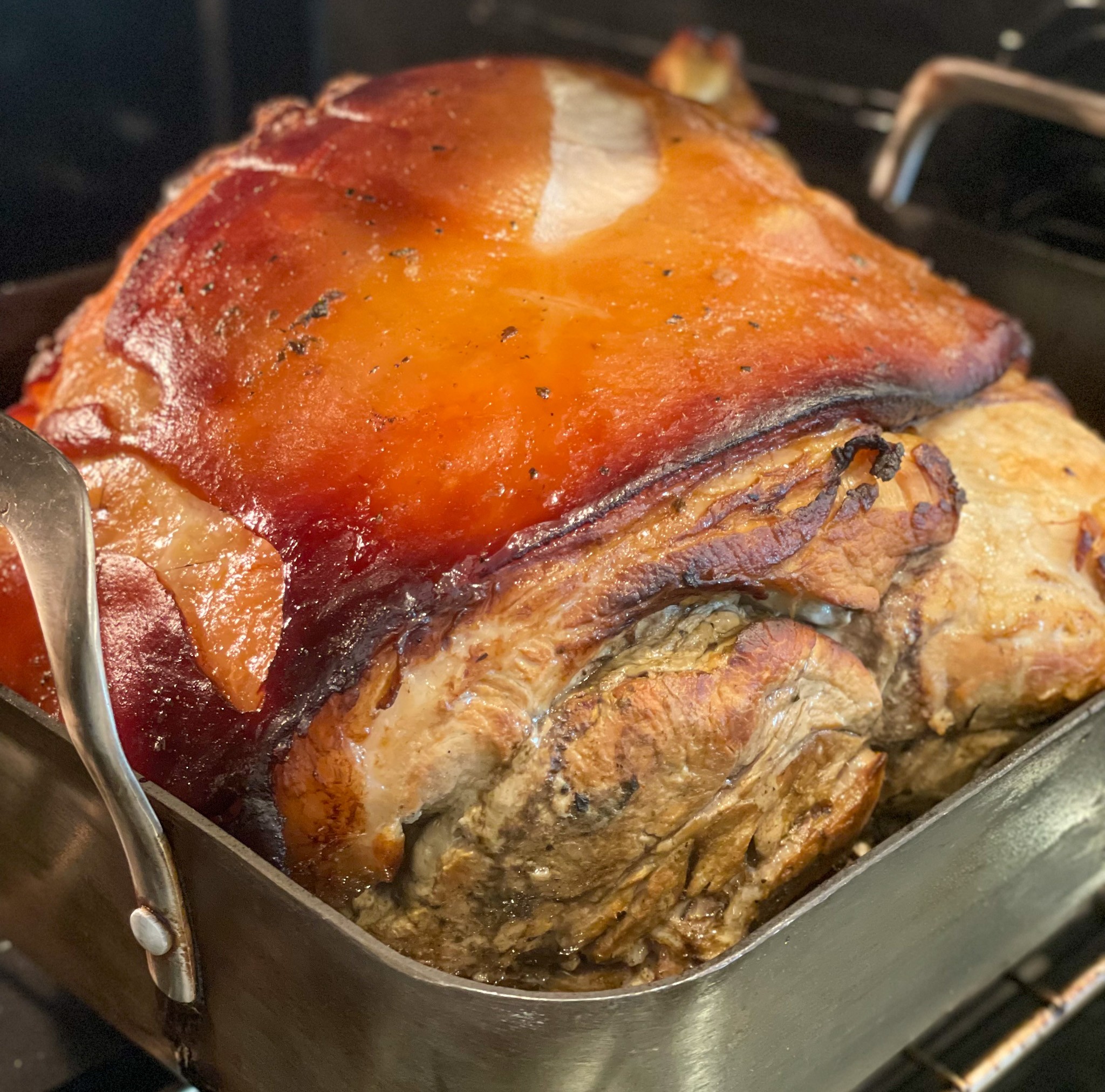 Lechón Asado (Cuban Roast Pork)
Mojo Criollo Marinade
Lechón
Garlic Mojo
Instructions
Mojo Criollo Marinade
Using a mortar and pestle smash garlic with a pinch of salt. Transfer to a bowl.

Juice Seville oranges to make 1 1/2 cups of juice or use 1 1/2 cups of naranja agria. Juice the four limes as well. Add to the bowl with the smashed garlic.

Stir in the rest of the ingredients to combine and set aside. *Remember depending on how big your pork leg or shoulder is you may have to double or even quadruple mojo criollo recipe.
Marinating Pork Leg
Make as many deep slits into the meat of the leg. However, DO NOT pierce the skin. To achieve crispy skin for chicharrones it needs to be in one piece.

Put the leg or shoulder into a turkey brining bag with a good closure, preferably ziplock. Pour mojo criollo all over pork. Using your hands push some of the smashed garlic from the mojo criollo into all the deep slits.

Seal the bag and put into large roasting pan. Marinate for 24-48 hours in the refrigerator. Turn periodically so every part of the meat gets submerged.
Cooking The Lechón
Remove the pork from the refrigerator 30-60 minutes before you are ready to cook it. You don't want to shock the meat going from a really cold refrigerator into a hot oven. Preheat oven to 425 degrees. Using a cooking syringe add more mojo criollo deep into the meat.

Place the pork into the roasting pan skin side up. Any extra mojo can be left in the bottom of the pan. I don't use a rack and I let the meat cook in the extra mojo. Put in the 425 degree oven and cook for 30 minutes. Decrease the temperature to 325 degrees, cover lightly and continue cooking until internal temperature reaches 160 degrees.

A good guide is for every pound cook for 30 minutes until done. About every hour I like to take the leg out and continue to push mojo into the meat using a cooking syringe. Keep the skin covered each time it goes back into the oven.

The last 30 minutes of cooking remove foil and let the skin finish cooking for crispy results. While skin is crisping make garlic mojo. When done remove from oven and transfer to a serving platter or cutting board and let rest.
Garlic Mojo
Using a mortar and pestle smash garlic with a pinch of salt.

Heat a small saute pan on medium heat and add olive oil. When olive oil is warm add garlic and stir. Cook for 2-3 minutes and then add lime juice. Season with salt, taste until personal flavor is desired.

Cut and serve with garlic mojo. If garlic mojo is too strong for some people serve meat with pan drippings of mojo.