What is Bistec Encebollado?
Many people ask, "What is bistec encebollado?" Bistec encebollado is marinated Cuban steak and grilled onions.  Many  Cubans do not have access to high quality cuts of meat. Therefore, they make the best out of lower quality cuts of meat. For example, bistec is made from top sirloin cut very thin and then pounded to tenderize. If you have access to a spanish market then you can easily find palomilla steak which is beef round that has already been sliced thin.  After the steak has been sliced and pounded, it is marinated and then cooked with onions served on top. 
As I have been sharing these recipes with you I have noticed how many times I say this is my go to recipe when I don't know what to make for dinner. I guess I say this because these recipes please the whole family and they are easily prepared. 
When short on time bistec checks all of the boxes. It only takes 30 minutes to marinate. It only takes 2-3 minutes cooking time per side. It can be served with just white rice and an avocado salad. If there are leftovers, a bistec sandwich is definitely lunch the next day. 
Of course, when time is not a factor I always make cuban steak and black beans. They literally go together like cereal and milk. Also, if you like chicken fried steak then you are going to love bistec empanizado. 
Sharing is caring….Below is a Pinterest friendly photo!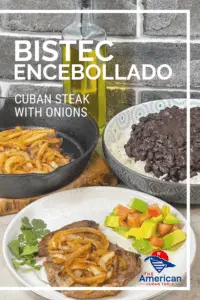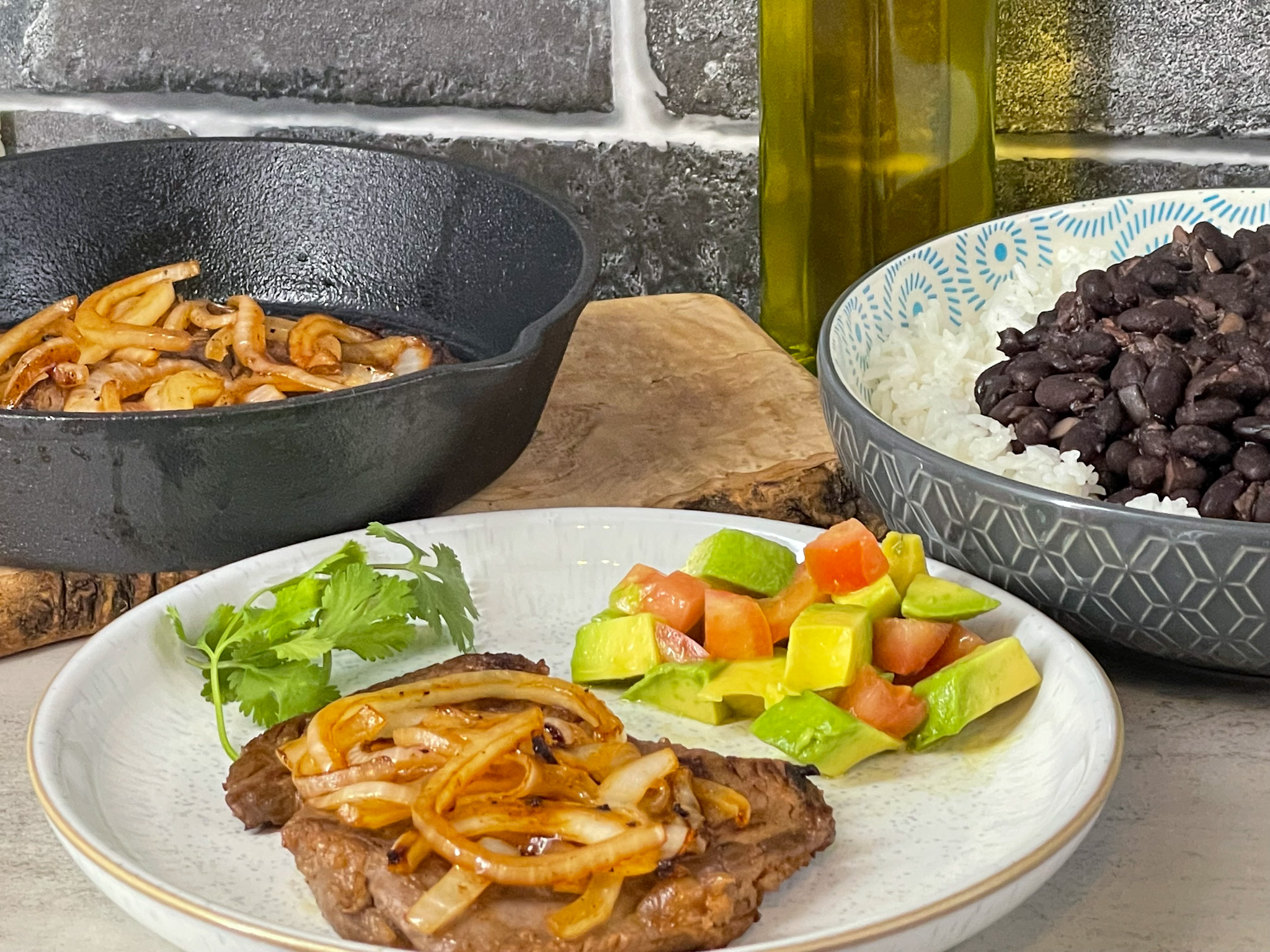 Bistec Encebollado (Cuban Steak with Onions)
Instructions
Cut top sirloin into 1/4" thick steaks. If using palomilla steaks they should already be cut and ready to be marinated.

Pound steaks in between 2 pieces of parchment paper or plastic wrap. I use a rolling pin for even distribution but of course a mallet can be used too. Salt both sides of meat and transfer to a bowl for marinating.

Add the juice of 2 limes, 1 cup of naranja agria, and 1/4 cup of smashed garlic. Cover and let marinate for at least 30 minutes. Prepare onion while steaks are marinating. Peel and cut onion into half moon slices.

Heat a cast iron skillet on medium high heat and add two tablespoons of olive oil. Cook each steak about 3-4 minutes per side.

Add in a few onion slices while steaks are cooking. Before taking the steak out of the pan pour in a couple of tablespoons of the marinade to make a little bit of sauce to pour on top of steak with the onions.