What is a Frita Cubana?
A frita (free-tah) cubana is the Cuban hamburger. The patty consists of ground beef and pork and sometimes chorizo. It is topped with shoestring potatoes stuffed into a soft bun.
The frita cubana dates back to the early 1900's. They were sold out of carts on the streets of Havana using stoves fueled by propane. Quickly and affectionately the people who made these delicious hamburgers were called friteros.
Frita Cubana History
According to The Providence Journal there is some debate about whether the hamburger is entirely a Cuban creation or if there was some American influence. The hamburger ingredients could definitely be a recreation of the classic sofrito sauced picadillo. However, others say putting a round meat patty inside of a bun definitely speaks to American influence. Before the revolution Cubans and Americans were travelling freely back and forth from country to country.
Either way, Cuban hamburgers became the national snack. They were enjoyed after baseball games, after a movie or late at night after a cabaret show.
Then after the revolution and Castro took over friteros and their carts slowly disappeared. Ground beef was hard to find and the hamburger became obsolete. It didn't entirely disappear though, because it later re-emerged in the United States.
In 1961 Dagoberto Estevil opened the first frita shop in Miami's Little Havana. It was an instant success and more and more frita shops began to open.
Victor Benito Gonzalez opened his restaurant called El Rey de Las Fritas which means King of the Fritas. It is still in business today and has been featured on many tv shows and even visited by Barack Obama.
How to Make a Frita Cubana
The frita patty is made with ground beef, ground pork and sometimes ground chorizo. I will be using all three to make this frita extra special. The meat is seasoned with onion, garlic, cumin and sazon.
The patties are cooked on a griddle to create that burger sear with special sauce.
Shoestring potatoes or potato sticks.
Special sauce! Add this sauce made with tomato paste, vinegar and some Cuban seasoning. Splash it on the burger while it's cooking.
Can I put Other Toppings on My Frita?
Yes, other toppings include:
Bacon
Swiss Cheese
Platanos Dulces (fried plantain banana)
Fried Egg
I am going to show you the classic version of the Frita Cubana. Also, I am using 2 burger sauces. The first sauce is to be used while the burgers are cooking. To make it easier I recommend putting the sauce in a squeeze bottle. While the burgers are cooking simply squeeze some of the sauce on and watch how it caramelizes around the edges and onions. My mouth is watering just explaining it to you! The second sauce is to be slathered all over your bun and adds a second element of flavor that you will be thanking me for.
Sharing is caring…below is a Pinterest friendly photo!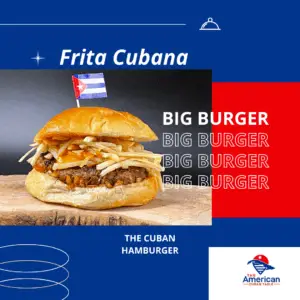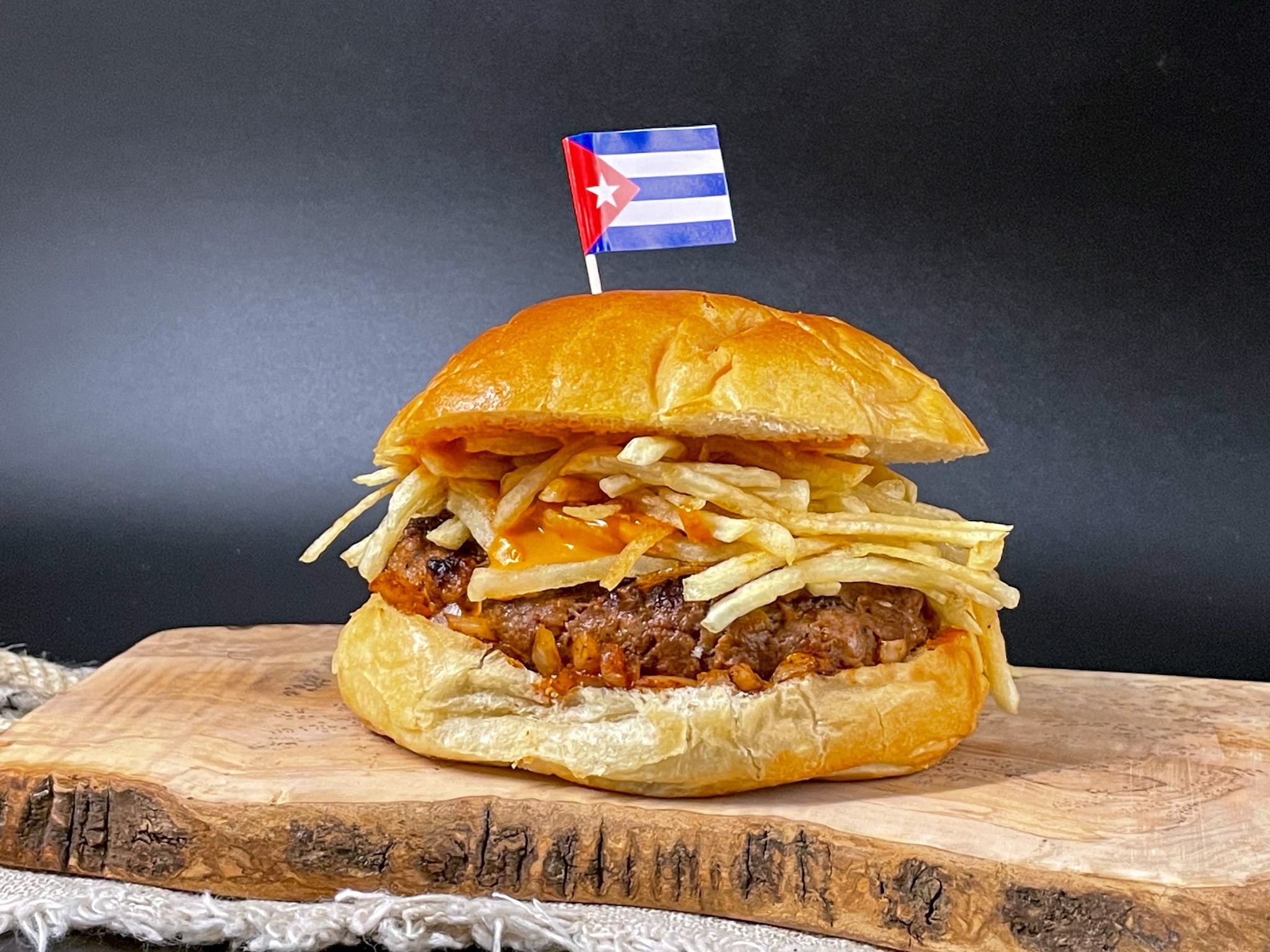 Frita Cubana (Cuban Hamburger)
Burger Patties
Burger Sauce #1
Shoestring Potatoes
Burger Sauce #2
Instructions
Burger Sauce #1
First, we are going to make Burger Sauce #1 now, so it has time to cool down while we are making the patties. In a small bowl whisk all of the ingredients together for Burger Sauce #1. Transfer to a sauce pan and bring to a boil stirring continuously.

Reduce the heat to low and continue cooking for 5-10 minutes. Take off of the heat when done and transfer to a squeeze bottle and let the sauce cool down.
Burger Patties
In a large bowl combine all ingredients for the burger patties. Mix together with your hands.

Form burger patties. A trick I learned from Rachel Ray was to make sure the patties are a little thinner in the middle so when they are cooking they will cook evenly and not turn into a flying saucer. Cover and let all of the flavors combine while we prepare the shoestring potatoes and Burger Sauce #2. Chop onion half and reserve for when we cook the burger patties.
Shoestring Potatoes
Wash and peel potatoes. Using a julienne peeler or a mandolin slicer, slice potatoes into shoestring size strands. If you want to use store bought potato sticks you can.

Submerge potatoes in a large bowl of ice water. Preheat oil in a fryer or large pot to 350 degrees.
Burger Sauce #2
Burger Sauce #2. In a small bowl combine all of the ingredients together. Cover and let flavors combine.
Putting It All Together
Heat a griddle or a cast iron skillet on medium high heat. Put patties down and sprinkle on some of the chopped onions. Cook 3-5 minutes depending on how thick your patties are.

Right before you flip the patties squeeze some of Burger Sauce #1 on the the patty and onions and then flip.

Continue cooking until burger is done another 3-5 minutes. Squeeze a little more of Burger Sauce #1 onto the patty and when cooked through using a spatula, remove from griddle making sure to get all of the onions that have cooked into the burger with the sauce.

Remove potatoes from ice water and dry completely. I used a salad spinner to get all of the water off of the potatoes. Fry potatoes in fryer or pot for 3-5 minutes until golden brown. Drain on a paper towel.

Assemble burger. Bottom bun, burger patty, shoestring potatoes, top bun slathered with Burger Sauce #2. Eat and enjoy!