Let's start with the obvious question, "What is a lasagne recipe doing on a Cuban recipe website?"
Answer, "Everybody loves lasagne!"
I have read many recipes on the internet and every one of them say, 'this recipe is the best'. It's my mom makes the best, my nonna makes the best, or my dad makes the best lasagne ever.
Well, I'm going to quote my kids and say, "Abuelo's lasagne is the BEST!" So I am going to share our version of lasagne with you all and once you have tasted it you might be saying the same thing, abuelo's lasagne is delicioso!
What Is the Difference Between Lasagne and Lasagna?
To put it quite simple lasagne is the plural form of lasagna. Lasagne is many sheets of pasta that are flat and rectangular. While lasagna refers to one sheet of this rectangular pasta noodle.
The dish dates back to ancient Rome and it was called 'lasana' or 'lasanum'. However, lasanum is the greek word for trivet which is a stand for a pot or a chamber pot. According to Martha Barnette the author of  Ladyfingers and Nun's Tummies: A Lighthearted Look At How Foods Got Their Names", the Romans borrowed the word and the Italians used the word to refer to the type of dish that the lasagne was cooked in.
Whether we are talking about lasagne or lasagna or about lasagne noodles or lasagne pans we can all agree that we love lasagne. It is a dish that can be created to reflect the uniqueness of everybody's family. The basics are the same, layers of meat sauce or vegetables, bechamel sauce or ricotta, and cheese layered between sheets of pasta noodles baked until golden brown.
Ingredient Tips
Meat Sauce – The sauce is made with ground beef, Italian sausage and ham. The longer the sauce can simmer the better.
Ricotta Cheese Filling – I use ricotta cheese mixed with freshly grated parmesan but a traditional bechamel can be substituted.
Cheeses – Mozzarella and provolone are used in this recipe.
Lasagne Noodles – Homemade lasagne noodles are the best but if using store bought I prefer oven-ready sheets.
This recipe will make two 13 x 9 dishes. I always end up making one for dinner and one to share.
Sharing is caring….below is a Pinterest friendly pin!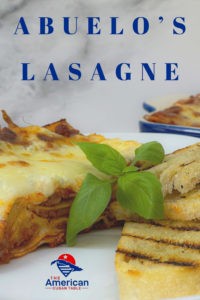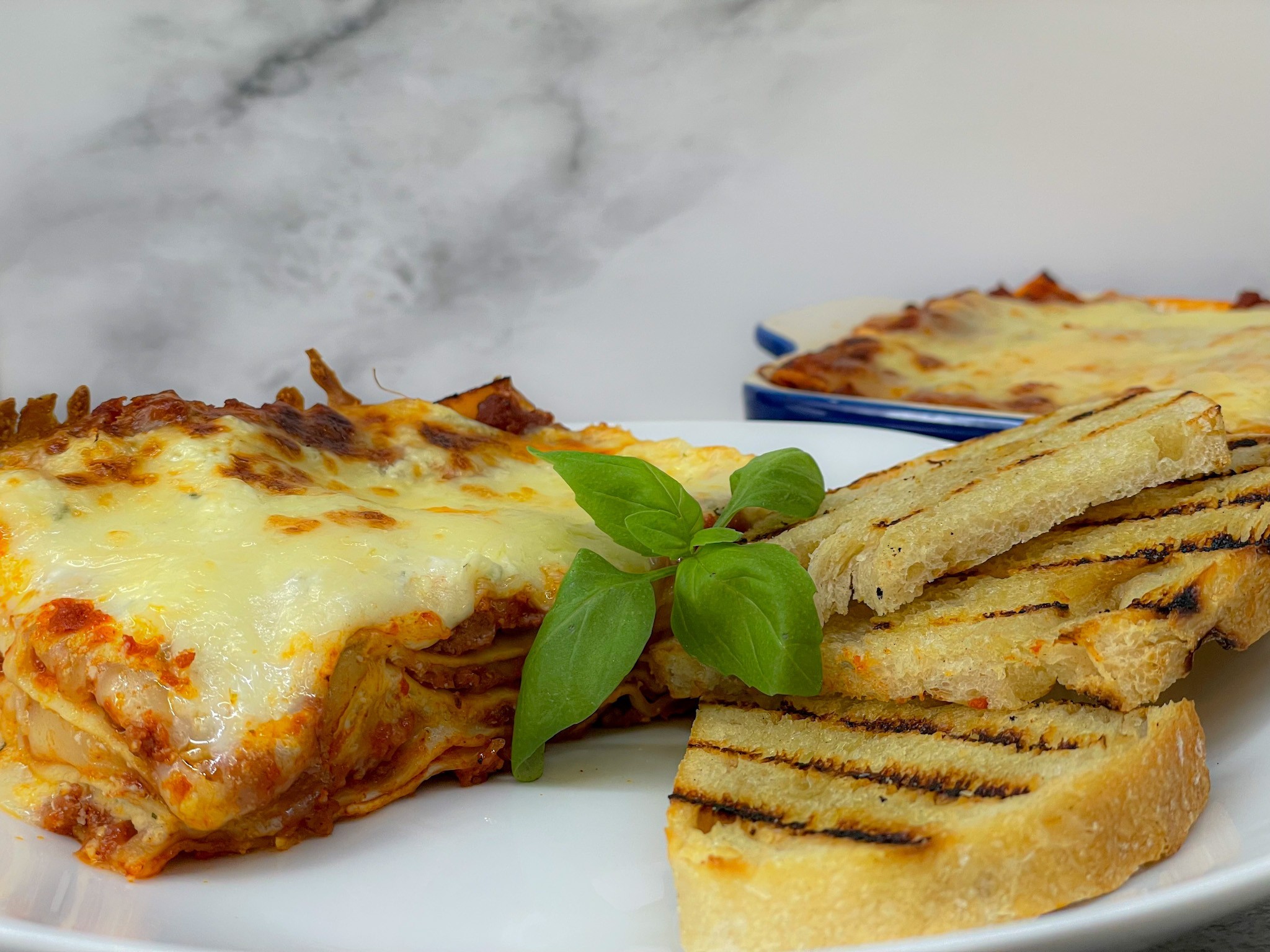 Lasagne – Abuelo's Way
Instructions
Meat Sauce
First, cut ham into 1" cubes. Next, chop onion and combine with 10 cloves of garlic. Using a meat grinder, grind ham, onion and garlic together. I use the meat grinder attachment to my Kitchen Aid blender. If you do not have this pulse in a food processor together. *If you are going to use lasagna noodles that need to be boiled put the water to boil now in a large pot. When water starts to boil add salt and noodles and follow package instructions.

In a large bowl combine ham mixture with the pound of ground beef and the pound of Italian sausage. Using hands mix together. Add 2 teaspoons of garlic powder and 1 teaspoon of black pepper. I do not add any salt because there is plenty from the ham.

Heat 2 tablespoons of olive oil in a dutch oven or large pot on medium high heat. Add meat mixture and cook until done. Break up any large pieces of meat.

Add marinara sauce and basil. Let simmer for at least 20 to 30 minutes. You can let it simmer while preparing the cheeses. * Drain noodles and lay out to cool if you are using the lasagna noodles that needed to be cooked first.
Lasagne Layers
Now let's prepare the cheese and noodle layers. Grate the mozzarella cheese and put in a bowl. In a separate bowl put the ricotta cheese. Mix in one egg, 1/2 cup of parmesan cheese, 1 tablespoon of parsley and 1 tsp of black pepper. Remove provolone cheese from packaging and put on a plate for assembly. I prefer to use oven-ready lasagna sheets. Organize meat sauce and cheese bowls into an assembly station to make it easier for layering lasagna.

Preheat oven to 350 degrees. Grease baking dish with olive oil. Start by spreading about 1 cup of meat sauce in bottom of baking dish.

Lay out 3 pasta sheets on top of meat sauce.

Add more meat sauce on top of past sheets. Sprinkle mozzarella cheese onto meat sauce.

Add provolone slices on top of mozzarella cheese.

Spread out ricotta cheese mixture on top of provolone cheese.

Add another layer of pasta sheets and repeat up to 4-5 layers. Last layer should be pasta sheets, ricotta cheese mixture, provolone and mozzarella cheese. This recipe is enough for TWO 13x9 lasagna dishes. Cover with foil and bake for 30 minutes. Remove foil and bake for another 5 minutes until cheese is fully melted and a little bit of browning takes place.

Remove and let set for at least 15 minutes before cutting.