What Is Papa Rellena?
Papa Rellena literally means filled potato. So what are we filling potatoes with? We are filling mashed potatoes with picadillo (ground beef). Sounds delish right? Just wait for the second part. First, we take the picadillo and stuff it inside a mashed potato ball.  Then, we roll these balls around in some bread crumbs and then fry it! Oh yeah! Portable meat and potatoes. Mic drop please…..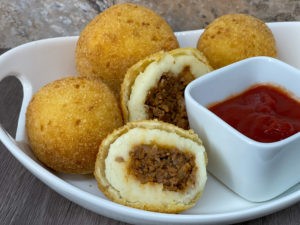 If you have been following me as I post my favorite family recipes that I have learned from my Cuban mother in law then you might remember what I said about pastelitos de carne (picadillo puff pastries). I said that one day  while I was watching Will and Grace I was inspired by Will. He was making a dinner of just appetizers for his father because he loved appetizers more than dinners. Well, now I have 3 things that would definitely be on my plate of appetizers for dinner. Pastelitos de carne, croquetas de jamon, and papa rellena would all be on my plate.
I would also like to remind you how versatile picadillo is. Once you can make a good picadillo other recipes will follow. The basics of picadillo are ground beef sauteed with a sofrito (onions, bell peppers and garlic) and tomato sauce or fresh tomatoes. My mother in law always used tomato sauce for a richer deeper flavor but her mother (abuela) always used fresh tomatoes for a lighter flavor.  Personally,  I like to use tomato sauce in the winter because the flavor is more of a comfort food flavor. In the summer using fresh tomatoes gives the food a lighter feel. Anyways, getting back to the versatility of picadillo. Here are examples of recipes using picadillo.
Papa Rellena Recipe Tips
In the pictures you will see two different sizes of papa rellena. Most of the time when I make these they are for my family and I tend to make them big. Probably because that is how I was taught. Sometimes when they are big, honestly the appetizer part goes out the window and lets just call it dinner.  Add some avocado and fried plantains and I am full. However, when you find these at a restaurant they tend to be a little smaller. So, I experimented and made two different sizes. Look down in the recipe for instructions.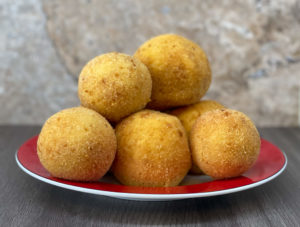 Tip number two is they can be made ahead of time and kept in the refrigerator until ready to fry. However, make sure you take them out of the refrigerator at least 30 minutes before you fry them.  I have found because the mashed potato will cook so fast the picadillo on the inside will still be cold if not brought up to room temperature. If this happens after frying put them in a 350 degree oven for a few minutes to heat through.
Tip number three – I purchased a tool called an arancini maker to help with making the papa rellena. An arancini maker is used to make Italian rice balls. However, after testing it I found my hands actually worked better. The mashed potato kept sticking in the arancini maker even after keeping it greased. Feel free to use one if you would like but I found my hands to be the better option.
Sharing is Fun…..Below is a Pinterest friendly photo!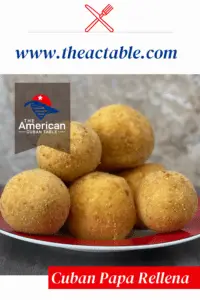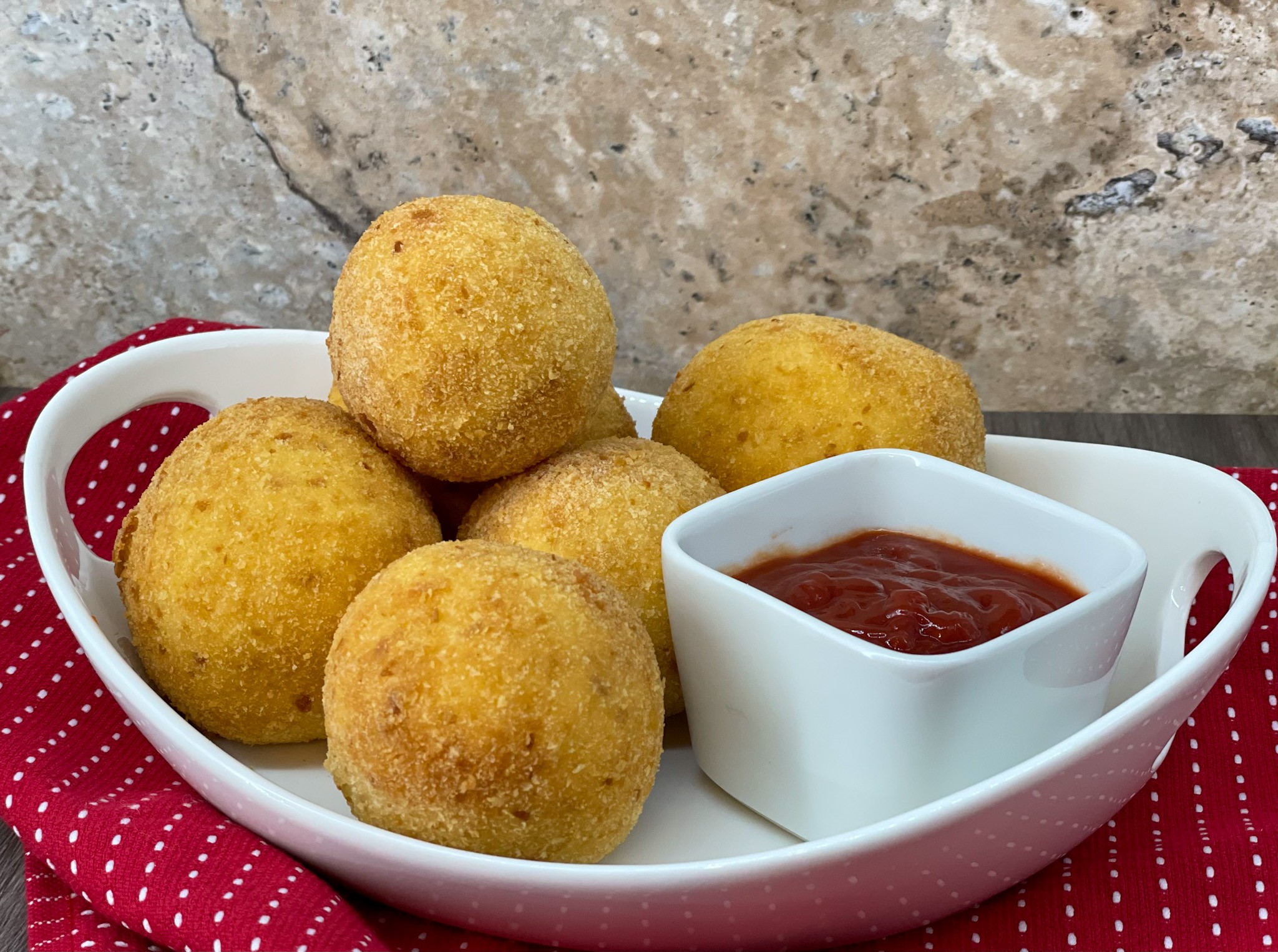 Papa Rellena
Mashed Potato
Picadillo
Bread Crumb Station
Instructions
Mashed Potato
Wash and peel 4 large russet potatoes. Cut the potatoes into equal pieces for equal cooking. Put the potatoes in a large pot and cover with water. Add 2 teaspoons of salt to the water and bring to a boil. Let cook for about 25-30 minutes or until fork tender. Note* Do not over cook because you do not want the potatoes full of water.

When the potatoes are done drain the water.

Mash the potatoes using a ricer. I like to use the smallest setting. A potato smasher works just fine as well. I do not recommend ever mashing potatoes with a mixer or blender because it makes them "gummy". We want an almost "dough" like consistency.

Stir in 2 tablespoons of warm milk, egg yolk and salt. Set aside to cool.
Picadillo Filling
Wash the ground beef in a colander using cold water. I do this for two reasons. When the ground beef cooks it cooks really fine so there are no big chunks and second it removes excess fat. Make sure to clean up your sink area after washing to avoid creating any bacteria.

Heat a sauté pan on medium high heat. When hot add ground beef and cook about 10 to 15 minutes. When all the ground beef is cooked through and is no longer pink drain in a clean colander. Heat the sauté pan again with a tablespoon of olive oil on medium high heat and return the ground beef to pan. Season beef with salt, garlic powder and black pepper.

Finely dice or grate the onion and add with the smashed or grated garlic to the ground beef and continue to cook for five minutes until onions are soft. Note* the 1/4 cup of garlic is measured before smashing or grating.

Deglaze the pan with white wine (vino seco). Add tomato sauce and turn down the heat to medium low. Add 1/2 teaspoon salt, 1 teaspoon garlic powder and 1 teaspoon of cumin. Add 2 teaspoons of green olive juice, I just want the flavor of the green olives, not to actually bite into any olives. Stir to combine and cover. Let simmer for 10 minutes then remove from heat and let cool.
Forming The Papa Rellena
Now we are going to turn the mashed potatoes into balls. As I mentioned earlier, you can make two different sizes or any size you want. To make a larger size measure out about 1/3 cup of mashed potato and for a smaller size measure out 1/4 cup of mashed potato. In your hand spread out the mashed potato like if you were going to make a hamburger.

For the larger size add 2 tablespoons of picadillo in the middle of the mashed potato disk. For the smaller size add 1 tablespoon of picadillo. Roll up all of the sides of the potato to fully cover the picadillo.

If there is not quite enough mashed potato to cover the picadillo just add a little more to cover the top of the papa rellena. Roll around in hands or on parchment paper to make smooth balls. When finished with all of them put them in the refrigerator for only 10 minutes. We don't want them cold just firm enough to roll around in the egg wash and bread crumbs.

Make a breading station while the papa rellena is in the refrigerator. Whisk 4 eggs together in a bowl. Measure 2 cups of bread crumbs in another bowl.

Remove the papa rellena from the refrigerator. One by one roll each potato ball in the egg wash first and then into the bread crumbs to completely cover.

After each ball has been coated once, repeat. I like a double coating of bread crumbs because it makes a nice crunchy layer. Put back into the refrigerator for 5 minutes to set. Preheat a fryer or a pot with oil to 350 degrees. If using a pot have enough oil to cover at least half of the papa rellena. Fry the papa rellena for 2 minutes until golden brown. If frying in a pot roll them around GENTLY to fry all sides.

Fry in batches so they fry evenly. Drain on a paper towel. They can be eaten plain but our family likes ketchup on the side. Note* they can be kept warm in a 300 degrees oven while cooking in batches.