The other day I was watching an old episode of Will and Grace. Will was telling Grace how he was preparing a meal of appetizers for his father. This got me thinking,  if I did that I would definitely have these savory picadillo (ground beef) puff pastries (pastelitos de carne) on my menu.
How to make Cuban pastelitos de carne
These light and puffy pillows of pastry dough and picadillo are delicious!  You might be thinking what is picadillo? Picadillo is ground beef cooked with onions and garlic and tomato sauce.  Picadillo is  used in a variety of Cuban dishes.  The dishes that use this combination of ground beef and seasoning are:
However, today I am going to show you how to make it as a pastry that can be eaten any time of day. They are easy to make and we will be using some base ingredients that I always have on hand and you probably do too. Also, we will be cutting them into 3″x3″ squares but when making them for a party you can cut them into 2″x3″ rectangles too.  I use store bought pastry sheets to keep it simple. Let's get started!
Below is a Pinterest friendly photo…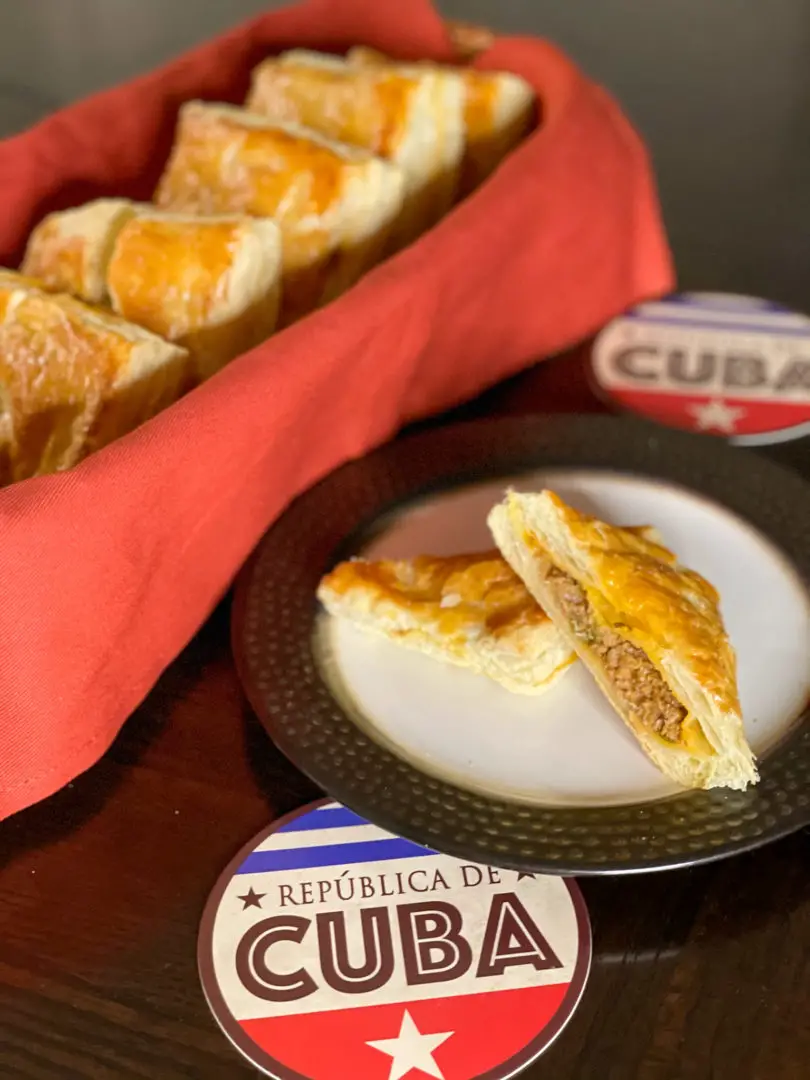 Cuban Pastelitos de Carne (Picadillo Puff Pastry)
Picadillo Filling
Pastry Dough
Instructions
Picadillo Filling
First, take out pastry sheets from the freezer and let thaw while preparing the picadillo. Wash the ground beef in a colander using cold water. I do this for two reasons. When the ground beef cooks it cooks really fine so there are no big chunks and second it removes excess fat. Make sure to clean up sink area after washing to avoid creating any bacteria.

Heat a sauté pan on medium high heat. When hot add ground beef and cook about 10 to 15 minutes. When all the ground beef is cooked through and is no longer pink drain in a clean colander. Heat sauté pan again with a tablespoon of olive oil on medium high heat and return ground beef to pan. Season beef with salt, garlic powder and black pepper.

Finely dice or grate the onion and add with the smashed or grated garlic to the ground beef and continue to cook for five minutes until onions are soft. Note* the 1/4 cup of garlic is measured before smashing or grating.

Deglaze the pan with white wine (vino seco). Add tomato sauce and turn down the heat to medium low. Add 1/2 teaspoon salt, 1 teaspoon garlic powder and 1 teaspoon of cumin. Add 2 teaspoons of green olive juice, I just want the flavor of the green olives, not to actually bite into any olives. Stir to combine and cover. Let simmer for 10 minutes then remove from heat and let cool while preparing pastry sheets.
Pastry Dough
Heat oven to 350 degrees. In 2 small bowls prepare egg wash and corn syrup mixture. Remove pastry sheets from box and lay out on parchment paper. If needed use a rolling pin to even out sides. Cut 3x3 inch squares. Using a pastry brush, brush all sides of bottom squares with beaten egg. Add 2 tablespoon of picadillo to each bottom square.

Cover with top square. Using your fingers seal edges of pastry dough. Brush top layer with egg wash. Using a small knife make a one inch slit in each square. Transfer parchment paper to cookie sheet or shallow baking tray. Cook for 25 minutes then brush with corn syrup mixture and cook for another 5 minutes. Remove from oven and let cool.