Most people are familiar with empanadas. They are dough wrapped around meat and/or cheese and then baked or fried. Cuban Picadillo Empanadas are no different. They are scrumptious hand-held pies filled with picadillo and fried until golden brown.
Another thing most people do is buy pre-made empanada dough or discs. That is fine, but I am going to show you how to make your own dough. Don't worry, it is really easy and it can be done in steps if you don't have the time to do everything at once.
What Is An Empanada?
Empanada comes from the Spanish word empanar which means to bread. So, like I said before, these Cuban Picadillo Empanadas are flaky, golden, crunchy crescent moon pockets of dough filled with picadillo (ground beef) that you can eat with your hands.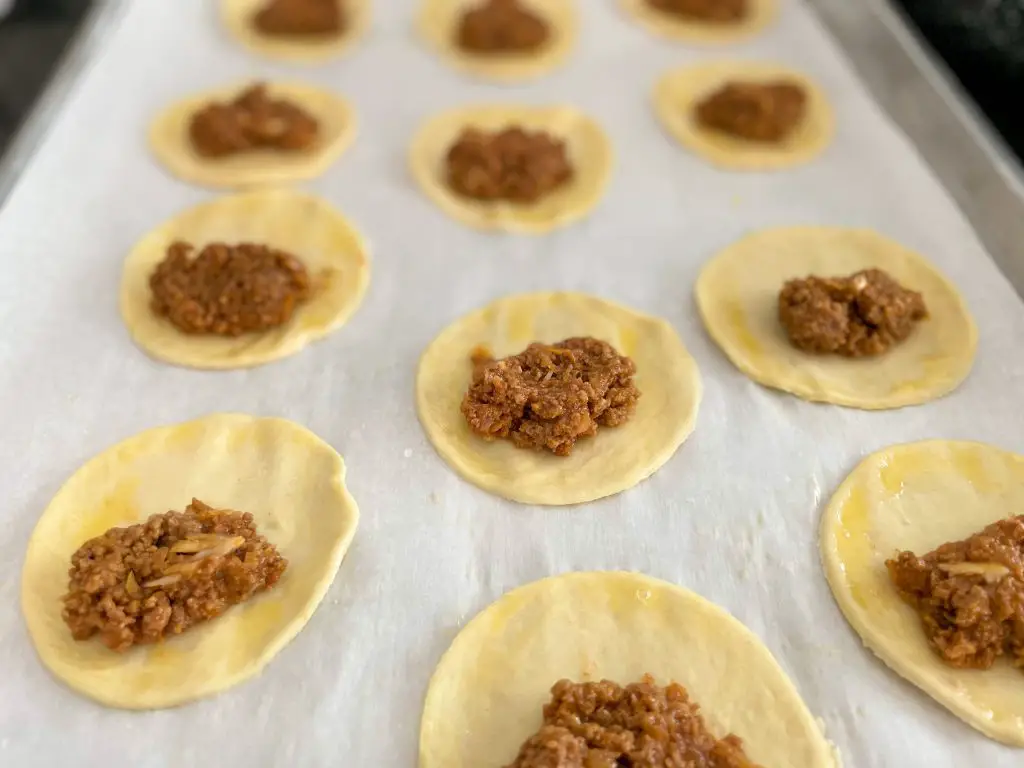 Did you know empanadas can be traced back to the early 1500's? In 1520 a Catalan cookbook called Llibre del Coch written by Robert de Nola publishes a recipe for empanadas filled with seafood. Robert de Nola was a Spanish chef who served the King of Naples.
Since empanadas have been around for so long it is no wonder there are so many variations of empanadas depending on where in the world they are made. For example Venezuelan empanadas are made with ground corn dough and filled with cheese, shredded beef, chicken or seafood. Italian empanadas are called panzerotti. They are most commonly filled with just tomato sauce and cheese but can have the addition of meats as well.
I could go on forever but what all empanadas have in common is rolled out dough cut into discs and then filled with your choice of filling. The dough is then folded over the filling, sealed and then baked or fried to a golden brown.
What Is A Cuban Empanada Filled With?
Cuban empanadas can be filled with picadillo like I am showing you in this recipe. They can also be filled with Picadillo con Papas, Ropa Vieja, or leftover chicken from Fricase de Pollo. For a sweet empanada try filling it with guava and cream cheese.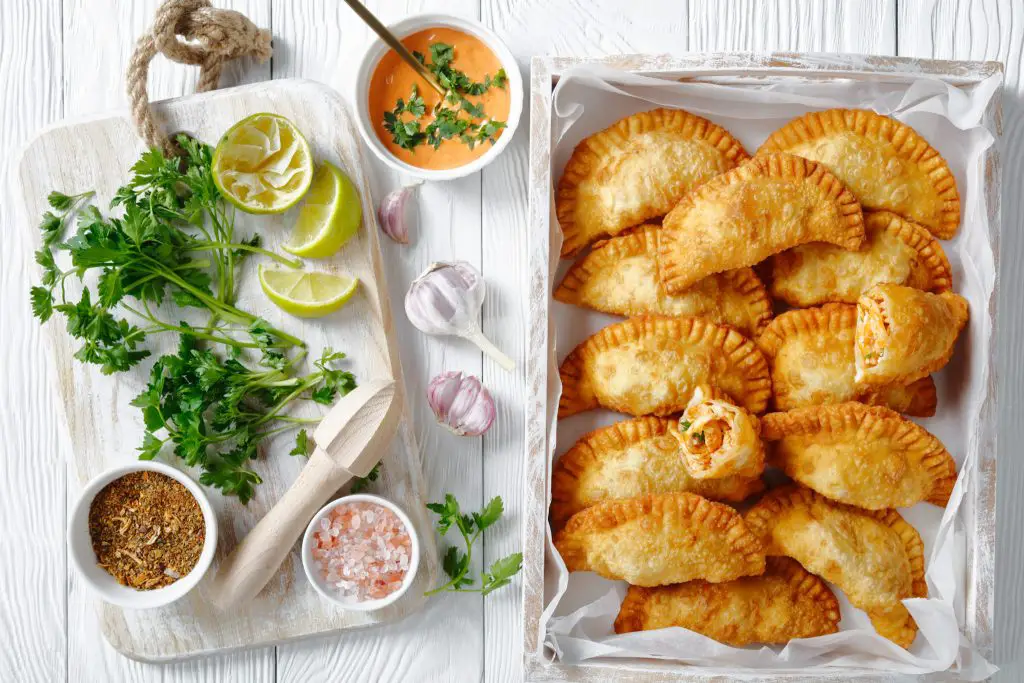 Recipe Notes
Sparkling Water – The bubbles in sparkling water create more air pockets in the empanada dough. Make sure not to open the sparkling water until ready to use.
Orange Juice – The orange juice will not add an orange flavor but will help with the acidity of the dough making it more tender when fried.
Frozen Butter – I like to freeze the butter for awhile and then grate it frozen. Always keep the dough as cold as possible at all stages so when it fries the butter is still cold creating a golden crispy outside.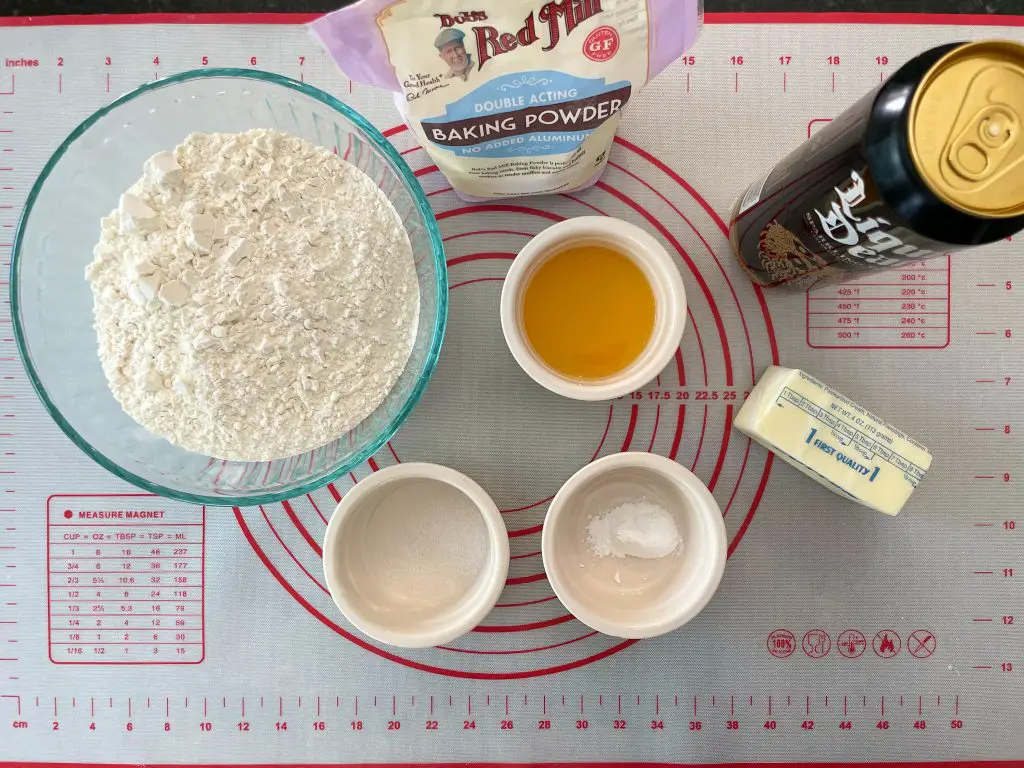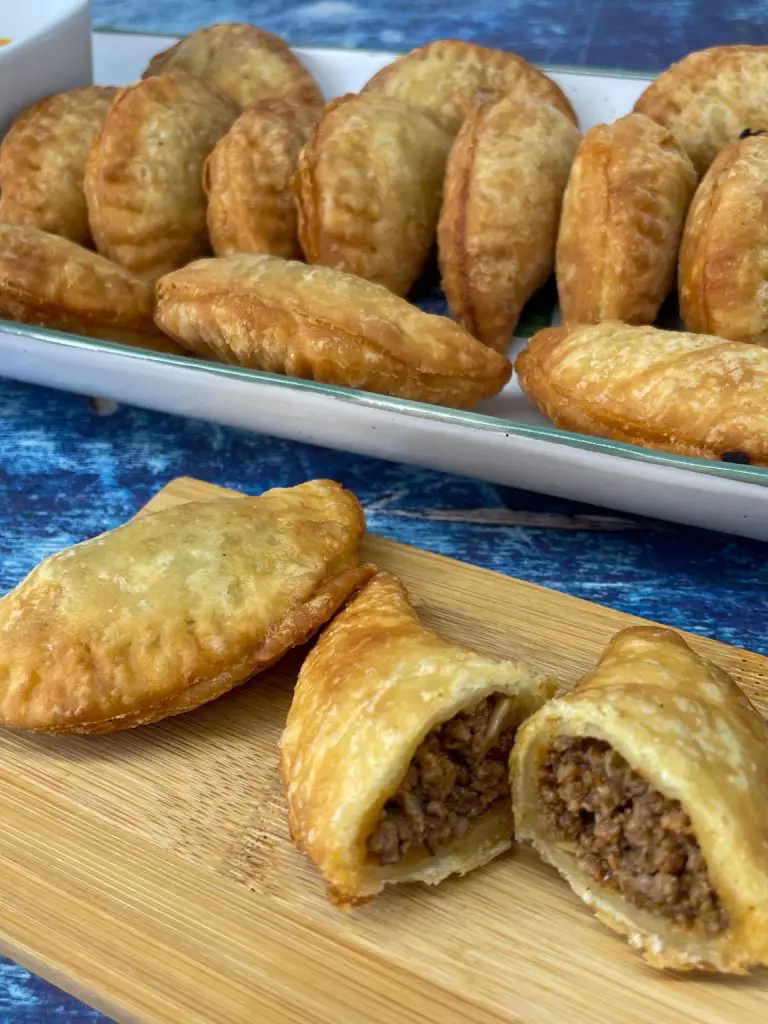 Cuban Picadillo Empanadas
Description
Cuban picadillo empanadas have a light and crispy outside filled with flavorful picadillo (ground beef) on the inside. 
Picadillo Filling
Empanada Dough
Egg Wash
Instructions
Picadillo Filling
Wash the ground beef in a colander using cold water. I do this for two reasons. When the ground beef cooks it cooks really fine so there are no big chunks and second it removes excess fat. Make sure to clean up sink area after washing to avoid creating any bacteria.

Heat a sauté pan on medium high heat. When hot add ground beef and cook about 10 to 15 minutes. When all the ground beef is cooked through and is no longer pink drain in a clean colander. Heat sauté pan again with a tablespoon of olive oil on medium high heat and return ground beef to pan. Season beef with salt, garlic powder, red aji cachucha powder and black pepper.

Finely dice or grate the onion and smash the garlic cloves.

Note* the 1/4 cup of garlic is measured before smashing or grating.

Add the grated onions with the smashed or grated garlic to the ground beef and continue to cook for five minutes until onions are soft. 

Note* the 1/4 cup of garlic is measured before smashing or grating.

Deglaze the pan with white wine (vino seco).

Add tomato sauce and turn down the heat to medium low. Add 1/2 teaspoon salt, 1 teaspoon garlic powder, 1 teaspoon red aji cachucha powder and 1 teaspoon of cumin. Add 2 teaspoons of green olive juice, I just want the flavor of the green olives, not to actually bite into any olives. Stir to combine and cover. Let simmer for 10 minutes then remove from heat and let cool while preparing empanada dough.
Empanada Dough
In a mixing bowl combine the flour, salt and baking powder.

Add the cold grated frozen butter on top of the flour. Using your hands gently mix the butter into the flour. Do not break the butter down, just start to incorporate the butter into the flour.

Add the sparkling water and combine with hands. The flour will start to look "shaggy" and crumbly.

Add the orange juice and continue to combine with hands.

Remove dough onto a floured surface and knead into a ball until it looks smooth. Cover with plastic wrap and let rest for 30 minutes in the refrigerator.

You can store the dough in the refrigerator for up to 24 hours if you are not ready to use within the 30 minutes. Take it out of the refrigerator and let it rest for at least 10-15 minutes if using after 24 hours.

Prepare Egg Wash. Whisk one egg with water.

Roll dough out onto a floured surface. Get the dough as thin as you can get it, about 1/8" or thinner. 

Now, make empanada discs using an empanada mold, a small bowl, or a glass. Since I am making an appetizer platter of two bite appetizers I used a glass that was about 3 1/2"  in diameter that gave me smaller empanadas. You can make larger empanadas using something with a larger diameter. 

If you want to make larger empanadas use a hand pie mold. This will make about 8-10 empanadas instead of 25. 

Start heating some oil in a frying pan or a fryer to 350 degrees. 

Fill discs with a heaping teaspoon of picadillo filling. Brush edges with egg wash and fold over to seal. Seal empanadas using a fork's tongs or the pinch and fold method. Put empanadas in the refrigerator for 10 minutes. 

If making larger empanadas fill with 1-2 tablespoons of picadillo.

Fry empanadas for about 2-3 minutes on each side until golden brown. Remove empanadas from oil and drain on paper towels or a wire rack.

Serve empanadas with Rosa dipping sauce.
Picadillo,ground beef,empanadas,appetizer,