How To Make Pollo Asado (Baked Chicken)
Looking for a new, easy, one dish, no mess, kid friendly chicken dish? Then this recipe is for you. It checks all the boxes for a mid week meal when you just don't want to fuss. It's very easy to prepare in the morning and then when you're ready in the evening put it in the oven and let the oven do all the work.
The secret weapon for  this dish is mojo criollo. It is pronounced moh-hoh kree-oyo.  Cuban mojo has a base of sour orange juice (naranja agria)mixed with garlic, salt, oregano and cumin.
If you prefer to make Cuban mojo without any store bought bottles use the recipe below.
How to Make Cuban Mojo Criollo
1 ½ cups naranja agria or seville orange juice
1 cup olive oil
2 limes juiced
1 cup garlic cloves
3 tablespoons cumin
2 tablespoons oregon
1 tablespoon salt
1 teaspoon black pepper
Using a mortar and pestle smash garlic with a little bit of salt. Transfer to a bowl and combine the rest of the ingredients. Let ingredients combine for at least 20-30 minutes.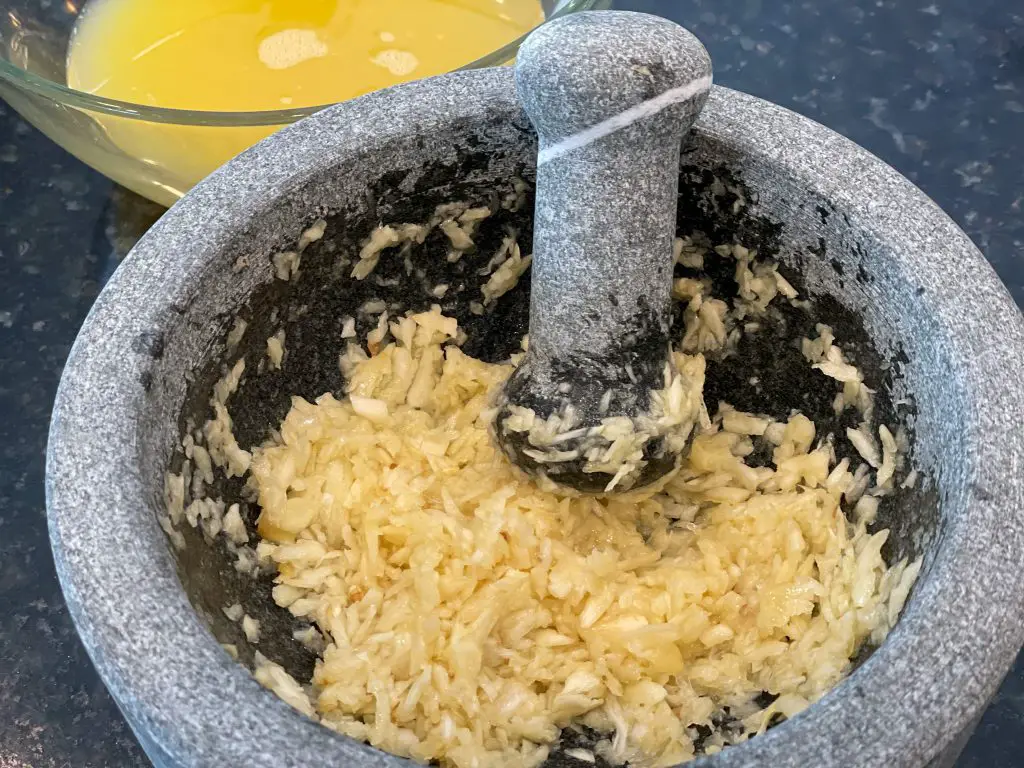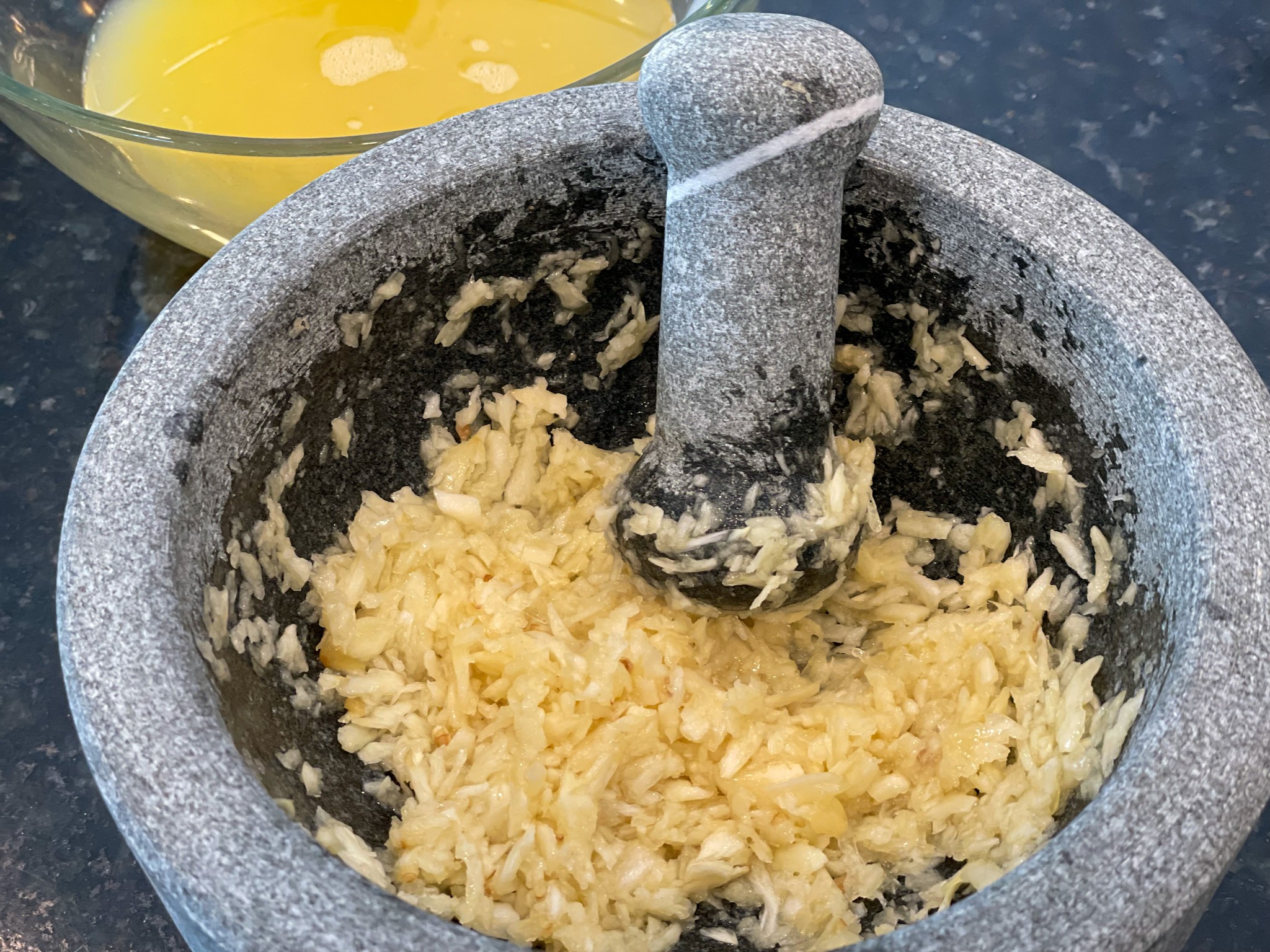 Use to marinate masitas de puerco (fried pork chunks), lechon, chicken and shrimp. If marinating pork and chicken let marinate for 24 hours if possible but if you are short on time let marinate at least 2 hours.
If you are going to use a store bought brand I like Goya mojo criollo.  Even when using a store brand I add more to it for a fresh flavor. It can be found in most Latin supermarkets and is now starting to pop up in chains like Kroger.  Let the chicken marinate in the mojo for as long as you can.
Pollo Asado or baked chicken with mojo criollo is the answer to your never ending question of "What's for dinner tonight?"
Find a PINTEREST friendly image here…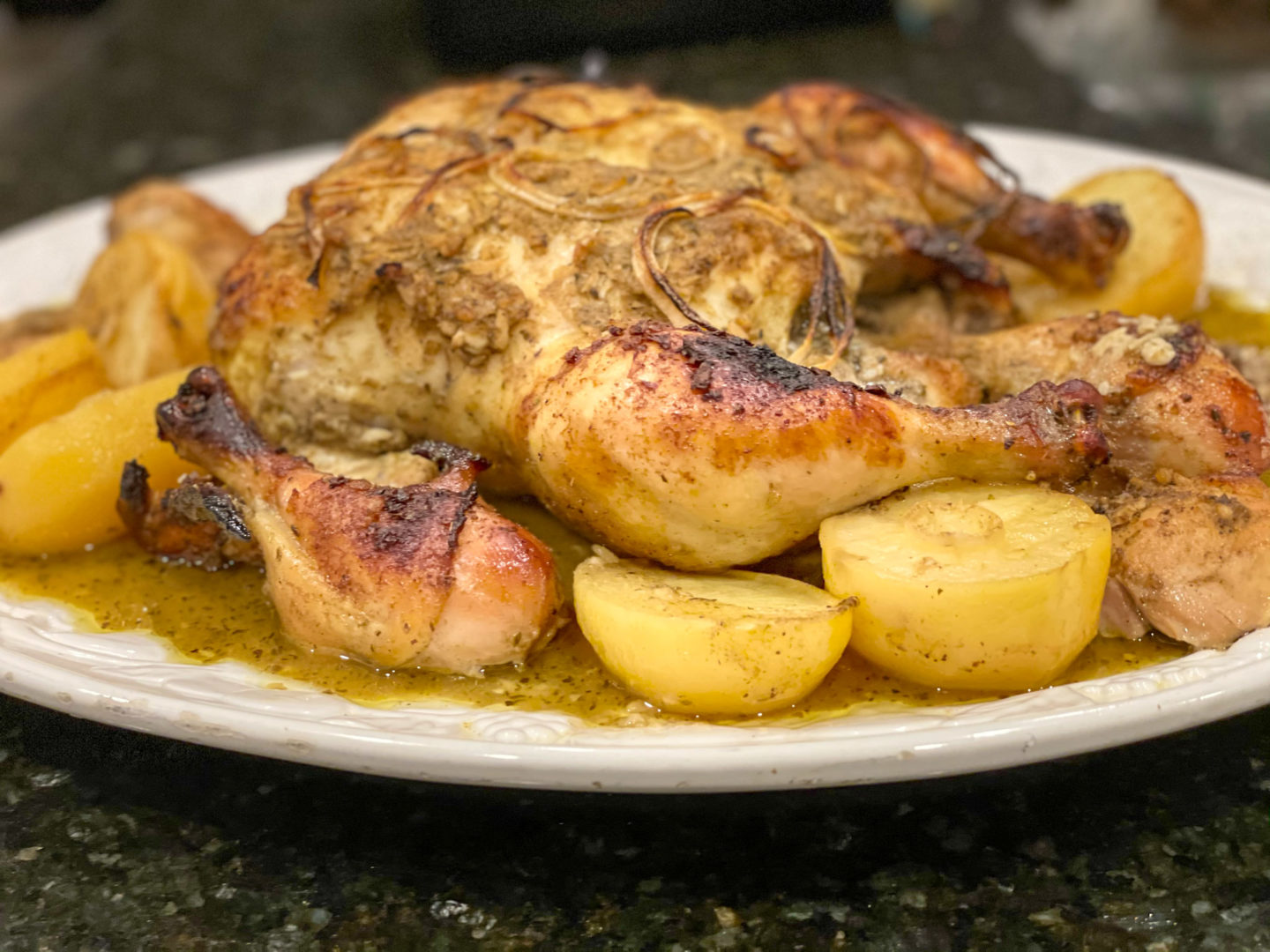 Pollo Asado (Baked Chicken)
Instructions
Remove chicken from packaging and take out giblets and neck. Wash the inside of the chicken with cold water. Make sure to clean area after washing chicken so you do not create any bacteria. Place chicken in a large bowl for marinating.

In a separate bowl combine 1/3 cup of smashed garlic, salt, cumin, garlic powder and oregano. Pour bottle of mojo criollo in with seasoning and the juiced limes and stir to combine.

Substitute bottled mojo criollo for homemade mojo criollo with recipe in intro.

Pour marinade mixture over whole chicken in a large bowl. Let marinate for at least two hours. However, like I said in the introduction this can easily be prepared in the morning and then let the chicken marinate all day in the refrigerator. Remove from the refrigerator about half an hour before ready to put in the oven and cook. As you can see from the photo I usually add a few more legs because two is just not enough!

Preheat oven to 350 degrees. Arrange a rack for the lower third of the oven and remove any higher racks. When chicken is ready to cook transfer from bowl to an oven broiler pan, breast side up. I only use the bottom tray portion of broiler pan because I want the chicken and the marinade together. A 13x9 inch baking dish works well also or any other shallow oven safe dish. Peel and halve the four potatoes and nestle them around the chicken. Pour all of the extra marinade over chicken and potatoes. Cut a few slices of onion and arrange rings over chicken.

Malanga can be substituted for the potatoes or use a mixture of malanga and potatoes.

Cook chicken about one and a half hours until thermometer reads an internal temperature of 165 degrees. Cooking time will vary depending on size of chicken. Every 20 to 30 minutes spoon pan sauce or use a baster, over chicken so it develops a nice golden brown skin. When the chicken is done and the potatoes are soft let chicken rest 10 minutes before cutting and serving. Serve with white rice.