Cuban Breakfast Recipe
This isn't your typical Cuban breakfast. A typical Cuban breakfast consists of espresso with milk (cafe con leche) with toast (pan tostado).
Well, we're going to kick it up a notch with this recipe.
You might not think of Cuban food and Italian sausage in the same thought. Well, neither had I until one morning way back when I was still dating my now Cuban husband. I woke up to this amazing smell wafting into the bedroom from the kitchen. It wasn't familiar but it smelled so good I had to get up and see what it could be. What I discovered was my new favorite breakfast.
What I love about this sausage dish is you can of course eat it for breakfast but it also makes a great dinner. The longer it gets to simmer on low heat the sausage becomes more and more tender. This makes it a great make ahead dish, or you can double the recipe and freeze half.
As I have talked about before we are starting with a sofrito as the base. Sofrito is sautéed onions, bell peppers and garlic. Then we add tomato sauce and the seasoning. Another recipe that starts with a sofrito is  Chicken Fricassee (Fricase de Pollo).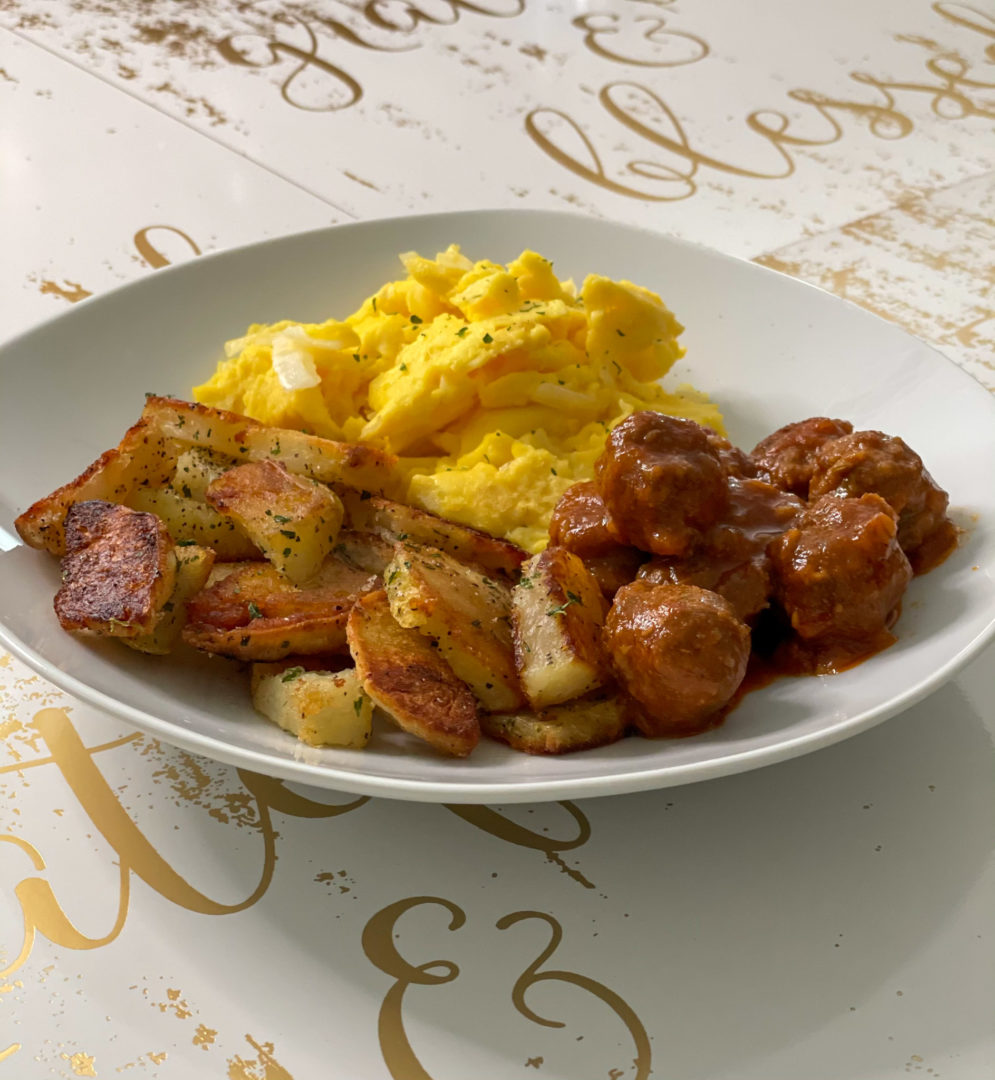 Cuban Breakfast Sausage
Instructions
For a family of four I use two packages of Johnsonville Mild Italian sausage links. First, cut each link into 1/2 inch pieces. Heat a sauté pan on medium high heat and add 2 tablespoons of olive oil.

Next, add the cut up pieces of Italian sausage and brown all over. Drain off any excess fat and then add the diced onions and bell peppers. Smash the garlic (1/3 cup of garlic before smashing, 10-15cloves). If it is too much garlic for your taste 3-5 cloves is fine. When onions and peppers look translucent add the garlic and cook for another 2-4 minutes until garlic is fragrant. Deglaze the pan with the 1/3 cup of vino seco. Scrape up any bits while stirring and add 2 cans of Goya tomato sauce. Fill one can with water and add to sausage.

Add salt, garlic powder and cumin to sauce and simmer covered on low for at least 30 minutes. The longer this dish simmers on low the better the flavors combine and taste unbelievably delicious! While the sausage is cooking I make some breakfast potatoes, scrambled eggs and toast to complete the meal.