What is Masitas de Puerco?
Masitas de puerco is pork cut into chunks, marinated (over nite if possible), then fried to a golden brown.  There are so many Cuban dishes that I remember the first time I ever ate them. Masitas de puerco is no exception. I had recently moved in with my Cuban boyfriend (now my husband).  Of course, I didn't just move in with him, there was his parents (papi and mami), his two sisters, his oldest sister's boyfriend and her two kids. I made number 9. That's how you know they were Cuban right?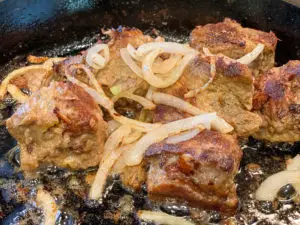 Anyways….I had come home from work and the smell was lingering outside when I got out of the car. I immediately think OMG that smells sooooo gooooood! As I open the door the smell gets even more powerful and I am instantly hungry. As I rush into the kitchen I see on the stove this big pot of masitas de puerco. I grab a fork to take my first bite. There was no time to ask what it was or how it got there. I just knew I had to try it! The pork was so tender on the inside with a little crunch on the outside and the flavor was exploding on my tongue.
Like I said when I wrote about Pollo Asado, mojo criollo (pronounced moh-hoh kree-oyo) is the secret weapon to this recipe.  Cuban mojo has a base of sour orange juice mixed with garlic, salt, oregano and cumin.  Sour oranges are called Seville oranges. If there are no sour oranges in your area naranja agria can be found at any Latin supermarket.
It seems like every Cuban family has a little different version of how they make mojo but the base is the same. Of course I am going to share with you how my husband's family makes their mojo. Now that I am older and have seen other recipes I can tell you I think this recipe is heavy on the spices like cumin and oregano and that is what makes the flavor explosion.
Masitas de Puerco  Recipe Tips
Pork – Cut a pork shoulder  into 1 1/2″- 2 " pieces. Pork loin or country style pork ribs can be substituted. You can cut the meat into smaller pieces too but when frying if they are too small then the pork overcooks easily.
Mojo Criollo – Store bought mojo criollo can be substituted. If you choose store bought use it as a base and still add fresh smashed garlic, a little more salt, cumin, oregano and lime juice.
Frying – Using lard is traditional but when I don't have any vegetable, corn or canola oil can be substituted.
Masitas de Puerco Perfect Sides
No matter which side of beans and rice you choose don't forget the avocado salad and maduros (fried plantains).
Sharing is Fun…..below is a Pinterest friendly photo!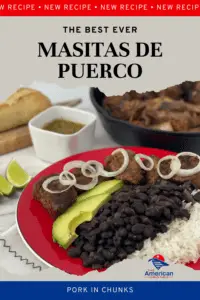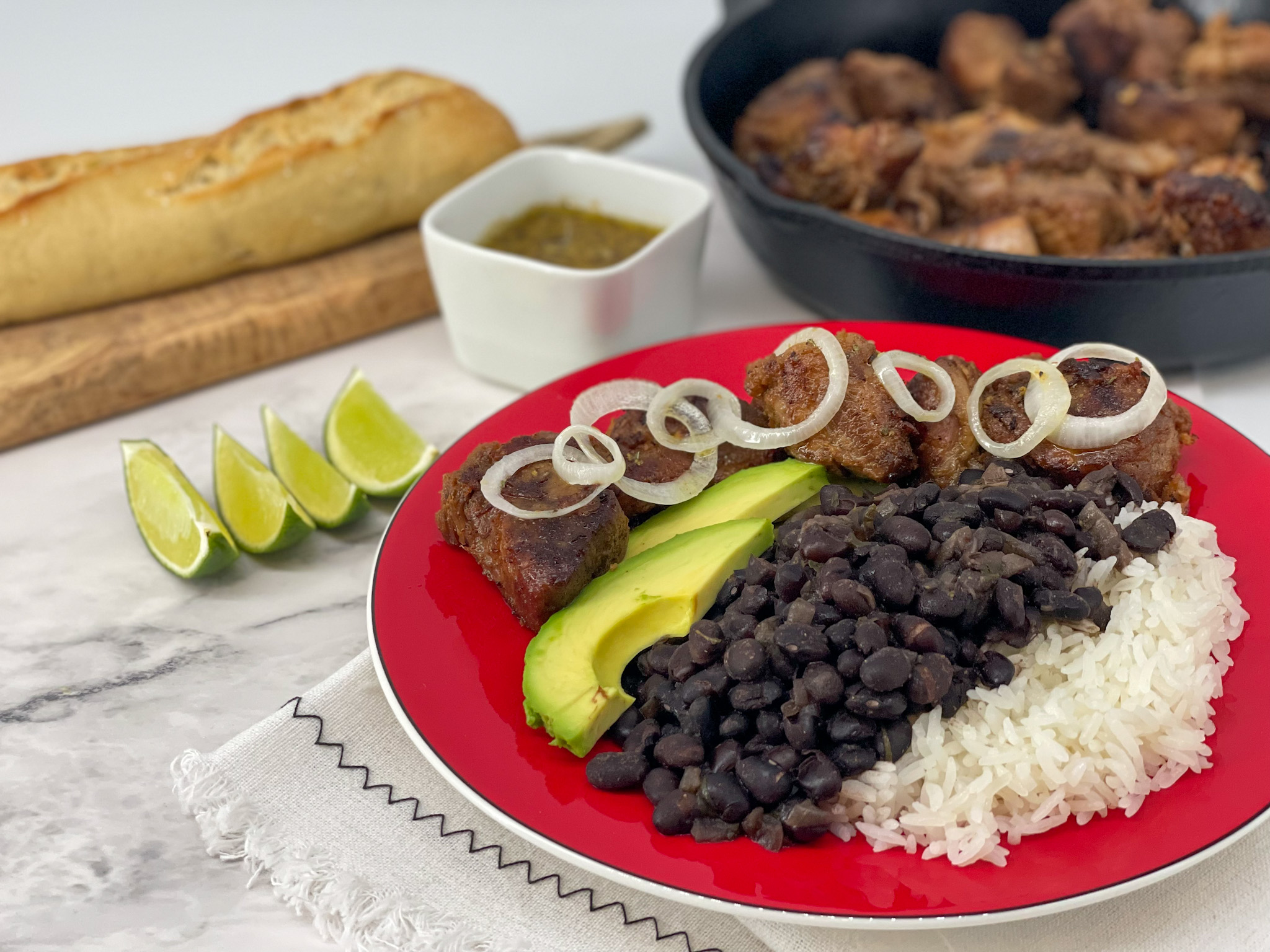 Masitas de Puerco (Fried Pork Chunks)
Instructions
Mojo Criollo Marinade
Using a mortar and pestle mash the garlic. Transfer the garlic to a bowl and add the rest of the ingredients. Stir to combine. Let sit for at least 20 minutes to let the flavors incorporate with each other.
Pork
Cut pork into 1 1/2" to 2" pieces. Put the pieces of pork into a large non reactive bowl.

Pour mojo criollo marinade over the pieces of pork. Make sure to completely submerge all of the pieces of pork. Let sit overnight if possible. If overnight isn't possible at least let the pork marinate for a minimum of 2 hours.

Using a large stock pot or Dutch oven heat lard or oil on medium heat. When the lard or oil is hot add pork pieces carefully one by one. Using a large strainer to catch the garlic, drain the marinade into the pot of cooking pork.

Cover the pork with a lid and continue to cook. What I like about making masitas is that you don't have to babysit the meat too much. Let the pork cook on medium heat for about an hour moving the meat around occasionally. As the pork is cooking you will see the oil go through stages. When the oil looks cloudy there is still a lot of water that needs to cook off.

During the last half hour the oil will clear up and the pork will start to brown. Turn the heat off and let the masitas cool in the oil. Keep any leftover pork in the oil to keep the meat tender.

Last, heat a cast iron pan on medium heat and brown the cooked pieces of pork with some sliced onion pieces. Serve pork topped with cooked onion slices and rice and beans.