Cuban Instant Pot White Beans and Rice
Most people are only aware of black beans and rice but today I am going to show you how to make Cuban Instant pot white beans and rice.  I will  be using an Instant Pot for all of the Instant Pot lovers out there.  One of my favorite things about this white bean recipe is that it has chorizo in it.  Anything involving  chorizo you can count me in. Make sure to use a hard Spanish style of chorizo. Do not use Mexican chorizo which is a ground or soft chorizo. Spanish chorizo has been cured and ready to eat like salami. Mexican chorizo always needs to be cooked first.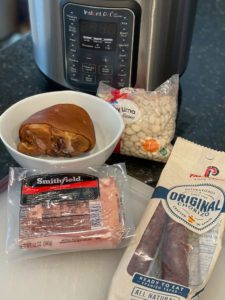 I am going to be use lima beans but most white beans are similar in flavor so feel free to use cannellini or white kidney beans. Navy beans could also be used however they are a little smaller so the cooking time would need to be decreased so they don't come out mushy.  While we are on the topic of different kinds of beans a lot of people ask….
Are white beans good for you?
The answer is yes. They are full of protein, fiber and contain many micronutrients.  Some of those micronutrients are copper, folate, iron, phosphorous, magnesium and vitamin B6.  Copper helps with energy production and iron increases metabolism. Iron helps with transporting oxygen throughout the body.
White beans are also high in polyphenol antioxidants which combats oxidative stress. Which leads to protection against chronic illnesses such as heart disease and certain cancers.
As I said earlier, they are a good source of protein which leads to increased muscle mass when paired with proper exercise.  This means they can be a primary source of protein for people following a vegetarian or vegan diet.  When paired with rice all of the essential amino acids are present that is needed for your body.
For a full list of health benefits you can find it here.
More delicious Cuban Instant Pot beans recipes!
Below is a Pinterest friendly photo…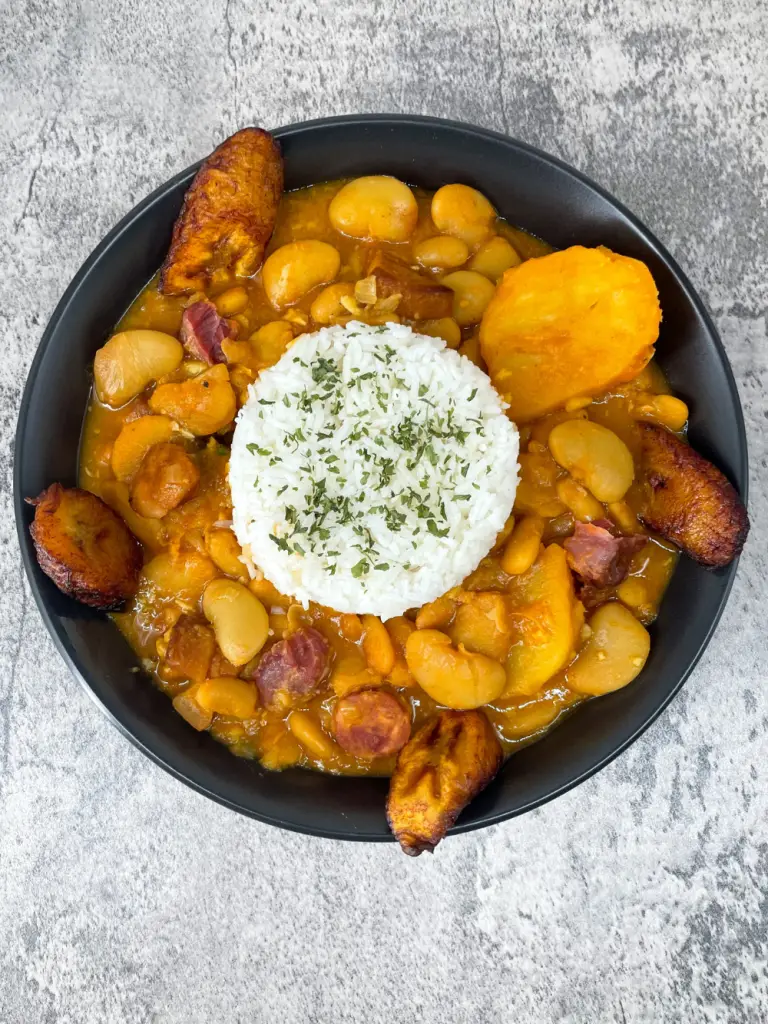 Instant Pot Cuban White Beans
Instructions
Heat a sauté pan on medium heat. Cut salt pork into 1/4 inch pieces and add to pan. Fry pork until all fat is rendered and golden brown.

Add the smoked hock and rendered salt pork to the Instant pot. Add a whole pepper with top and seeds removed. Add water and set Instant pot to pressure cook for 20 minutes. When the time is up, release steam. Remove the whole bell pepper.

Wash the beans and add to cooked hock and salt pork. Set Instant pot to pressure cook for 10 minutes. When the time is up, release steam. The beans should not be cooked all of the way. They should be a little hard still because they will be cooked again with the potatoes.

While beans are cooking heat a sauté pan on medium heat high with olive oil. Add diced onion and sauté until tender. When tender add smashed garlic and continue cooking until garlic is fragrant for about 2 minutes. Add to Instant pot.

Peel and cut potatoes into chunks. Not too small because we want them to hold their shape while cooking. I find 1 1/2 to 2 inches is best. Add to the Instant pot.

Cut chorizo into 1/4 inch pieces and add to pot. Add tomato sauce, salt, garlic powder, and cumin. Set Instant pot to pressure cook for another 5 minutes. When done release steam. Stir in finely chopped cilantro and let sit for about 5 minutes. Serve over a bed of white rice.