What I like about Pepper Steak is that you can get it on the dinner table in under an hour. It is probably one of the best recipes to try if you are new to using a wok as well. So, what is Pepper Steak? Pepper Steak is tender strips of beef and bell peppers in a savory soy (salsa china), garlic and ginger sauce.
Now, you might be asking, "Why is there a Chinese pepper steak recipe on a Cuban recipe website?" Well, actually I am not entirely sure when my Cuban mother-in-law first learned how to make pepper steak herself, but I do know for many years the Chinese have influenced Cuban cuisine for years.
Havana's Chinatown
Chinatown in Havana is called El Barrio Chino de la Habana. It was one of Latin America's largest and oldest Chinatowns. In its heyday, El Barrio Chino covered 45 square blocks. What may be contained inside these 45 square blocks? Of course, there were eateries providing both Cuban creole food and traditional Chinese food in Havana's Chinatown. In addition to homes, there were Chinese associations, bodegas, pharmacies, and laundromats. Home to the People's Chinese Newspaper both then and now (Kwong-Wah-Po).
Beginning in 1837 and continuing until 1874 was Chinese immigration. Over 150,000 Chinese workers, largely males, were brought in at this time to work in the tobacco and sugar cane fields. They assumed when they started their job that they would have an eight-year contract. As their eight-year contract came to an end, they were free to work and pursue their interests. Some Chinese laborers went to the US, others were allowed to go back to China, and some remained in Cuba.
Those who remained in Cuba started their own families. Some made an effort to wed local ladies in accordance with their traditions. Yet, Chinese men were falling in love with and marrying Cuban women since there weren't many other women of the same ancestry.
Recipe Notes
Protein – Tender cuts such as ribeye, sirloin or tenderloin steak work great for this recipe. Flank or skirt steak can be used as well. Partially freeze the meat to make cutting thin cuts easier. Remember to cut against the grain to preserve the tenderness of the meat while cooking.
Vegetables – I used green bell peppers and onions. Any combination of green, red and yellow peppers can be used. Red and yellow peppers will add a little sweetness and beautiful colors to the dish.
Serve Pepper Steak over a bed or white rice or serve it with Cuban Fried Rice! And don't forget the maduros!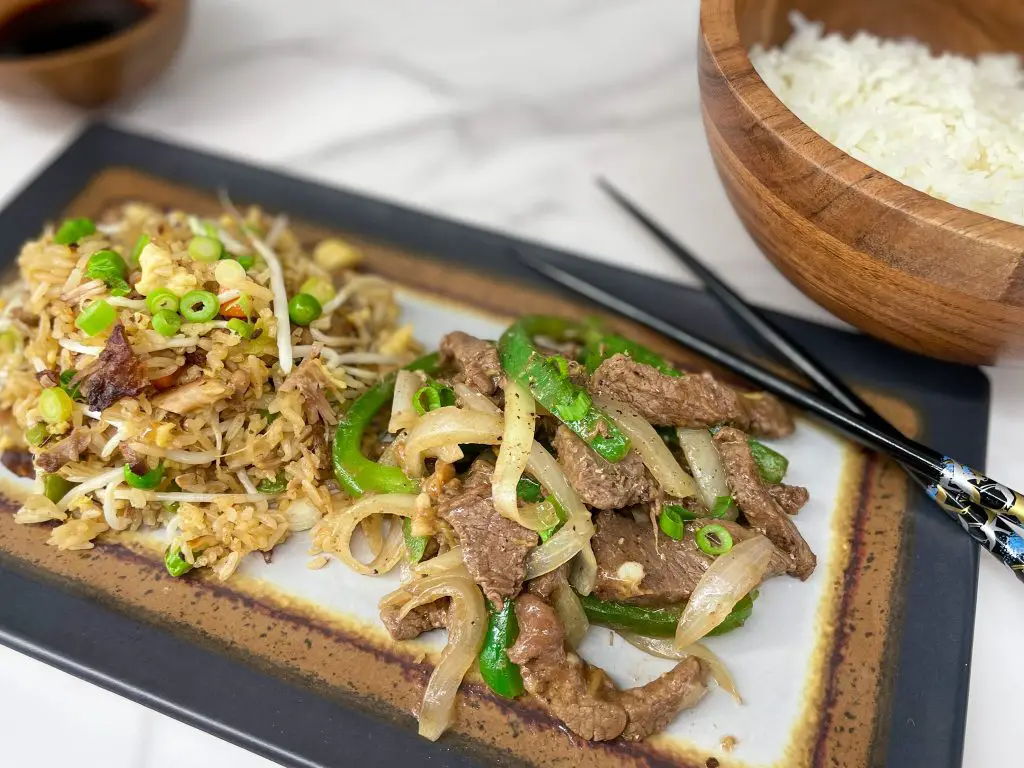 Sharing is Fun…..Below is a Pinterest friendly photo!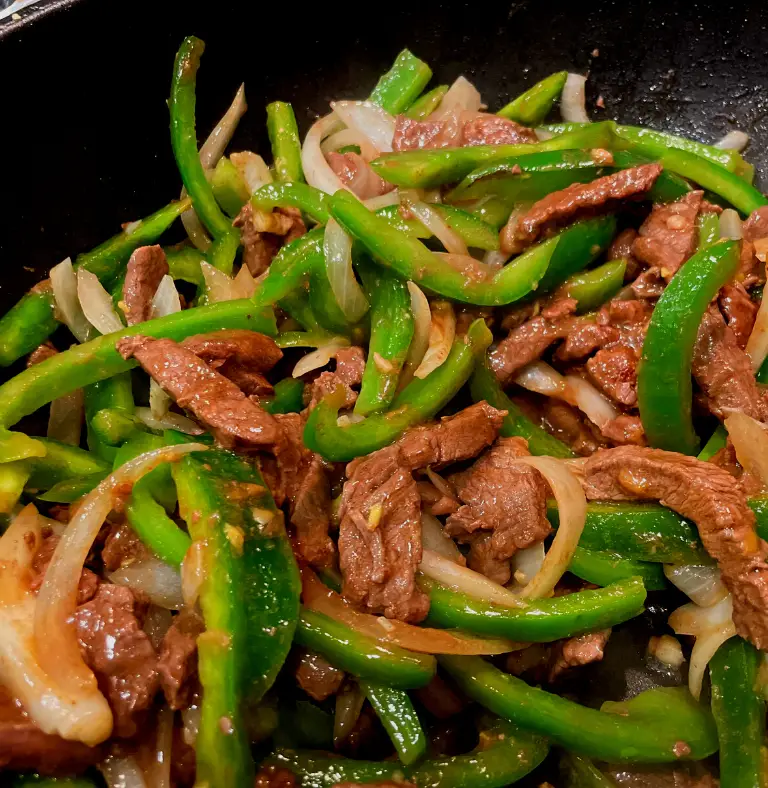 Pepper Steak
Description
No need to order take-out with this simple Pepper Steak recipe. You can easily prepare this home made dish in 30 minutes or less. 
Steak Marinade
Pepper Steak Sauce
Vegetables
Steak Marinade
Cut partially frozen beef into strips measuring 1/4" thick by 2-3" long. 

In a ziplock bag or bowl combine the steak strips with steak marinade ingredients. Let sit while prepping the vegetables and sauce. 
Pepper Steak Sauce
In a small bowl whisk together beef broth, corn starch and soy sauce. 
Vegetables
Cut 1 onion and 2 bell peppers into strips just like the steak. Mince the garlic and the ginger. 

Feel free to use yellow and red peppers for color and sweetness.
Pepper Steak
Putting It All Together
Heat a wok on medium high to high heat. Remove steak from ziplock bag and stir fry steak quickly to sear the meat but not burn it. Stir fry for about 5 minutes. 

Add onions and peppers while stir frying. Keep everything moving in the wok so not to burn. Add the garlic and the ginger and keep stirring. Last add the sauce and cook until it thickens about 2 minutes. 

Serve over white rice or with Cuban fried rice.

Don't overcook so the meat stays tender and the vegetables stay tender crisp.
weeknight dinner, steak