How to Make Potaje de Garbanzos
Most people associate Cuban food and black beans together because that is what you will find on every restaurant menu. Let me introduce you to the other types of Cuban beans. I have already showed you red beans, white beans and black beans. Now let's learn how to make Potaje de Garbanzo (Instant Pot Cuban Garbanzo beans).
Potaje de garbanzos translates to chickpea or  garbanzo stew. And like a stew these beans could be served as a stand alone dish. Why could they be served with nothing else you ask? Well, because of what else is in this amazing Cuban bean dish. There are potatoes, chorizo, and cabbage. The hock adds a wonderful smoky flavor to the broth that brings everything together. Remember,  the chorizo will be a Spanish chorizo.  Spanish style chorizo is cured and ready to eat like salami. Do not use Mexican style chorizo because it is more like ground sausage and raw. Mexican style chorizo always needs to be cooked first.
So, like I said before, you could just have a bowl of these beans but all Cuban beans are always better over a bed of rice.
What Do You Eat With Potaje De Garbanzos?
We all know that beans are good for you so let's go over the benefits of garbanzo beans.
Are Garbanzo Beans Good For You?
Garbanzo beans are also known as chickpeas.  They are very common in Middle Eastern countries. Garbanzo beans are the main ingredient in hummus.  They have a little bit of a grainy texture and a nutty taste that pairs well with other ingredients.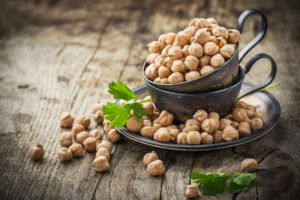 Garbanzo beans are an excellent source of plant based protein.  One ounce contains 3 grams of protein.  Protein from garbanzo beans has shown to be good for bone health and maintaining muscle strength.  They also contain almost all of the amino acids except for one called methionine.
The combination of the protein and fiber found in garbanzo beans can also help control your appetite. The protein and the fiber work together to slow down digestion which in turn makes you feel fuller longer. Also, the fiber is soluble fiber. Soluble fiber helps with the good bacteria found in your gut and prevents bad bacteria.
Garbanzo beans also have a low glycemic index which means they will not cause blood sugar spikes.  Foods with a low GI help to manage or prevent diabetes.
They also contain a variety of vitamins such as folate, iron, phosphorus, copper and manganese.  For more health benefits of garbanzo beans (chickpeas) you can find it here.
Below is a Pinterest friendly photo…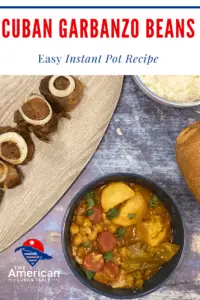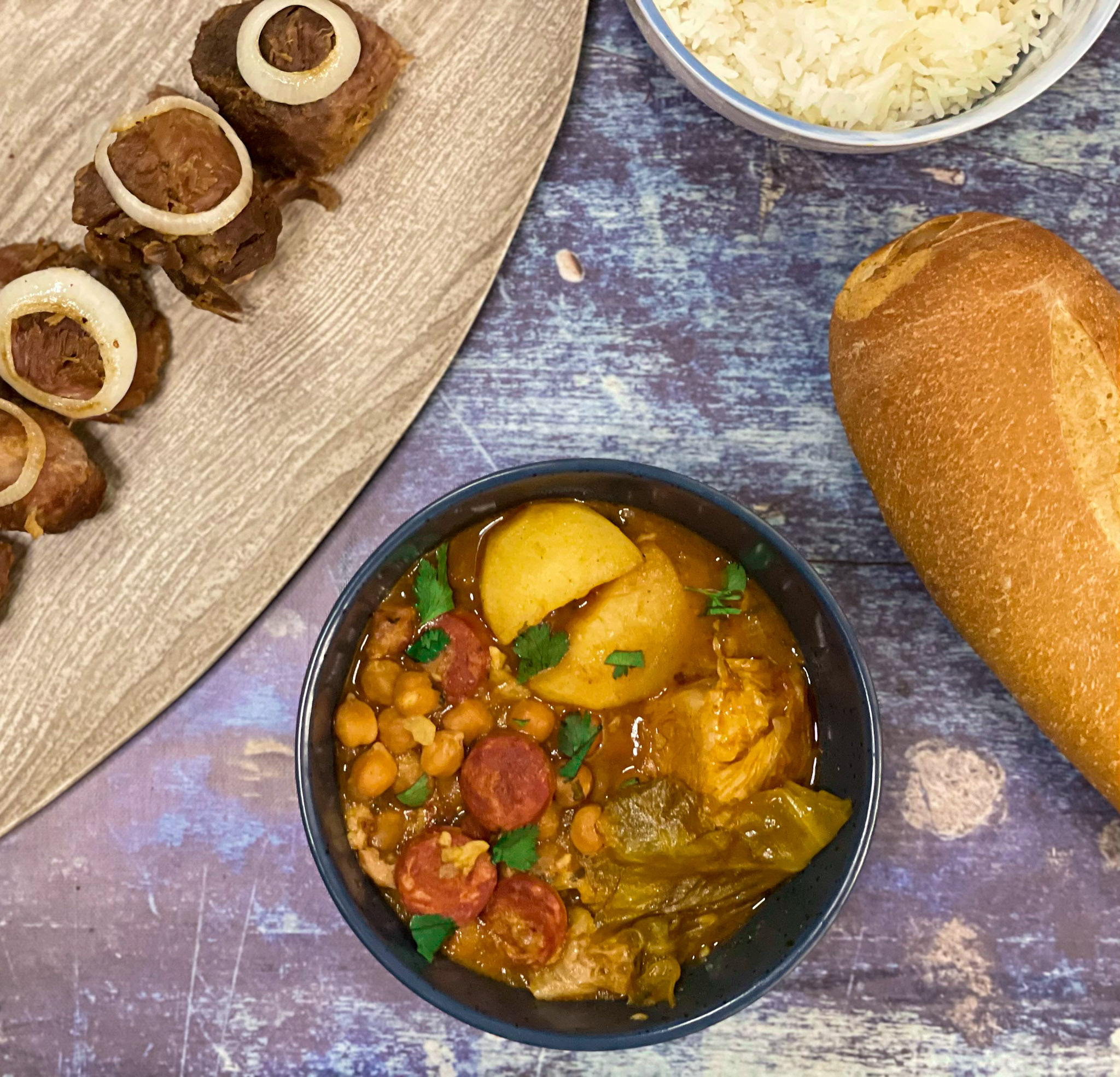 Potaje de Garbanzos (Instant Pot Cuban Garbanzo Beans)
Instructions
First, heat a sauté pan on medium heat. Cut salt pork into bite sized pieces - about a 1/4 inch. Cook to render fat, about 10 minutes. After all of the fat has been rendered remove salt pork to a paper towel.

Add the salt pork and smoked hock to the Instant pot. Add water and set the Instant pot to pressure cook for 20 minutes. Turn off the keep warm feature. When the time is up, release steam. Be very careful not to burn yourself while releasing the steam.

While the hock and salt pork is cooking wash the garbanzo beans. I use a colander to wash beans and remove any dirt and rocks that may be found. Wash and remove the top of the whole bell pepper. Remove the seeds and as much of the white inside as possible. The white part can be bitter so I take out as much as I can.

After the steam has been released open the Instant pot and add the garbanzo beans and the bell pepper. Cook again for another 15 minutes. Turn off the keep warm feature. The beans will be firm still. We don't want them cooked all of the way yet because we will be cooking them again. When the time is up release the steam again and be very careful not to burn yourself. After the steam is released and it safe to open remove the whole bell pepper.

While the beans are cooking dice the onion and smash or grate the garlic. Heat a sauté pan on medium high heat. Add the onion and cook until tender about 5-6 minutes. Add the garlic and cook until fragrant about 2-3 minutes.

Next, peel and cut the potatoes. I usually cut them into larger chunks about 1 1/2 to 2 inch pieces. Don't cut them too small because we want them to hold their shape while cooking. Cut the chorizo into 1/4 inch pieces. Cut the cabbage into large sections. Again, we want the cabbage to hold up also during cooking.

Now, add salt, garlic powder and cumin to the Instant pot. Add the tomato sauce. Add the onions and garlic. Stir the pot to evenly mix ingredients. Add in the potatoes and chorizo. Last add the cabbage so it sits on top of everything. Close the Instant Pot and cook for another 5 minutes. Turn off the keep warm feature. When the time is up carefully release the steam. Again, be careful not to burn yourself. When it is safe to open, gently stir in the cilantro.