What is a Cuban Philly Cheesesteak Sandwich?
I can hear it now! There is no such thing as a Cuban Philly Cheesesteak sandwich. I know, I know – not until now. One day I had some left over cuban steaks in the refrigerator that I didn't want to waste and I was in the mood for a cheesesteak sandwich.  I thought to myself what if I combined the two? A cuban steak sandwich married together with a cheesesteak sandwich.
I thinly sliced the cuban steak and added some onions and peppers, topped it with some cheese sauce and it was born. The Cuban Philly Cheesesteak Sandwich.
Cheesesteak Sandwich Meat
Like I said before, the first time I just used leftover cuban steak which was  palomilla steak. However, now when not using leftovers I use ribeye which is the traditional choice for cheesesteak. It has very good flavor due to the fat content and is very tender. Some people use sirloin or top round for a more budget friendly option. Whichever cut of steak you choose the secret is to thinly slice the meat.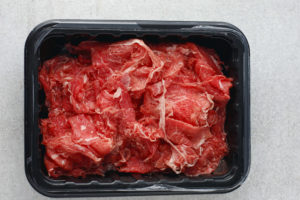 To get it as thin as possible cut the steak while it is still frozen.  Another option is to buy it ready to go for you in the grocery store.
Cheesesteak Cheese
The cheese typically used in Philly Cheesesteaks can become a serious topic.  The original cheese used was provolone. Later on Cheez Whiz, American cheese and white American have become popular choices depending on where you live or what your favorite sandwich shop offers.
Now, because I am making a Cuban Philly Cheesesteak, I have found baby swiss is the best. It melts really good and complements the flavor of the steak the best.  If you do not want to make a cheese sauce then melting sliced baby swiss works great too.
Below is a Pinterest friendly photo….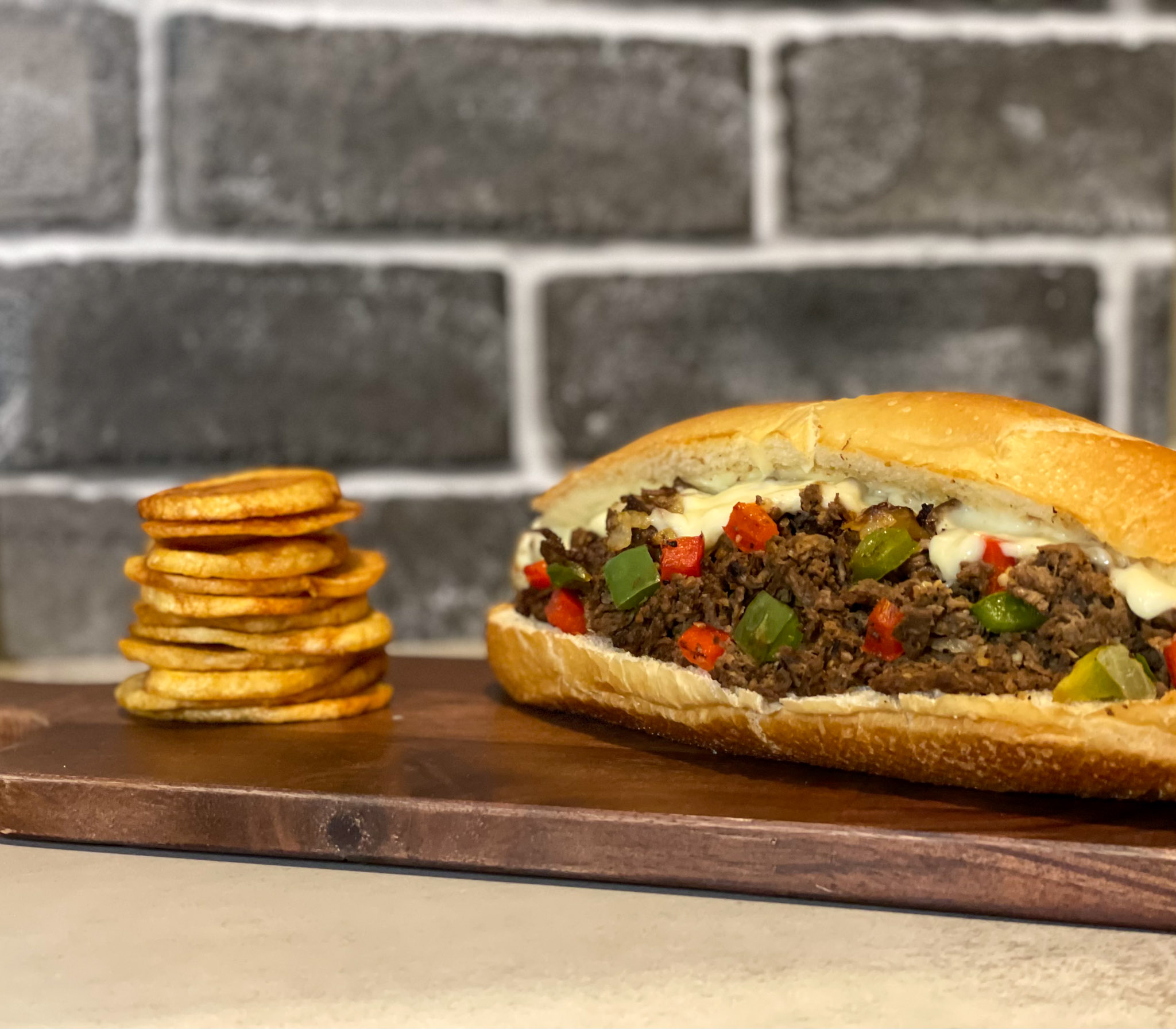 Cuban Philly Cheesesteak Sandwich
Instructions
First, thinly slice the steak. Add naranja agria (bitter orange), the juice of one lime, minced garlic, salt and pepper. Let marinate while preparing the rest of the ingredients.

Dice one small onion. In a saute pan heat 2 tablespoons of butter and add onions to cook. Dice the red and green bell peppers and add to the onions after they have softened.

Prepare cheese sauce. Heat 2 tablespoons of butter on medium heat in a small sauce pan. Whisk in 2 tablespoons of flour. Whisk for 2 minutes to cook out dough flavor.

Warm milk and cream in the microwave for about 45 seconds. Whisk in warmed milk and cream to butter and flour mixture.

After sauce has thickened stir in 1/2 cup of baby swiss. Season with salt and white pepper. Turn off heat.

Heat a griddle pan on medium high heat. Grease with butter or olive oil. Spread out the steak on the pan and start cooking. As the steak cooks start chopping with the side of a metal spatula breaking up the steak into little pieces. When it starts to brown add onions and peppers.

Split a hoagie roll but don't cut all the way through. Add some steak with the onions and peppers and top with cheese sauce.