What are Albondigas?
The Spanish word for meatballs is albondigas. Albondigas are small meatballs made of ground meat and rice.

Traditionally, they are served in soup. A broth-based soup loaded with vegetables. Some recipes have potatoes some do not.  Most of the recipes found online are also traditionally Mexican. It is really hard to find a Cuban recipe unless you specify. Please, don't get me wrong, I love albondigas soup too. However, today…….
I'm going to show you how to make Cuban albondigas.

What are Cuban Albondigas?
While they are still like a meatball, there are some similarities and some differences. They are similar in containing ground beef, eggs, and crackers or bread crumbs. They are noticeably different by their size. Cuban albondigas are bigger. Many Mexican recipes add rice to the albondigas. Cuban albondigas are served with rice. Mexican albondigas are made in a soup.  Cuban albondigas are traditionally made in a tomato-based sauce.  First, mix together the meat and vegetables. Next, form these giant meatballs with an ice cream scooper. Then, brown them gently and let them simmer in a sofrito sauce until ready to eat.
What is a Sofrito Sauce?
A sofrito sauce is made with Spanish onions, green bell pepper, garlic, and tomato, (or tomato sauce) cooked in olive oil. It is a the starter to so many delicious recipes such as ropa vieja, chicken fricassee (fricase de pollo), and even pastelitos de carne.
Why do I think you will like my recipe over others? Because most of the recipes I looked at have ketchup. I don't use ketchup. I make a traditional sofrito with tomato sauce.
Sharing is caring! Below is a Pinterest friendly photo….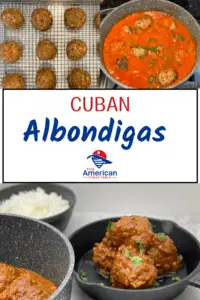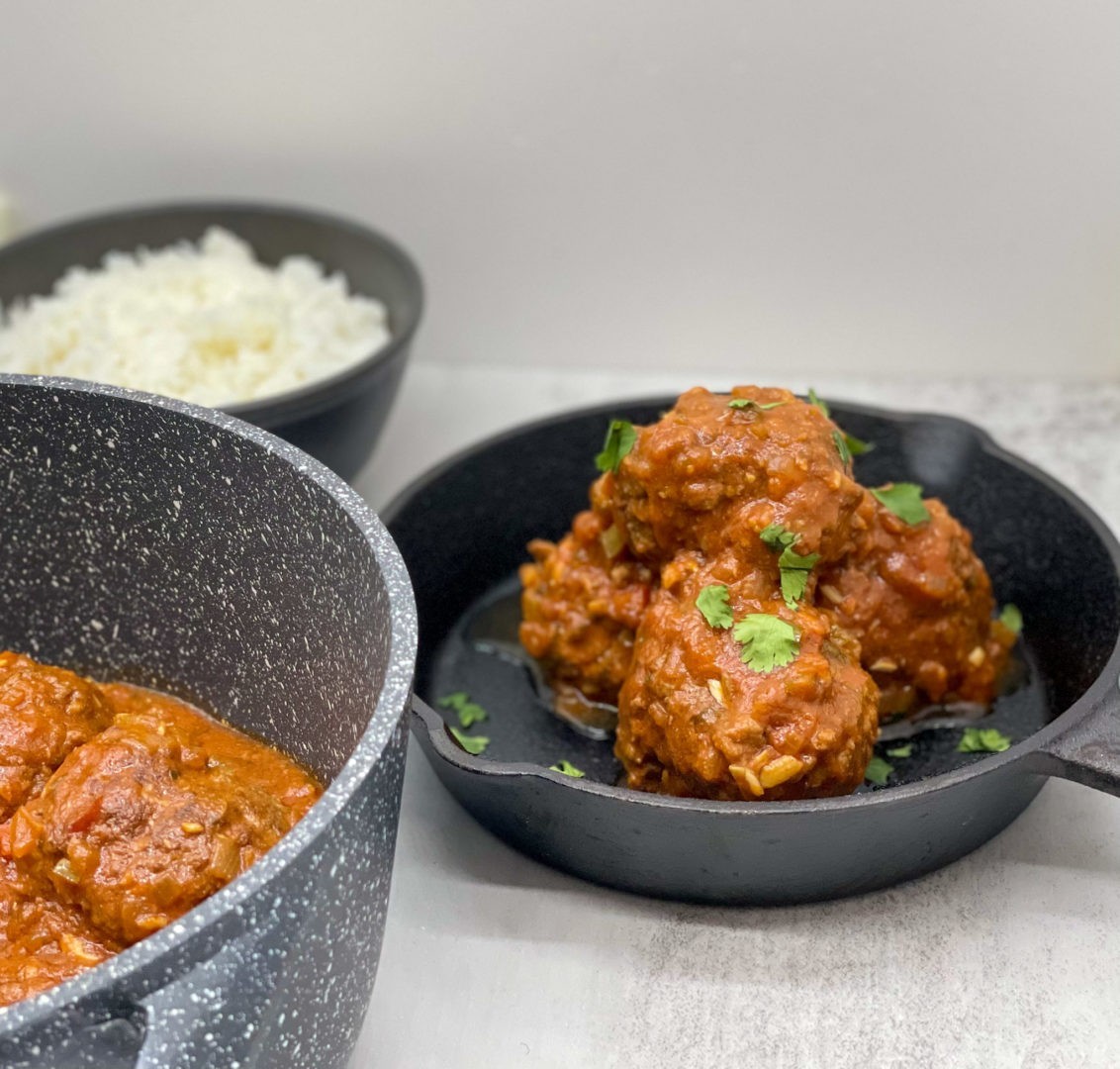 Traditional Cuban Albondigas
Ground Beef Mixture
Sofrito Sauce
Instructions
Ground Beef Mixture
Put ground beef in a large mixing bowl. Add bread crumbs, egg and beef broth. Mix thoroughly together using your hands. I use food handling gloves to keep my hands clean.

Cut onion and bell peppers into a small dice. Smash or mince the garlic. Finely chop the cilantro. Add ingredients to the ground beef mixture. Again mix thoroughly with your hands.

Next, add the dry seasoning to ground beef mixture.

Using an ice cream scooper, make ice cream sized albondigas.

Heat two tablespoons of olive oil on medium high heat in dutch oven. In batches brown albondigas evenly on all sides. Reserve albondigas on a paper towel lined plate.
Sofrito Sauce
In the same dutch oven saute onions and peppers until soft on medium high heat. Add fresh garlic and saute until fragrant. Deglaze the pan with vino seco. Stir in tomato sauce and water. I just fill up one tomato sauce can with water. Next, add in dry seasonings, cilantro and bay leaves.

Add the albondigas back into the sauce. Let simmer with a lid cracked for 45 minutes. Serve over white rice.