What are Albondigas?
The Spanish word for meatballs is albondigas. Albondigas are small meatballs made of ground meat and rice.

Traditionally, they are served in soup. A broth-based soup loaded with vegetables. Some recipes have potatoes some do not.  Most of the recipes found online are also traditionally Mexican. It is really hard to find a Cuban recipe unless you specify. Please, don't get me wrong, I love albondigas soup too. However, today…….
I'm going to show you how to make Cuban albondigas.

What are Cuban Albondigas?
While they are still like a meatball, there are some similarities and some differences. They are similar in containing ground beef, eggs, and crackers or bread crumbs. They are noticeably different by their size. Cuban albondigas are bigger. Many Mexican recipes add rice to the albondigas. Cuban albondigas are served with rice. Mexican albondigas are made in a soup.  Cuban albondigas are traditionally made in a tomato-based sauce. You can find the traditional recipe here.
This recipe is  a non-traditional way of making Cuban albondigas. Instead of letting them simmer in a sauce, we are going to fry them. This alternative method makes them super simple. First, mix everything together. Next form them with an ice cream scooper. Last, cook and then done. Serve them with white rice, avocado salad, cooked plantains, and dinner is done.
Sharing is Caring! Below is a Pinterest friendly photo…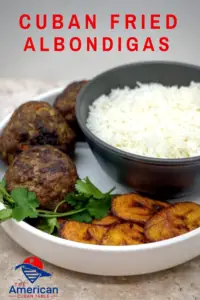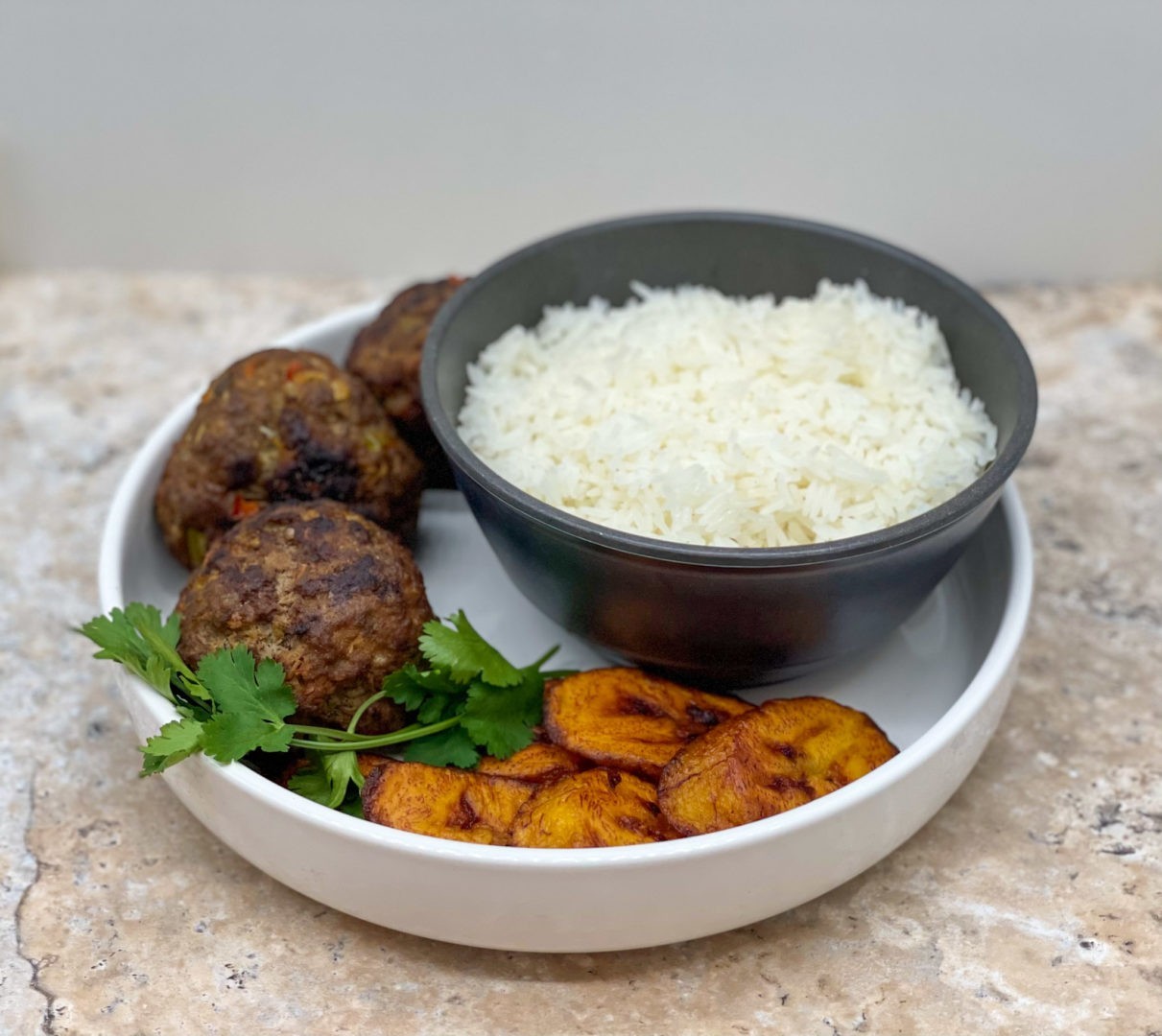 Cuban Fried Albondigas (Cuban Meatballs)
Instructions
Put ground beef in a large mixing bowl and add in bread crumbs and beaten egg. Using your hands mix in thoroughly. Next pour in beef broth, also using your hands to mix in.

Cut onions and peppers into a small dice. The smaller the better because they will "disappear" into the meat when cooking. Smash or mince fresh garlic. Finely chop the cilantro. Using your hands mix vegetables into ground beef.

Add Goya Sazon, cumin, garlic powder, salt, and pepper. Mix into ground beef mixture thoroughly.

Scoop ice cream sized balls and place them on a cookie sheet.

Heat some oil in a dutch oven or pot of your choice. Make sure the oil is at least 1" deep. Heat oil to 300 degrees. Note* - If the oil is too hot the albondigas will over cook on the outside and still be raw on the inside. When the oil is ready, fry albondigas for 15 minutes until done on the inside and golden brown on the outside. Fry in batches so they are not crowded. Drain on a paper towels. Serve with white rice.