What is Cuban Picadillo?
Cuban picadillo (pronounced "peekah-dill-ohz") means minced meat or ground beef. It is cooked with sofrito, tomatoes or tomato sauce and spices. Many Latin countries and even the Phillipines all have their own versions. Even people from different parts of Cuba have their own versions. My Cuban mother in law taught me to use tomato sauce, but her mom (abuela) used tomatoes. Both of them add green olives. Some people like to add raisins for a little sweetness and others like to add capers for a little saltiness.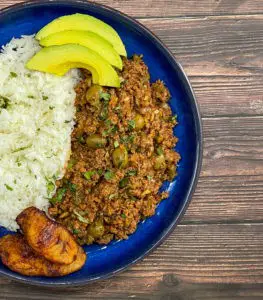 The other day the question was asked in one of the Cuban recipe Facebook groups that I belong to, "What is the most important Cuban dish that everyone should know how to make?" The majority of people answered picadillo and I happen to agree. Why? Picadillo can be like a stepping stone to so many other recipes. Once one knows how to make picadillo then we can make other things such as pastelitos de carne, empanadas, and papa rellena.  Another variation is picadillo con papas (potatoes). Even the way the potatoes are added can vary. I was taught to just add peeled and cut up potatoes but I have seen people add potatoes that have been fried or oven baked first. Stay with me and I will show you both ways in upcoming recipes.
Sharing is caring! Below is a Pinterest friendly photo…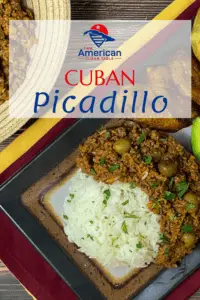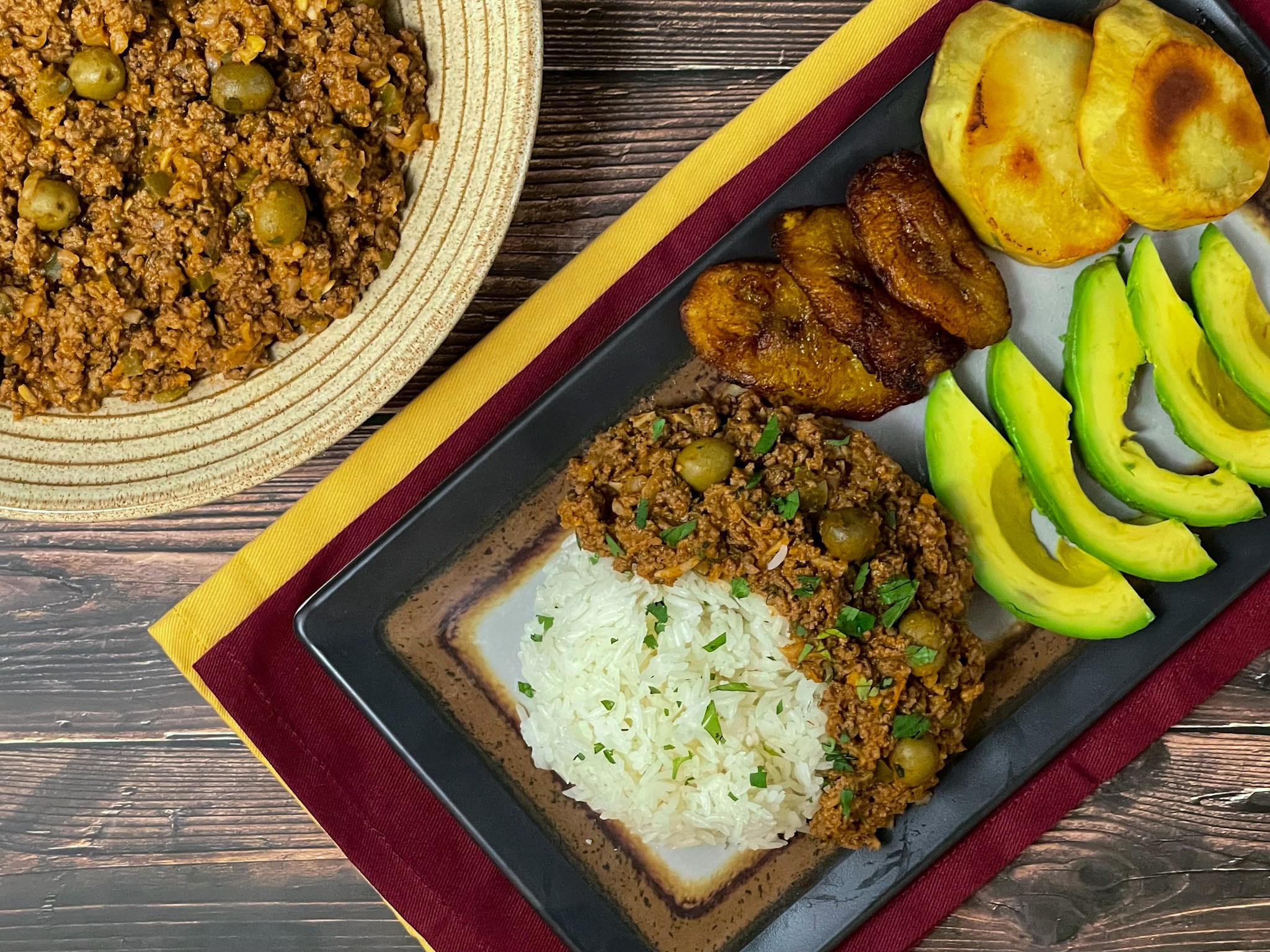 Cuban Picadillo
Instructions
Wash the ground beef in a colander using cold water. I do this for two reasons. When the ground beef cooks it cooks really fine so there are no big chunks and second it removes excess fat. Make sure to clean up sink area after washing to avoid creating any bacteria.

Heat a sauté pan on medium high heat. When hot add ground beef and cook about 10 to 15 minutes. When all the ground beef is cooked through and is no longer pink drain in a clean colander. Heat sauté pan again with 2 tablespoons of olive oil on medium high heat and return ground beef to pan. Season beef with salt, garlic powder and black pepper.

Next, add diced onions and bell peppers and cook with the ground beef until tender about 4-5 minutes. Add in garlic and cook another 1-2 minutes. Just to clarify I measure the garlic cloves before smashing. Deglaze the pan with the vino seco.

Stir in tomato sauce, water, salt, garlic powder, cumin and olives with some of the juice. If you decide to add raisins and or capers add them now. Last add the cilantro and let simmer for another 5 - 10 minutes so all of the flavors incorporate with each other. Serve over a bed of white rice.