What Is Yuca Frita (Yuca Fries)?
What comes first? The yuca or the yuca frita? Yuca frita (pronounced yoo-ka free-ta) or Yuca fries is fully cooked yuca that has been cooled and then cut into french fry shaped strips and fried until crunchy on the outside and still tender on the inside. So the answer is of course usually yuca is boiled and made with mojo de ajo and the leftovers are made into fries the next day.
What is Yuca?
When I describe what a traditional Cuban Christmas dinner is I tell people there is Lechon, black beans and rice, maduros, salad and yuca con mojo. Most people nod and nod until I get to the yuca part, then I get that look that says, "What is yuca?"  I simply say you have to try it, you will love it!  Yuca, pronounced Yoo-ka, is a starchy tuberous root also commonly known as cassava. However, yuca is not the same thing as yucca. I see many recipes and articles interchanging the two. Yucca is a shrub with white flowers that grows in dry climates.
Yuca is a tubular root vegetable like a potato. It grows in the ground and averages 6-12 inches long and 2-4 inches in diameter. It has a thick rough brown skin and a white starchy flesh on the inside. 
For more information on the health benefits of yuca check it out here.
How To Peel Yuca
Do not try to peel yuca like a potato. It will take forever and leave your hands exhausted. 
First, using a large sharp knife cut the yuca into segments about 3-4 inches long. Score the brown skin just deep enough to get inside of it. Work the edge of the knife under the skin and peel around the yuca to separate the skin from the flesh. Once peeled, cut it in half and remove the center that looks like a stem running through it.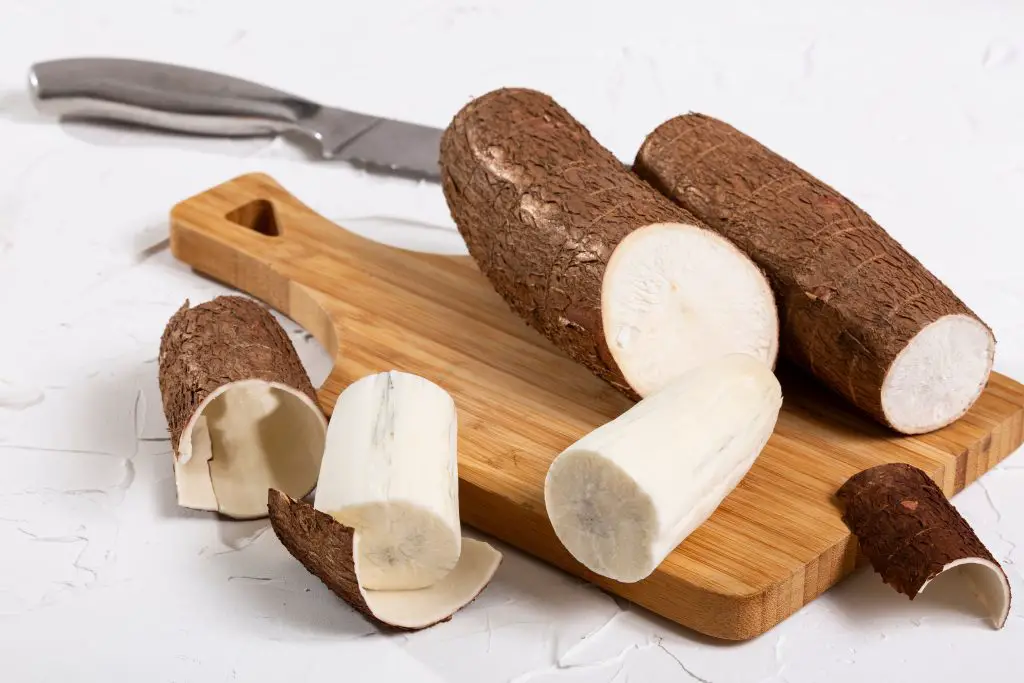 Sometimes it is easier to cook the yuca first and then remove the stem. If you cannot find fresh yuca look for frozen yuca in the freezer section of your local Latin grocery store.
What Can I Eat Yuca Frita (Yuca Fries) With?
Yuca fries can be dipped in anything you would dip a french fry in. I have included a Cilantro Aioli Dip that pairs amazing with these yuca fries. You can also dip these yuca fries in my Rosa dipping Sauce.
Eat Yuca Frita (fries) with a Cuban Sandwich, a Frita Cubana (Cuban Hamburger) or my Cuban Philly Cheesesteak Sandwich.
Recipe Tips
Flavor the water - When I boil the yuca first, add salt, lime juice and garlic.
Don't overcook - Cook the yuca to fork tender, drain and then cool.
Remove the stem - Don't forget to remove the stem in the middle of the yuca.
Use an air fryer - If you are trying to cut back on fried foods an air fryer can be used. Toss cooked and cut yuca pieces in olive oil and air fry for about 15 minutes or until crispy.