Nothing says Cuban cuisine quite like a traditionally made Cubano sandwich. However, you may be wondering where can I find the best Cuban sandwich in Charlotte? While considered by many to be the epitome of ham and cheese sandwiches, the Cubano has been a mainstay in Cuban and Spanish restaurants around the country for more than a century. From the tender, slow-roasted, and mojo-marinated pork (lechon), to the hardy slices of dill pickle, ham, cheese, and yellow mustard, what's not to love about a tantalizing sandwich that quite literally melts in your mouth? Keep reading to find the very best Cuban sandwiches Charlotte has to offer.
If you are looking for fine dining in the Charlotte area, and want something that is truly unique, then look no further than the El Puro Cuban Restaurant. This family-owned establishment introduces all of the elegance and glamour of Havana during the 1920s when celebrities from all over the country made their way to Cuba during the prohibition era.
Everything on the El Puro Cuban menu is designed to be as authentic as possible, using nothing less than the freshest ingredients possible, virtually all of the ingredients are sourced locally. With the help of family recipes dating back generations, the El Puro Cuban surprises the taste buds with every single bite.
But don't let the fine dining title fool you, because one of their best sellers is their Cubano sandwich. Immerse yourself and step back in time to 1920s Havana, as you bite into a delectable and freshly made Cubano sandwich.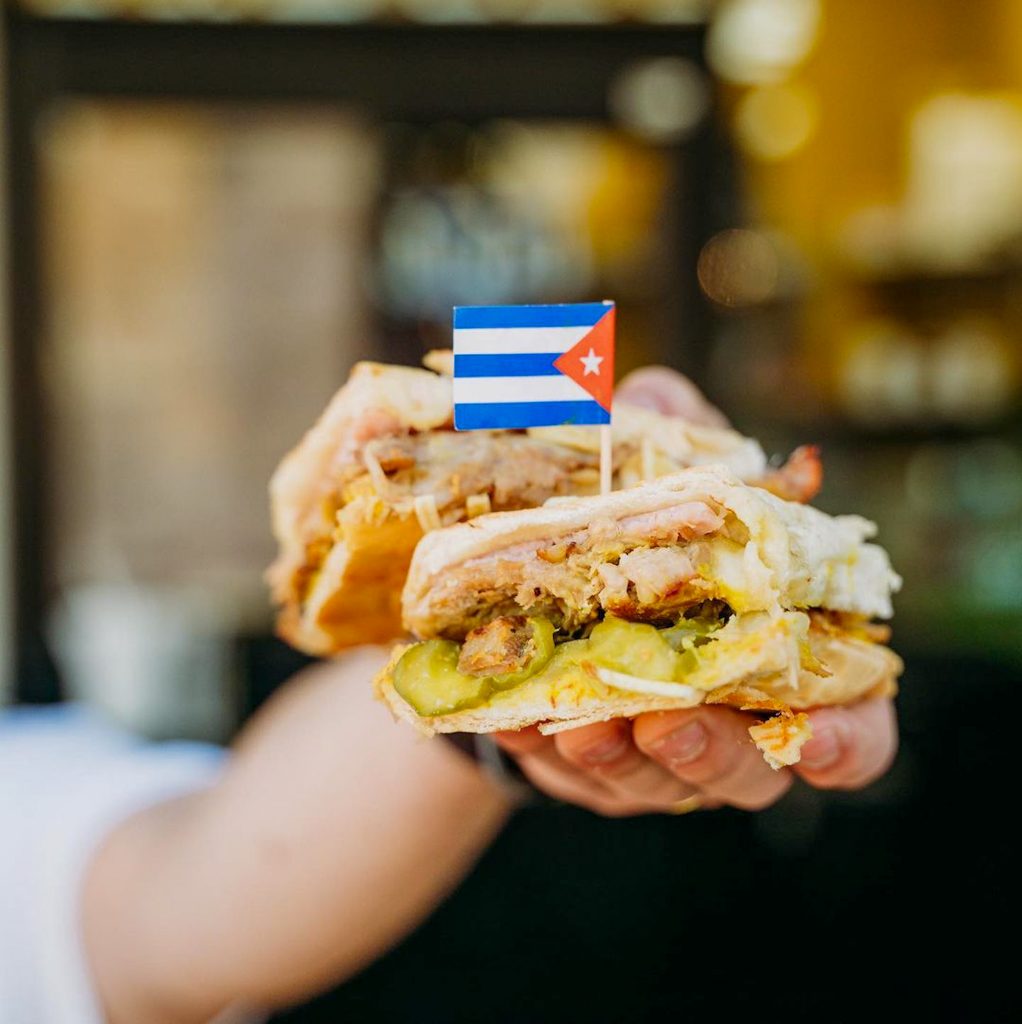 Every sandwich starts with carefully selected pork shoulder that is then marinated in mojo sauce and slow-roasted to a marbled perfection. The shredded pork is mixed with thinly sliced ham, Swiss cheese, dill pickles, and yellow mustard to create the perfect blend of texture and flavor. All of this is sandwiched together in a piece of Cuban bread, that is seared to perfection in a Panini press.
Whether you are looking for a place to hang out with friends or family, you will find it all at the El Puro Cuban located down on South Boulevard.
Address: 5033 South Blvd
Phone: 980-219-8339
The Suarez Bakery and Barra has been around since 1992 but recently opened its second location at Optimist Hall. Owned and operated by Carlos Suarez, this family-owned restaurant started off as a local Cuban bakery back in 1992, making some of the finest Cuban bread and desserts in Charlotte. After more than 2 1/2 decades catering to the greater Charlotte area, they were finally ready to open their second location.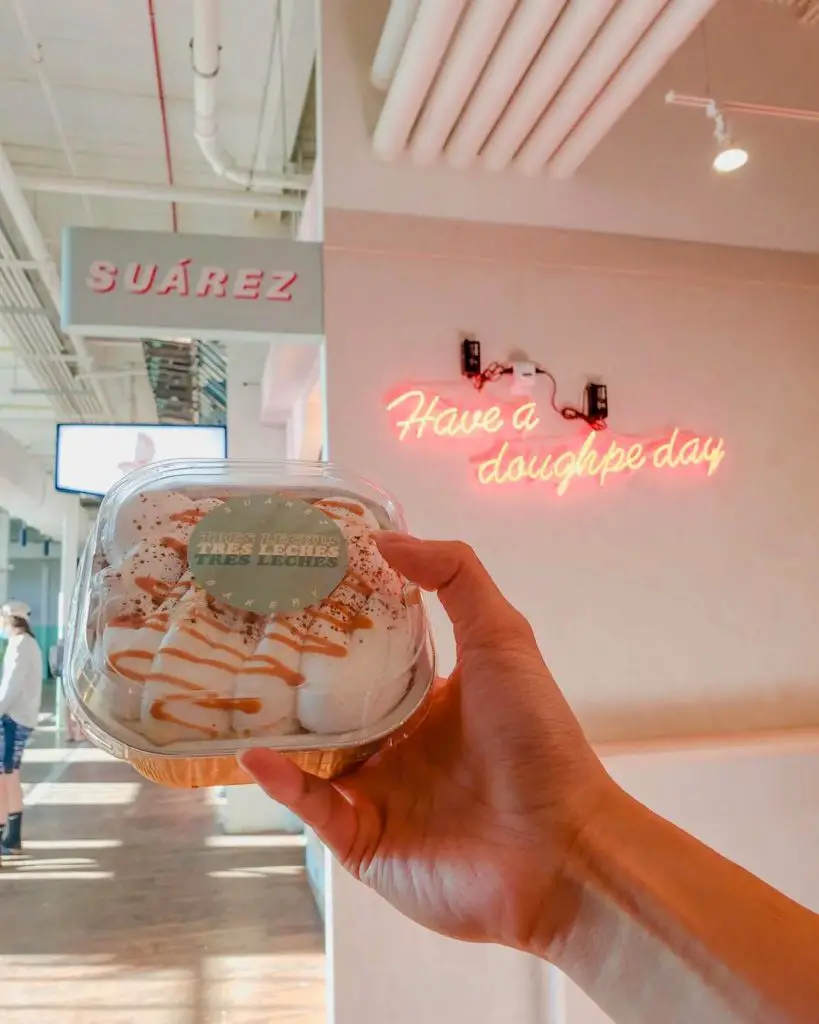 In 2018, the timing was perfect and when the developers of Optimist Hall reached out to Carlos Suarez to offer him a spot in the food hall, he knew that it was the perfect time to expand. The newly opened Suarez Bakery and Barra provides a lot more than just classic Cuban bread and sweets, as they offer a wide selection of traditional Cuban dishes as well.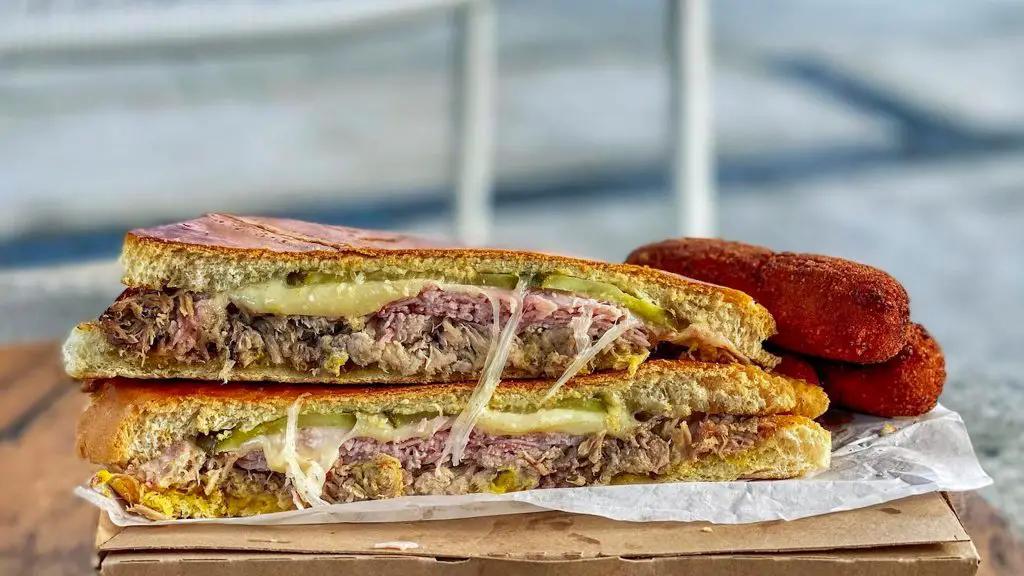 One of their top sellers is the Cubano sandwich. Using bread baked at their original Park Road location, they build each sandwich using nothing less than the freshest, locally sourced ingredients. The pork is roasted to tender perfection and blended with sweet thinly sliced ham, pickles, and Swiss cheese. Every bite of gooey goodness will send your taste buds into overdrive.
If you want to try out their delectable freshly made bread, then head on over to their Park Road location. But if you want a truly amazing Cubano sandwich, then the only place to find the Suarez Bakery and Barra is down on Brevard Street.
Address: 1115 N Brevard St
Phone: 980-273-1788
The Callie Sol Latin Café and Cevicheria is a very lively restaurant that provides both Cuban and Peruvian cuisine to the Charlotte area. The ambiance and décor of the restaurant imitate popular dining destinations throughout Tampa as well as Miami, the de facto birthplace of the beloved Cubano sandwich. After spending an evening at the Callie Sol Latin Café and Cevicheria, you will go home feeling like you spent the entire day along the shores of Miami Beach.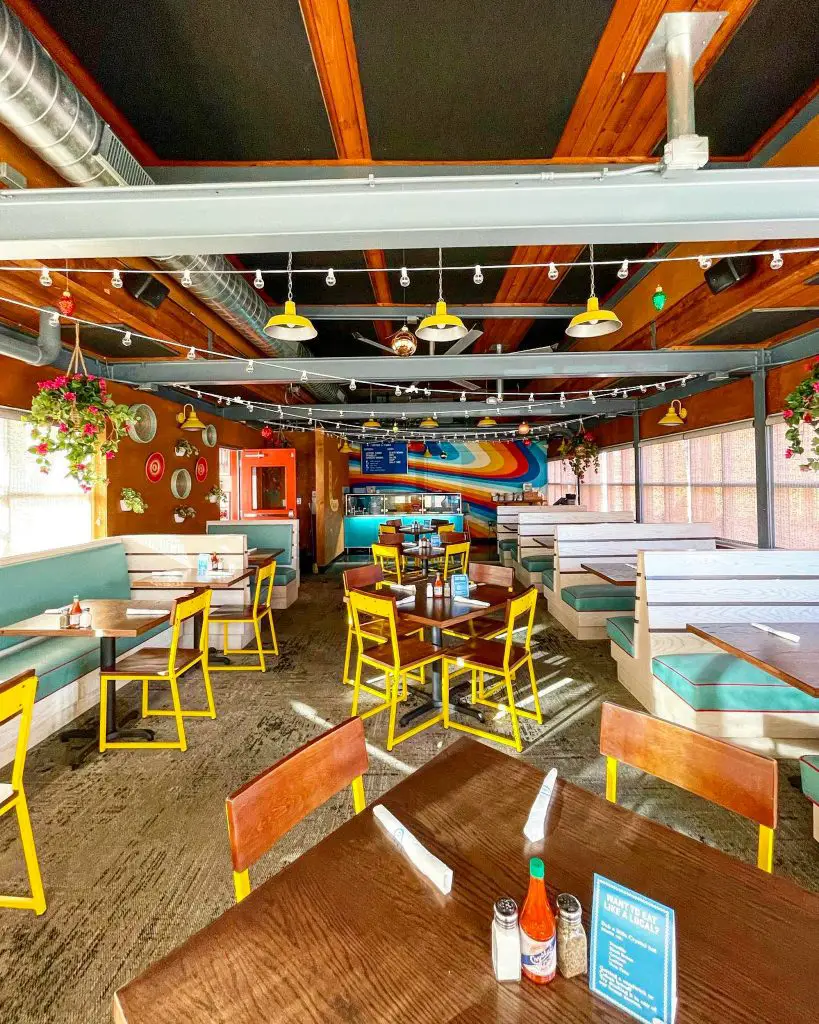 The head chef of the Callie Sol Latin Café and Cevicheria brought all of Latin America and South Florida with her to the restaurant, to provide you with the most authentic meals imaginable. The moment you step foot in the nautical-themed restaurant, you will feel as if you have been whisked away to exciting Ybor city, where the Cubano sandwich is said to have been created.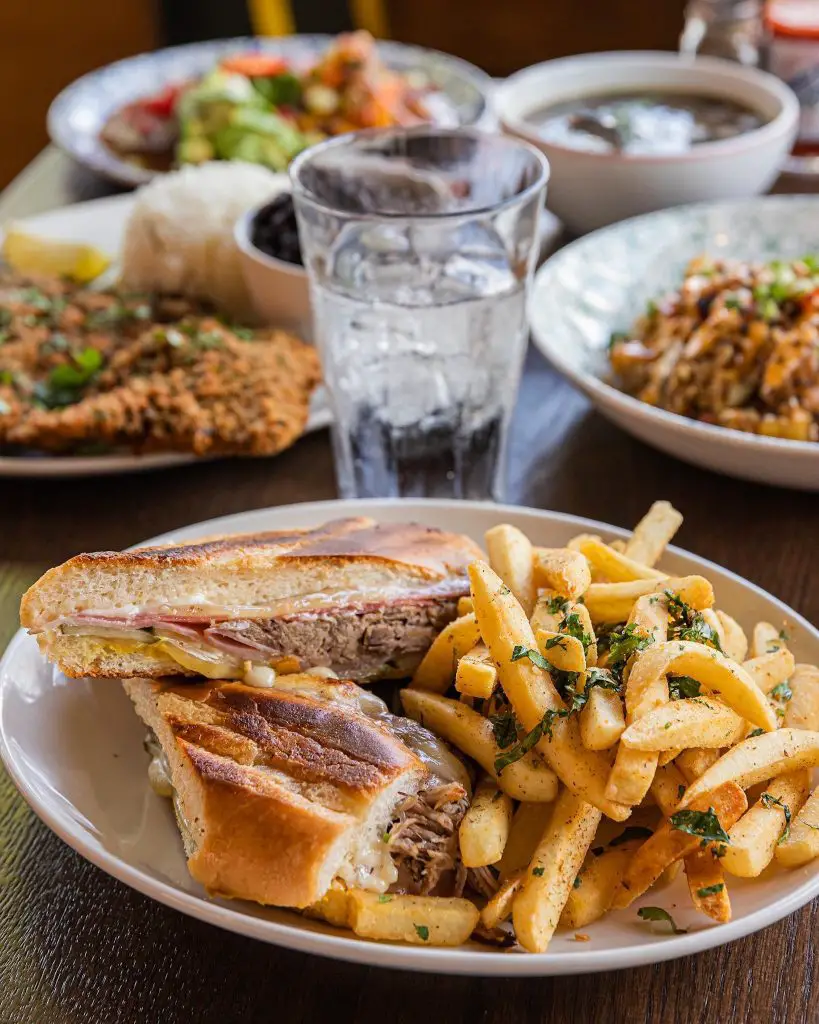 And just like the centuries-old restaurants in Ybor and Miami, the Callie Sol Latin Café and Cevicheria takes pride in creating some of the most authentic and tantalizing Cubano sandwiches possible. They only start with the finest cuts of pork shoulder, which gets marinated in mojo sauce for an entire day. From there, it is slow-roasted until it's literally falling off the bone. The shredded pork shoulder is then perfectly blended with sliced ham, Swiss cheese, a generous portion of pickles as well as yellow mustard. All of this is then sandwiched together within a piece of amazing Cuban bread and then toasted to golden perfection.
So if you are looking for a truly authentic Cuban meal, then you are looking for the Callie Sol Latin Café and Cevicheria which can be found on Thomas Avenue.
Address: 1205 Thomas Ave
Phone: 704-565-8291
What city wouldn't be complete without an amazing Cuban food truck? And while there are quite a few options in the city, no one makes truly authentic Cuban dishes quite like No Forks Given. The mobile restaurant was founded back in 2017 by lifelong friends Pat Mazzeo and Alan Falcon. As a first-generation American, Alan has a close-knit connection to Cuba, where his father was born. And, as is the tradition in Cuba, Alan spent a lot of time in the kitchen with his father and family.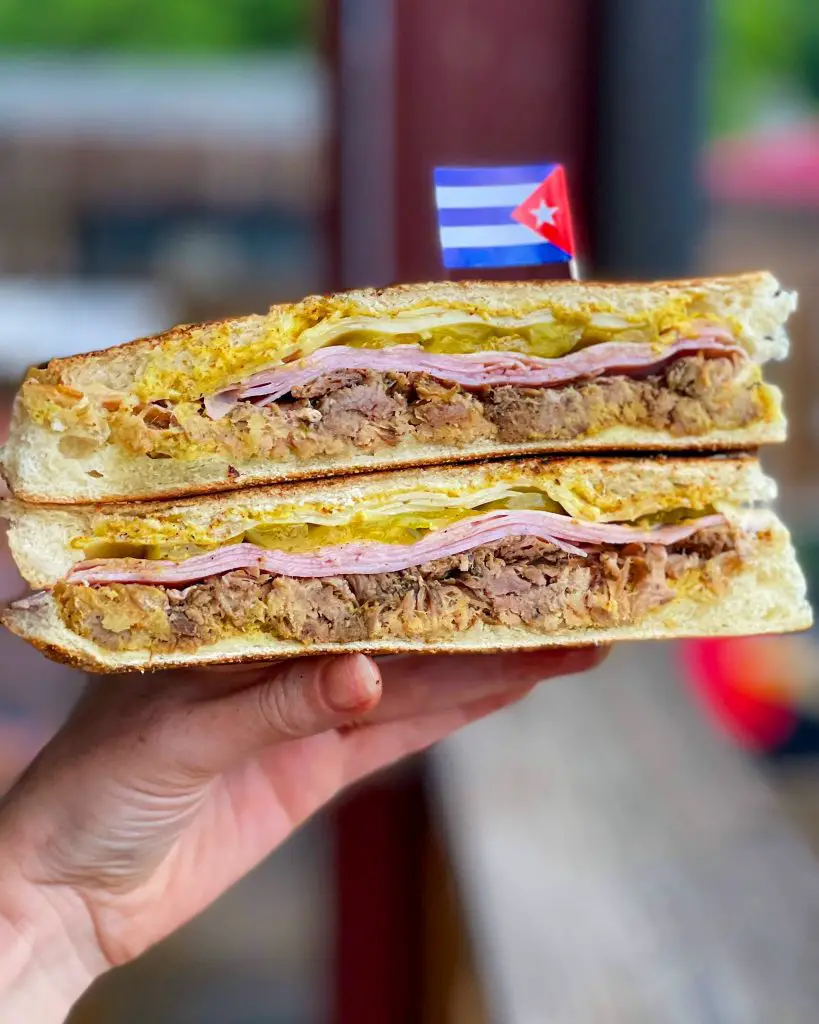 Together, Alan and Pat put all of their money into a food truck, in order to provide all of Charlotte with some of the most amazing Cuban dishes imaginable. Using recipes passed down for generations, and locally sourced fresh ingredients, the two set up shop at a number of different locations throughout the Charlotte area.
Because No Forks Given is a mobile restaurant, they are always on the go. In order to catch up with them and try their fantastic Cubano sandwiches, you will have to check them out on social media.
Address: Food Truck
Phone: 704-915-7092
Damaris Gonzalez and Carla Palacios are both from Miami but made their way to Charlotte at different times and for different reasons. But fate brought them together one day when they heard each other's accents. They began to reminisce about the days gone by and the wonderful flavors of traditional Miami food. It's just something they couldn't find locally in Charlotte.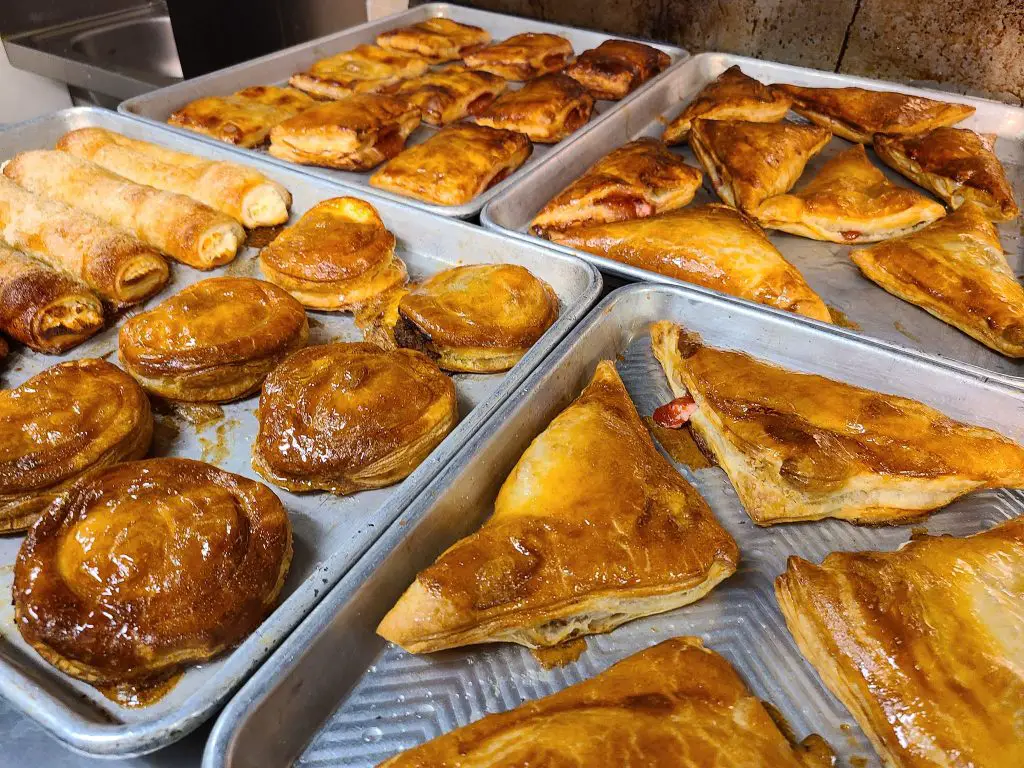 Nevertheless, the two set out on a mission to bring the traditional Miami flavors of their youth to Charlotte. They became the best of friends and eventually established the Miami Fusion Café back in 2020.
2020 was a hard year for restaurants around the country, and although they had originally set the goal of opening in March, they had to push their opening back by 2 months. The entire time, Palacios and Gonzales were worried that all of their hard work would be in vain because of the ongoing pandemic.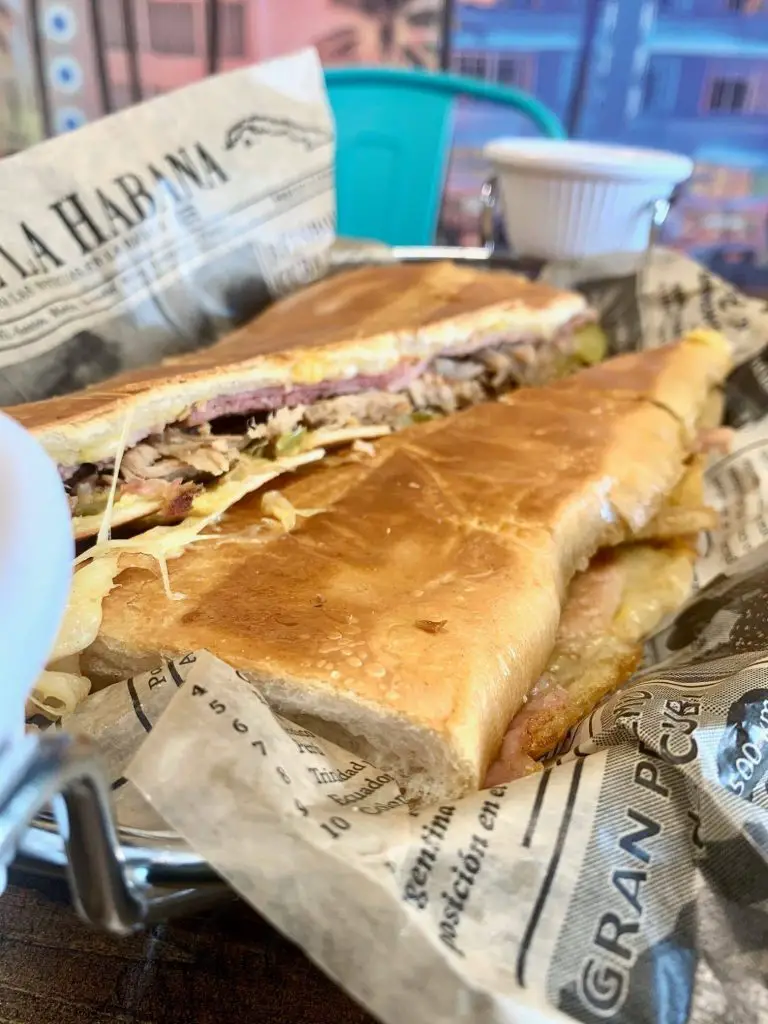 Despite their worries, the grand opening was a success, and people have been visiting the Miami Fusion Café in droves ever since. The restaurant itself serves a mixture of both Cuban as well as Nicaraguan cuisine, all blended with a Miami flair.
See what all the fuss is about, and get a taste of one of the best Cubano sandwiches in all of Charlotte, when you make your way over to the Miami Fusion Café on State Road 16.
Address: 278 NC-16 Business N
Phone: 704-966-1543
Back in 2008, as a way of celebrating his heritage, Juan Plasencia established A Piece of Havana restaurant in Charlotte. Growing up in a Cuban household, Juan would spend every opportunity he had with his mother in the kitchen. Upon moving to the US, he brought with him his mother's greatest recipes from her time as a chef in Havana.
Every item on the menu comes from a recipe that was passed down for generations, yet, each item has a uniquely American flair to it, thanks to the locally sourced, fresh ingredients. And while their menu is very diverse, the number one item on their menu is their Cubano sandwich.
There's nothing quite like the epitome of a ham and cheese sandwich to make your mouth water.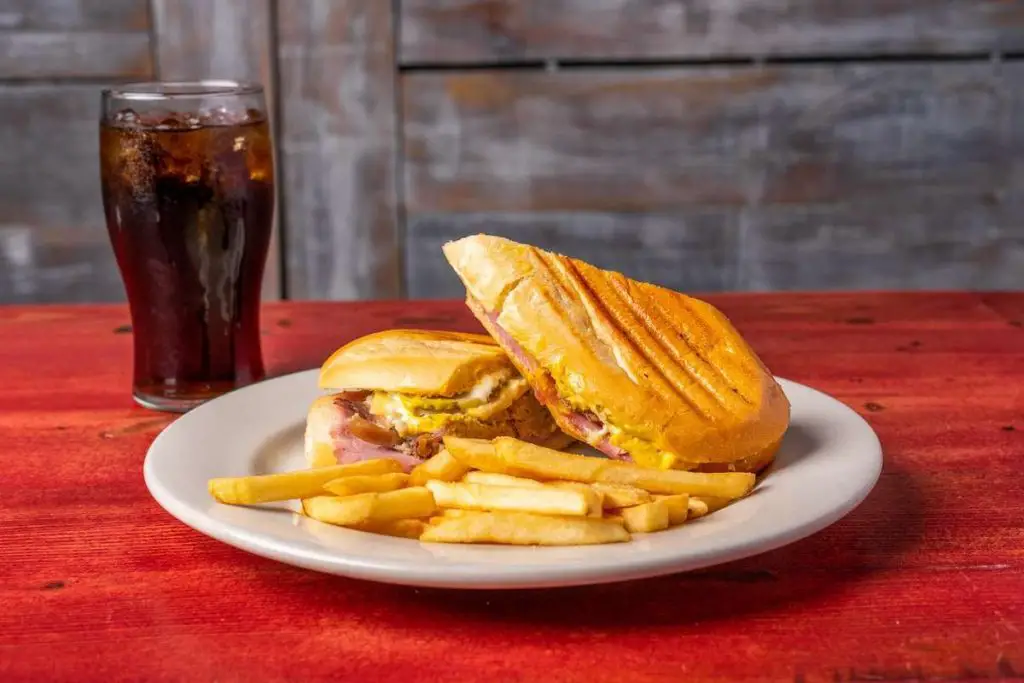 For more than 100 years, the Cubano sandwich has been a staple of Cuban-American cuisine throughout the United States. In recent years, it has grown in popularity by leaps and bounds. Every sandwich starts off with a tender pork shoulder, that has been shredded and mixed with slices of Swiss cheese and ham, and pickles, all slathered in yellow mustard before being toasted together in a Panini press.
For a wild night out on the town, enjoying some of the finest dishes that Cuba has to offer while you sit back and listen to the beats of a live Cuban band, make your way over to A Piece of Havana which can only be found on South Tyron Street.
Address: 11126 S Tryon St
Phone: 704-588-7883
If you are looking for a little bit of Cuban paradise right in the heart of Charlotte, then look no further than the Havana Carolina Restaurant and Bar. The restaurant serves distinctly traditional Cuban dishes, many of which are prepared in methods unique to Spanish, French, African, Taino, Arabic, Portuguese, as well as Chinese cuisines. But, regardless of how the dish is prepared, the most important ingredient found in each and every single one of their amazing recipes, is their love of Havana.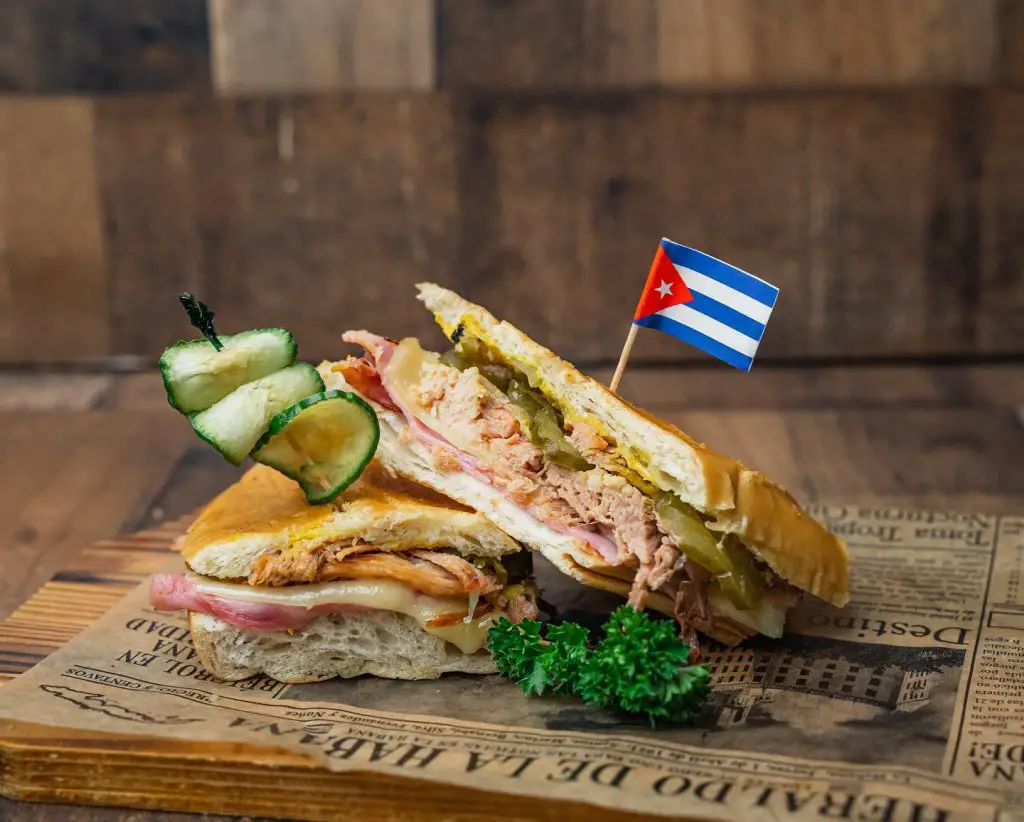 This family-owned restaurant and bar is the epitome of the Cuban experience. From the very first moment that you walk through the doors, you will feel as if you have been whisked to the tropical shores of Havana. Whether you are looking for a place to meet up with old friends or family, or need something for business purposes, the Havana Carolina Restaurant and Bar has a little bit of something for everyone.
To find out why the Havana Carolina Restaurant and Bar is so popular, you will need to make your way down to Union Street to pick up one of their mouthwatering Cubanos.
Address: 11 Union St S Suite
Phone: 704-793-4233
Located just north of Charlotte in the beautiful Huntersville area, is the popular Azucar Cuban Restaurant. This amazing destination brings the rich and colorful flavors of tropical Havana right to your neighborhood. Sit back and enjoy the ambiance of this local hole-in-the-wall, as you enjoy some of the finest authentic Cuban dishes imaginable.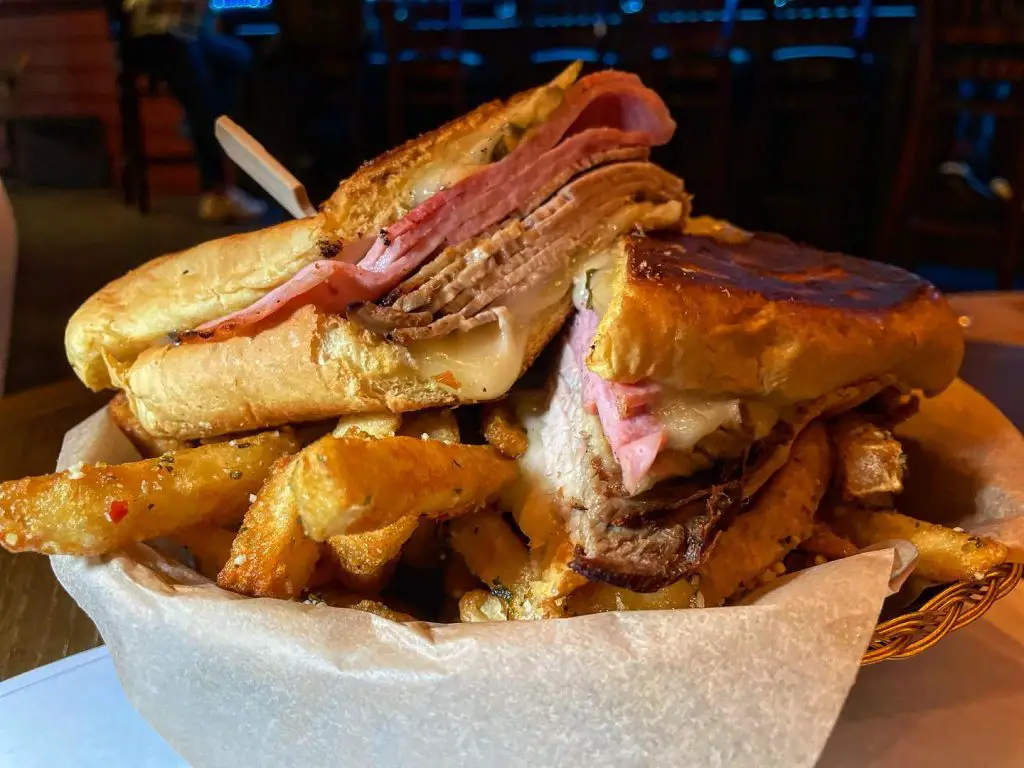 Everything on their menu is made using recipes that have been passed down for generations. And while there is a plethora of amazing dishes to choose from, many people make their way to the Azucar Cuban Restaurant simply for their scrumptious Cubano sandwiches. Each sandwich is a labor of love, that starts its life as a carefully marinated prime cut of pork shoulder. After spending all night marinating in mojo sauce, the pork is then slowly roasted to a marble perfection. Shredded and pulled, the pork is mixed with slices of Swiss cheese and ham. Next, an ample supply of dill pickles all of which are slathered in yellow mustard before being toasted in traditional Cuban bread.
So, if you are ever in Huntersville, then make your way over to Old Statesville Road, and check out the Azucar Cuban Restaurant.
Address: 15906 Old Statesville Rd
Phone: 704-992-9480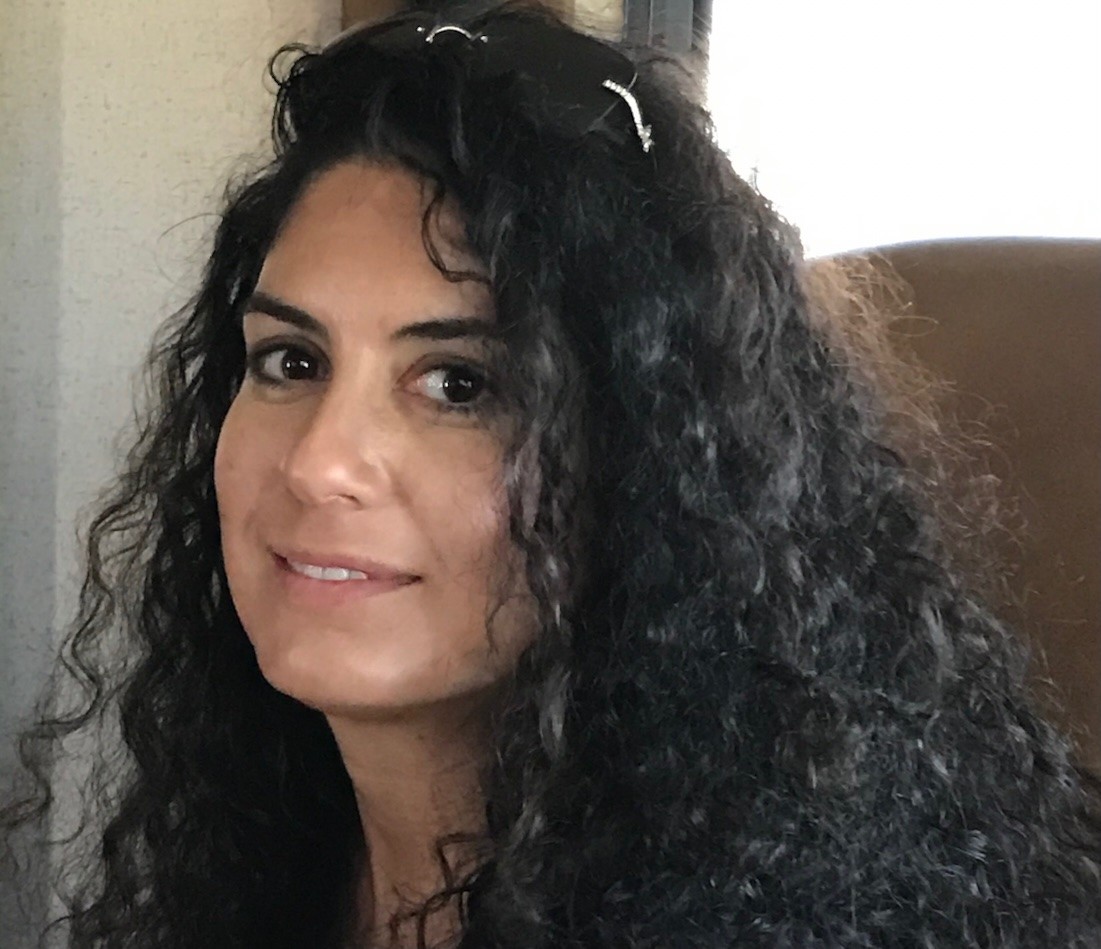 Noelle fell in love with Cuban food at first bite.  She has been cooking, learning and crafting Cuban food for over 25 years. She was taught by her Cuban husband's mami and abuela.  They taught her everything using the "by eye" method.  She took those "by eye" recipes and turned them into measured recipes.  This website is where Noelle shares her love of Cuban food with the world.