When it comes to sandwiches, anyone who's ever had a Cubano knows that there is no alternative to the traditional ham and cheese sandwich, which features slow-roasted pork (lechon) slices mixed with smoked ham and topped off with Swiss cheese, pickles, and yellow mustard. The sandwich itself was popularized in Tampa and Miami Florida by Cuban immigrants who needed an easy-to-carry lunch for a long day's work at the cigar factories.
Although there are three variations of the Cubano, the Miami version is by far the most popular. Up in Tampa, it was not uncommon to also add salami (blasphemy in our house) to the sandwich, however, in Miami and Key West they stuck to the traditional ham and cheese sandwich. Although each style is slightly different, they all feature the same basic ingredients, slow-roasted pork (lechon) marinated in mojo criollo, Swiss cheese, mustard, and pickles, all smashed between crispy golden-brown Cuban bread.
Today, the Cubano is a very popular sandwich all across the country. And whether you are of Cuban descent, or are just looking for that perfect sandwich, many people will agree that there is only one true King.
The Cafe Con Leche is one of the more popular destinations in Seattle. In its beginnings, the cafe started as a mere food truck known simply as Polador Cubano. For a long time, Pedrito drove his food truck around town bringing tantalizing morsels to the busy Washingtonians. But on May 1, 2012, he decided to finally park the truck forever, and open up a brick-and-mortar joint. The result was the Cafe Con Leche.
Still boasting the ever-popular menu that they had provided from the back of the truck, the Cafe Con Leche continues serving authentic Cuban food just as it always has. The only thing that really changed, is the ability to dine in. This casual coffee shop not only provides a large assortment of Cuban dishes and sandwiches, but it does so with Cuban flair. The colorful restaurant provides an enjoyable environment for anyone wanting to meet up with friends, hang out with coworkers, or even go out on a date.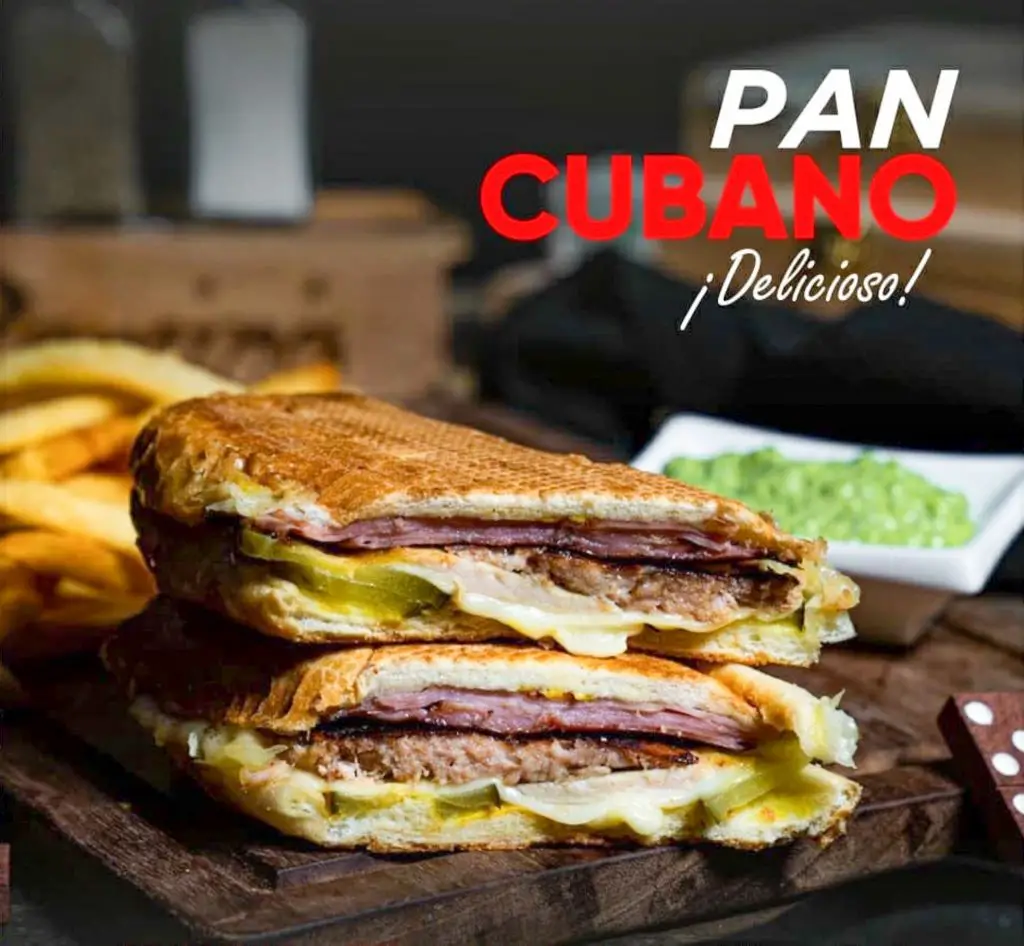 Today, using the freshest ingredients, each sandwich (pictured above) is produced with the utmost care and pressed to golden perfection. The gooey cheese and ham will make your mouth water with each delectable bite. For something extra special, don't forget to dip your Cubano in the dish of cilantro sauce that comes with every sandwich.
Cafe Con Leche is located on 1st Avenue South.
Address: 2901 1st Ave S.
Phone: 206-682-7557
Located on Aurora Avenue North, Geo's Cuban Bar & Grill has been a popular destination since 2018. This family-owned business started its life as a fusion of Cuban and Creole cafe. However, after the first few years of operation, the family decided to focus exclusively on Cuban food.
Geo, the owner of the cafe was originally from Guantánamo but was later raised in Havana. Ever since he was a young child, it was a passion of his to cook. And he spent every moment he had with his grandmother as they prepared large meals for family get-togethers. He spent his entire childhood in Cuba but in 2005 he made his way to the US.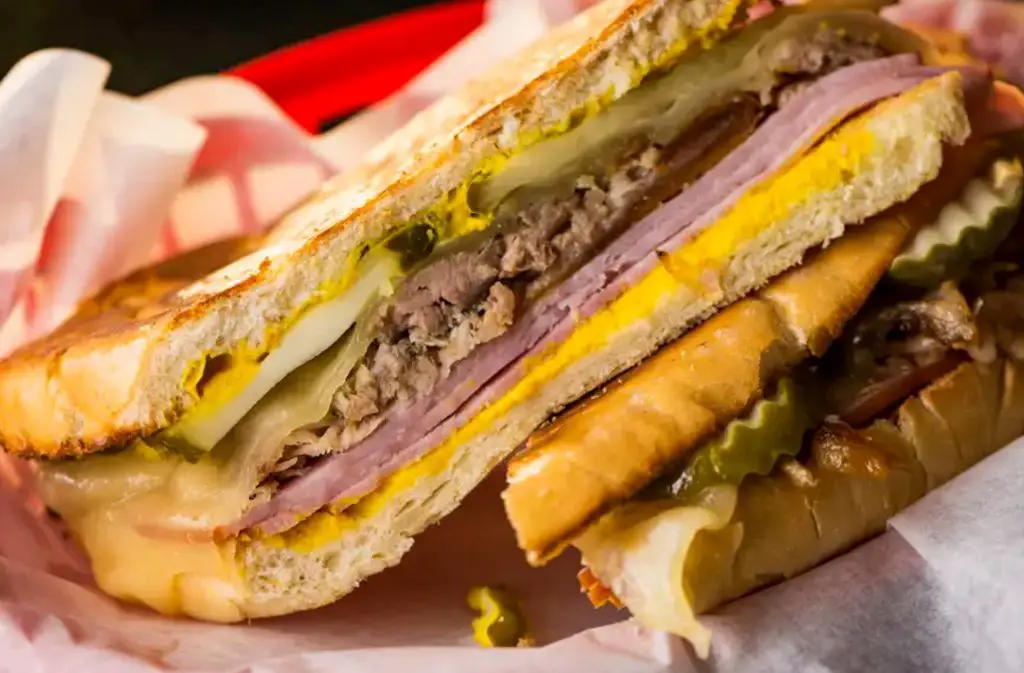 Having family in the greater Seattle area, Geo made his way to Washington where he took English lessons in order to help him communicate better. As he was attending Seattle Central, he also worked in a bakery out on Bainbridge Island. The bakery was a mere stepping stone, and he eventually found himself working at various restaurants throughout Puget Sound. Eventually, he decided it was time to create his own traditional Cuban restaurant.
Today, people from all over Seattle make their way to Geo's Cuban Bar& Grill in order to enjoy the many authentic and mouthwatering dishes offered at the restaurant. Using nothing but the freshest ingredients possible every meal is prepared in-house in a traditional way. Let your taste buds soar with excitement as you take a bite out of your first true Cubano.
Geo's Cuban can be found along Aurora Avenue North.
Address: 9891 Aurora Ave N
Phone: 206-801-6974
The Mojito has a unique history, a mystery that adds to the ambiance of the restaurant itself. Luam Wersom is the owner of the Mojito, and interestingly enough, he is neither Cuban nor of any form of Latin descent. Quite the contrary, he was born in Ethiopia and spent a large portion of his childhood in a refugee camp where he learned to speak Greek and Spanish before eventually emigrating to the United States. Yet despite this, he operates one of the most popular Cuban restaurants in Seattle. So popular in fact, that he regularly entertains the Latin baseball players who come to town to play against the Seattle Mariners.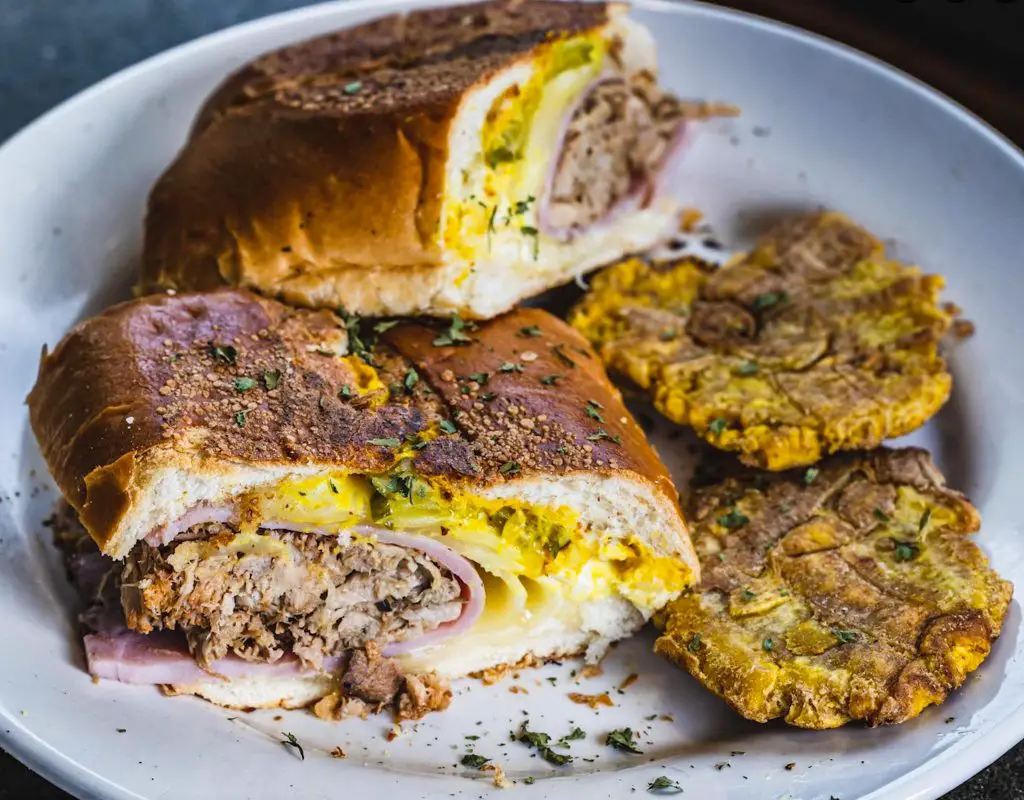 The unique experience of visiting the Mojito, is like no other. The building is painted with a bright yellow, which some say glows like sunshine. The warm atmosphere is inviting, and on most nights the place is packed with patrons seeking the wide assortment of Cuban meals that are prepared in-house from the freshest ingredients. And although they have a number of excellent dishes to choose from, one of the favorites is always going to be the Cubano. Step away from the hustle and bustle of Seattle, and walk into a colorful and friendly Cuban restaurant
You will find the Mojito on Lake City Way Northeast.
Address: 7545 Lake City Way NE.
Phone: 206-525-3162
There will always be disputes over what version of the Cubano is the original. There are those who will always insist that the Tampa version with salami is the only way to go. However, the vast majority of those who truly enjoy an authentic Cubano will agree that the Miami version is the only one that is proper. While some locations offer a fake Cubano that is served on baguettes, the El Cubano makes sure to only use traditional Cuban bread. And while many other locations tend to use Dijon or spicy mustard, the El Cubano sticks to the traditional yellow mustard.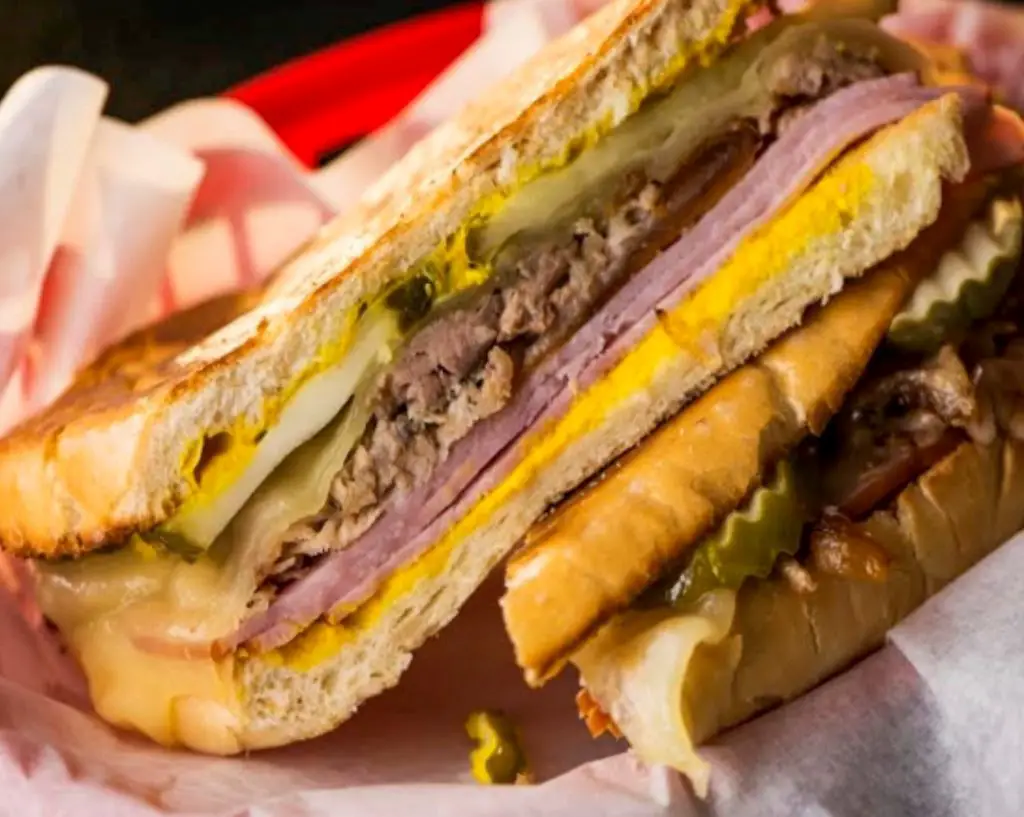 Many people in Seattle agree that the El Cubano produces one of the most authentic sandwiches (pictured above) around. Their slow-roasted pork is cooked to perfection and sliced just the right way. The smoked ham is not too thick, and not too thin. This is all mixed together with the help of melted Swiss cheese, traditional yellow mustard, and pickles. But unlike some other locations, the El Cubano smashes their sandwiches just right in a Panini press (plancha) and cooked to a golden brown.
To ensure that the El Cubano produces nothing less than the most authentic sandwiches in Seattle, they actually source their Cuban bread straight from the La Segunda Bakery that is located in Miami, Florida. That's right, every sandwich made, features bread that was flown in fresh from the other side of the country.
The El Cubano can be found on Aurora Avenue North.
Address: 19920 Aurora Ave N.
Phone: 206-629-4443
You will find the Twisted Cuban on Woodinville Drive. The café is owned by Julio Ortiz who spent his entire childhood in Havana, Cuba. When he eventually left Havana for the US, he was 24 years old and at the time, the only job he could get was working in a local Cuban restaurant. With the help of the Cuban community, his hard work and dedication to his craft ultimately led to the establishment of the Twisted Cuban Cafe in 2009. Ever since its doors opened to the public, Julio Ortiz has dedicated himself to providing nothing less than the most authentic Cuban cuisine possible. In fact, many of the recipes that he cooks every single day were handed down to him by his own mother.
There are a lot of wonderful dishes to try at the Twisted Cuban. And whether you are into soup, empanadas, plantain chips, or stew, you will find something that you truly love and enjoy eating at the restaurant. But, the most popular dish that any Cuban restaurant can serve is the Cubano (pictured below). It is the epitome of what a ham and cheese sandwich should be like. Tender and juicy slow-roasted pork mixed with smoked ham, Swiss cheese, and pickles. Yellow mustard is spread on the inside and the buttered slices of Cuban bread are placed in a Panini press (plancha), where they are smashed together with just enough heat to melt the cheese and turn the crust into a golden brown.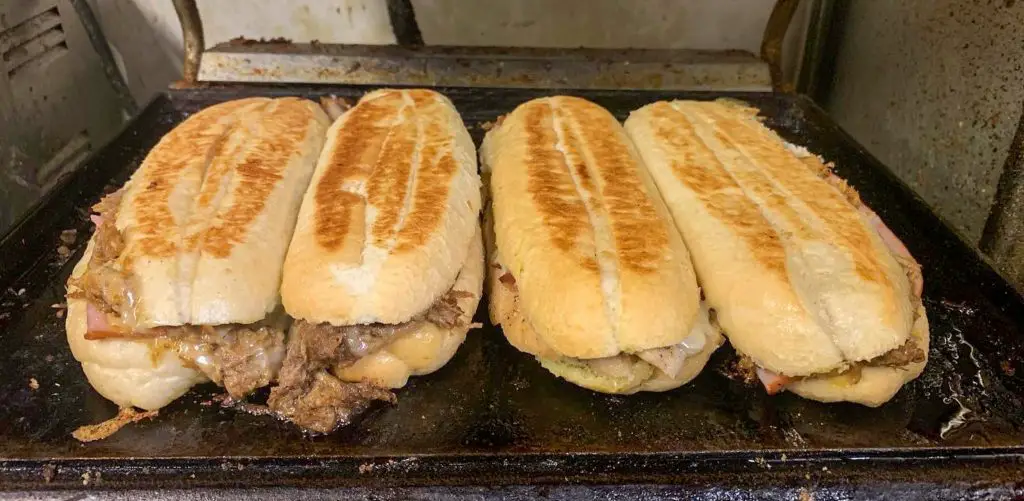 You will definitely enjoy sitting down at the Twisted Cuban Café for a night with your friends, family, coworkers, or even your first date. The lively atmosphere provides a unique yet welcoming experience for anyone. You will find the friendly staff to be more than accommodating and the list of drinks to be overwhelming. So sit back, relax, grab yourself something to drink, and enjoy a truly authentic Cuban meal at the Twisted Cuban.
The Twisted Cuban Cafe & Bar can be found on Woodinville Drive.
Address: 12631 NE Woodinville Dr.
Phone: 425-806-7203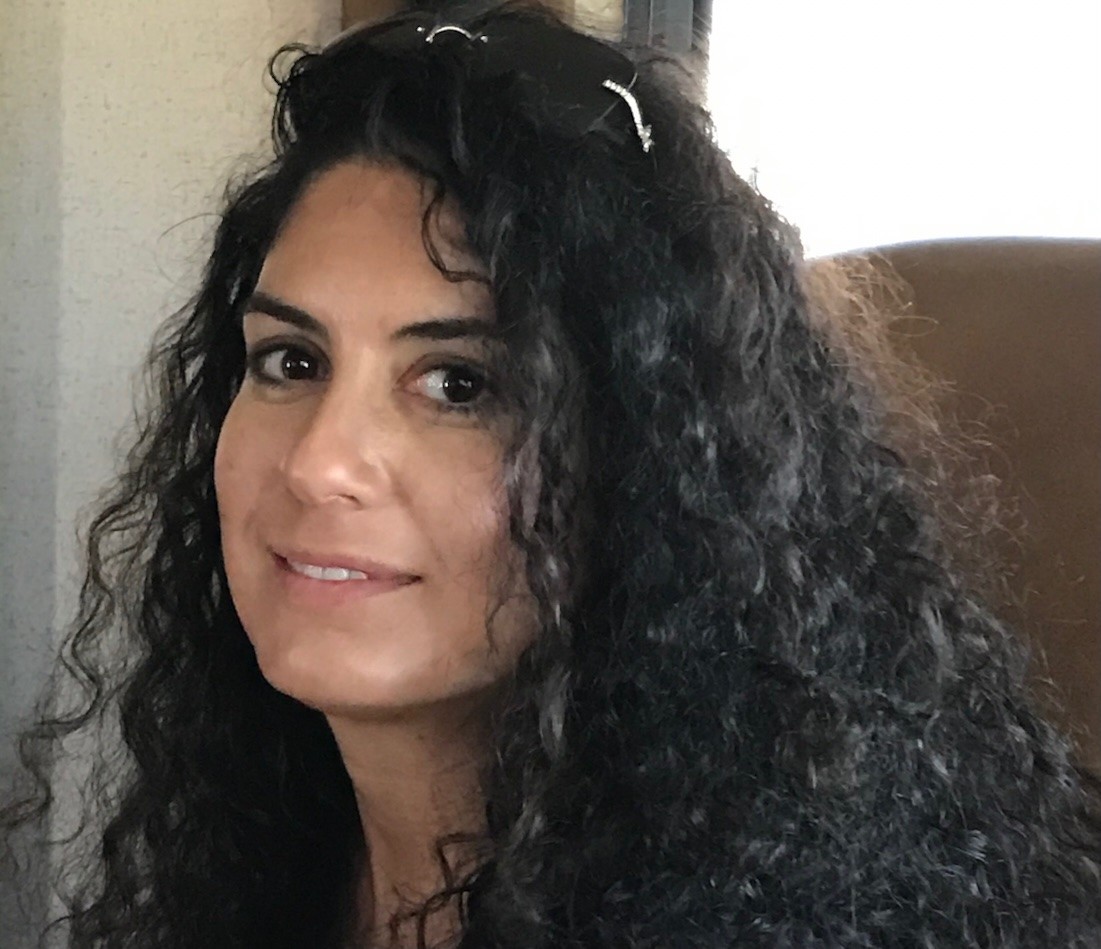 Noelle fell in love with Cuban food at first bite.  She has been cooking, learning and crafting Cuban food for over 25 years. She was taught by her Cuban husband's mami and abuela.  They taught her everything using the "by eye" method.  She took those "by eye" recipes and turned them into measured recipes.  This website is where Noelle shares her love of Cuban food with the world.