When it comes to sandwiches, there are a wide variety of different tasty options to choose from. Some people cannot live without an oversized Reuben sandwich, while others prefer a sizzling Philly cheese steak. But if you are looking for something completely different, and would like to sink your teeth into the epitome of what a ham and cheese sandwich should taste like, then look no further than the Cuban Sandwich.
Cuban sandwiches are made using the finest cuts of pork leg (lechón) or shoulder that are marinated in mojo sauce and slow-roasted to a marbled perfection. These tender cuts of pork are then sliced or shredded and mixed with thin slices of cheese and ham before being sandwiched with some pickles and mustard. A true Cuban sandwich is then toasted to golden perfection in a sandwich (plancha) press.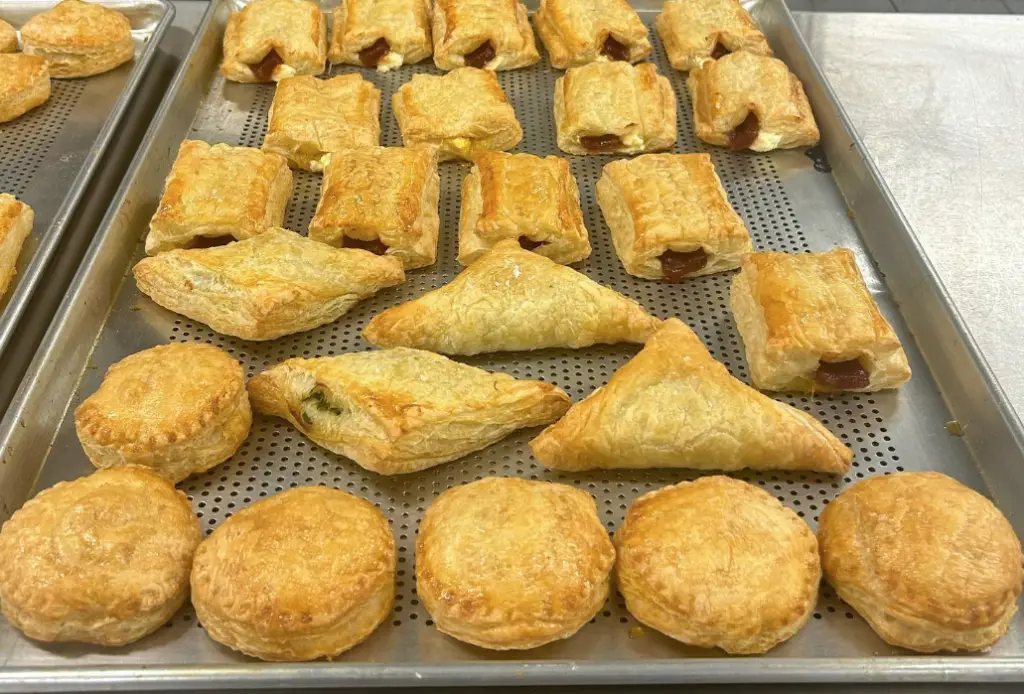 If you simply love the taste of freshly cooked Cuban bread, then the Social Café is the perfect choice. This extremely popular Cuban bakery is located in the heart of San Francisco and offers a wide selection of delectable Cuban sandwiches and pastelitos. One of their more popular pastelitos is made with cream cheese and guava.
The business really starts to pick up around lunchtime, when locals and people from all around the Bay Area make their way to Social Café in order to grab a bite of their mouthwatering Cuban sandwich. Every single Cuban sandwich is chocked full of 2 different types of pork.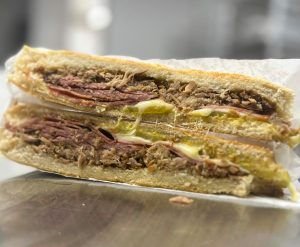 As you take a bite into the crispy yet gooey sandwich for the first time you will simply fall in love. Inside of every Cubano made fresh at the Social Café you will find slow-roasted pork, sliced ham, cheese, sliced pickles, and mustard. All of this is combined in party portions and then pressed between 2 tantalizing pieces of Cuban bread. Every sandwich is toasted to golden perfection and served hot all afternoon long.
If you are looking to catch a bite for lunch at one of the hottest Cuban destinations in the bay area, then head on over to Bryant Street.
Address: 804 Bryant St
Phone: 415-829-3259
For years, Media Noche has built a reputation for offering some of the best-tasting Cuban delights in the San Francisco Bay area. Jesse Barker and Madelyn Markoe introduced Media Noche as a food cart that would travel to some of the most popular destinations in the Bay Area. In 2017, all of that changed when they finally found the perfect spot to open up a brick-and-mortar restaurant in the Mission District.
While the food truck is a mainstay for Media Noche, having the ability to sit down and enjoy a meal of spiced empanadas makes the experience so much more enjoyable. You will find that the restaurant offers a wide selection of Cuban dishes that include roasted mojo pork, coconut slaw, black beans, veggies, rice, and so much more.
Enjoy a tantalizing Cuban sandwich when you make your way down to 19th Street in the Mission District.
Address: 3465 19th St
Phone: 415-655-3904
It was back in 1984 with Philip Bellber first opened the doors to Cha Cha Cha on Haight Street. It was the perfect time to establish the restaurant due to the growing popularity of tapas. Since its beginnings, Cha Cha Cha has focused on providing a thorough menu with dishes influenced from all over Latin America. Today, you can still try out their original calamari and jerk chicken, paella, or even their popular Cajun shrimp paillard.
And while their menu goes on and on, one of their more popular selections is their freshly made Cubano sandwiches. Every Cubano contains a hearty selection of pickles, cheese, roasted pork shoulder, and sliced ham, all of which are slathered in mustard and toasted to perfection in a Panini press.
The atmosphere is truly Latin in style, with vibrant music that makes the Cha Cha Cha a top destination in the bay area. Regardless of the time of day, in no time at all your feet will begin to tap along to the rhythmic sounds of the Cuban and Latin music that fills the air.
To find out what really makes the Cha Cha Cha such a popular destination for Cuban cuisine, make your way over to Haight Street today.
Address: 1801 Haight St
Phone: 415-386-7670
When it comes to a fine dining Cuban experience, look no further than the Parada 22. Known by many to be one of the best Latin destinations in the Haight Ashbury neighborhood, this cozy little restaurant provides you with one of the most memorable experiences possible. When you take a seat inside the Parada 22, you will feel as if you have been whisked away to old Latin America. Take joy in the time that you spend with your friends and family as you relish in the gastronomical experience that is Parada 22.
The Parada 22 is a popular choice due to their wide selection of options from all over Latin America. While the restaurant's main focus is Puerto Rican cuisine, they have savory dishes from the Caribbean including Jamaica, and of course Cuba.
You will find their Cubano sandwiches to be nothing less than the finest examples of what a ham and cheese sandwich truly should be. Each sandwich starts off life as a prime cut of pork shoulder that is marinated and tangy mojo sauce. The shoulder is slow-roasted to a marbled perfection before being mixed in generous portions with thinly sliced ham, pickles, and sliced cheese. Add on a dab of mustard, toast to golden perfection, and you end up with one of the finest examples of sandwich perfection.
You will find the popular Parada 22 on Haight Street, Haight Street where the sounds of Latin music fill the air in all directions.
Address: 1805 Haight St
Phone: 415-750-1111
When it comes to a truly mouthwatering gastronomical experience, look no further than the Cholita Linda. The restaurant was named after the owner's mother, who was commonly referred to as Cholita, in her Peruvian hometown. The term itself expresses the mixed heritage that has brought some of the most amazing Cuban dishes to the San Francisco Bay area.
Every single meal at the Cholita Linda is made from scratch. The fish tacos are battered by hand, and they make their own Aqua Fresca to complement these amazing dishes. They take joy in working hard to create some of the most impressive expressions of culinary arts imaginable. Couple that with the warm, sweet, and loving ambiance of the restaurant, and you are in for a truly remarkable experience.
With decades of experience in cooking and traveling abroad, Cholita Linda seeks to offer a fresh yet vibrant food experience to all that enter their doors. Using a mouthwatering recipe, every bite of a Cholita Linda Cubano sandwich will send your taste buds into overdrive.
To experience their wide selection of Cuban and Latin American dishes, make your way over to the Ferry Building.
Address: 1, Ferry Building, Suite 44
Phone: 415-565-7424
Rene Denis has been in the restaurant industry for more than 20 years. Ten of those years were spent behind the bar, serving the greater San Francisco Bay area with some of the most amazing cocktails imaginable. After years in the hospitality industry, Denis decided to open his first Cuban-inspired restaurant, in hopes of paying homage to his family's heritage. Having grown up in a Cuban-Colombian household, Denis was first introduced to the culinary arts at a very young age. Today, he works hard at re-creating so many of the great- tasting recipes that he grew up with.
The Chao Pescao is a casual dining restaurant that is located in the heart of San Francisco. The name, which is a friendly salutation that is heard commonly throughout Latin America, roughly translates to, "See you later alligator." With the idea of creating an overwhelmingly friendly environment, the Chao Pescao quickly grew to become a fun place to eat both lunch and dinner.
With a large menu that offers both Cuban and Colombian dishes, you are bound to find something for everyone. Black beans can be found in just about every one of their entrées, as it is considered to be the foundation of Cuban cuisine. The black beans are made according to his grandmother's own recipe, which has been passed down for generations.
The Cubano sandwiches at the Chao Pescao are simply to die for. Every one of their sandwiches features nothing less than the freshest ingredients locally available. From the hearty chunks of slow-roasted pork shoulder to the thinly sliced pieces of Swiss cheese and ham, this sandwich is truly the epitome of what a ham and cheese sandwich should really taste like.
Enjoy some of the best cocktails and alcohol that Latin America has to offer. From daiquiri's that are made with 12-year-old rum to true tequila and mezcal, you are bound to have a good time when you have your next get-together at the Chao Pescao on McAllister Street.
Address: 272 McAllister St
Phone: 415-621-2200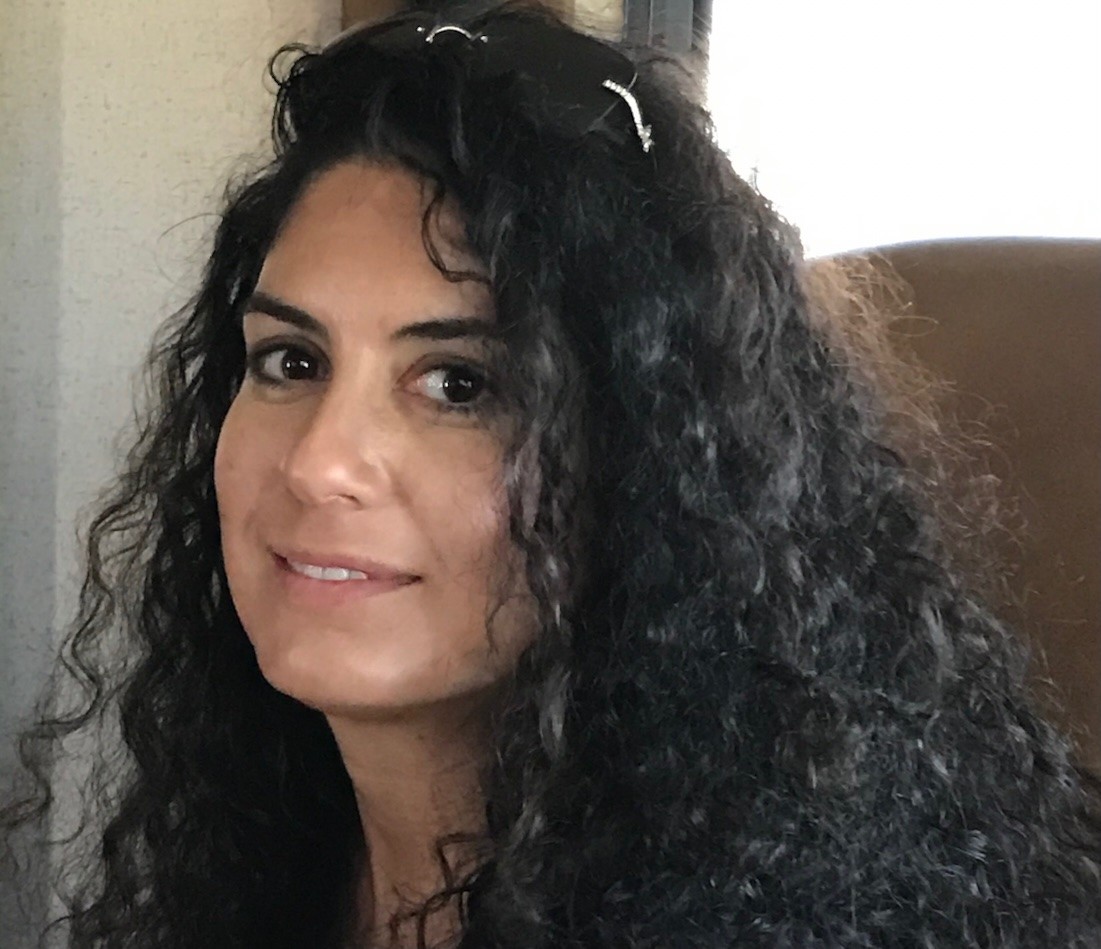 Noelle fell in love with Cuban food at first bite.  She has been cooking, learning and crafting Cuban food for over 25 years. She was taught by her Cuban husband's mami and abuela.  They taught her everything using the "by eye" method.  She took those "by eye" recipes and turned them into measured recipes.  This website is where Noelle shares her love of Cuban food with the world.